Introduction

1

Start Building Your Integration

1

Frequently asked questions during integration development

0
API2Cart: Use Case (example)
Explore the example of how API2Cart can help automate importing orders. 
When you use API2Cart, you will get notified every time a new order is placed on any store.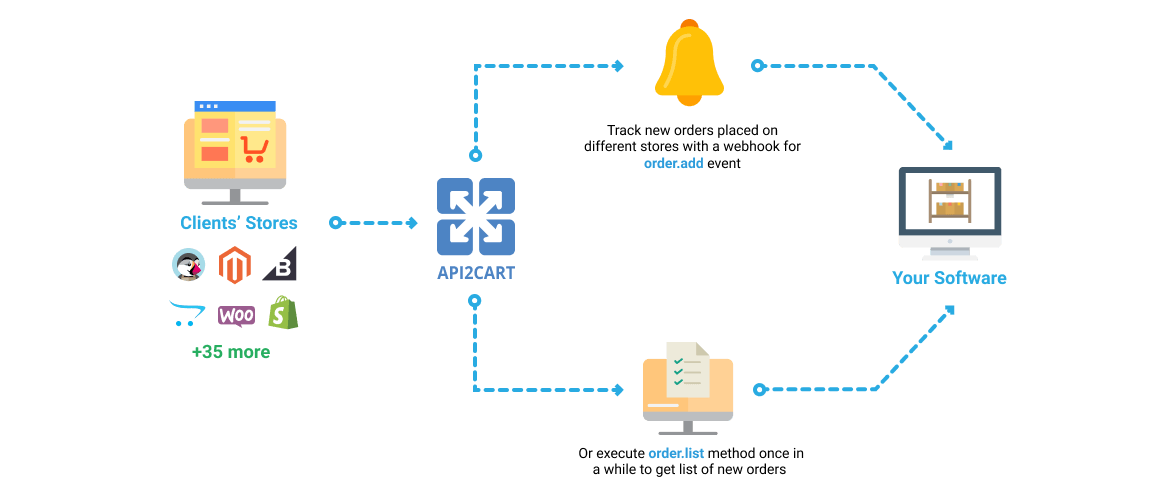 There are two methods you can implement to learn about new orders on stores. These include:
By setting the webhooks for
order.add
event you will get notifications every time a new order is placed. Compared to polling an API, using webhooks is much more beneficial as it decreases server load, saves API requests and provides more up-to-date information.
Another option to track new orders is by executing the
order.list
method regularly to get a list of products to be imported to your system. This method allows filtering orders by ids, store id, customer id, customer email, order status, order ids, financial status, fulfillment status, shipping provider, and time parameters such as
created_from
,
created_to,
and
modified_from
,
modified_to
.