API Digest #29: About the Future and Geography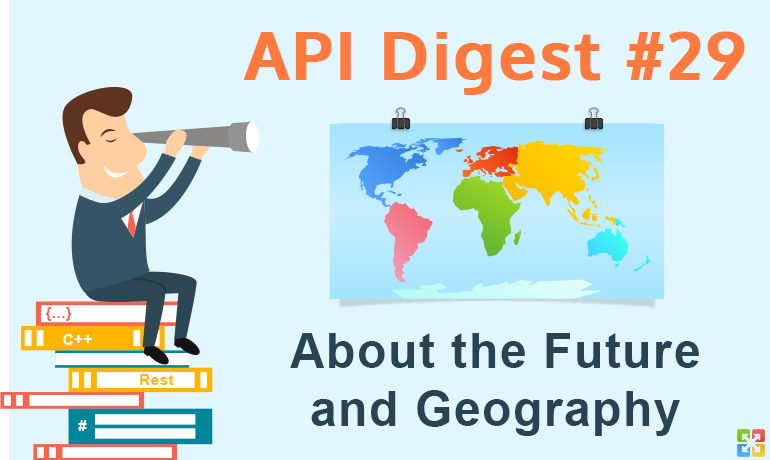 Much has been talked about the future of APIs, but less has been said about their place in what the future holds without actually IoT mentioned. This API Digest provides an overview of no IoT and covers the future as software developers see it, some geography involved, and security and testing issues.
On the contrary to what Jeff Atwood wrote in Please Don't Code three years ago, Al Sweigart equates coding as a life skill like reading, writing, and math. He also thinks that it is APIs, not apps what everyone will work with in the future when everyone can code. Read more of his ideas in this post.
How different is data protection in the US and the EU? Ask Kristopher Sandoval because he knows all the ins and outs! Find the fundamental differences in data privacy laws between the two zones explained in Privacy Laws and International Data Exchange: Comparing EU and US Standards.
Jerome Louvel, Restlet founder and CTO, has written a piece for the September edition of Cioreview Magazine dedicated to APIs. Find his How APIs make the mobile revolution possible republished on Restlet blog.
"As everyone rushes towards building APIs, and looks for shortcuts, it's also important to remember that there are no such things as shortcuts in building quality software that lasts", believes Mike Stowe. For more details, read You Need a REAL API Interface.
Learn about visualization and how it can be beneficially used for API testing in Bill Doerrfeld's recent article for Nordic APIs blog.
It has been quite a while since James Higginbotham shared his Is your web or mobile API putting your business at risk?, but we have just come across it so here it is mentioned in this API Digest. In the article, he dwells on what an accidental API is, what risks you might encounter as a result of having one, and how to mitigate them.
See you in two weeks! And in the meanwhile, feel free to make suggestions or leave your feedback by sending us an e-mail.