API Digest #35: The Last Gems of 2015 in Review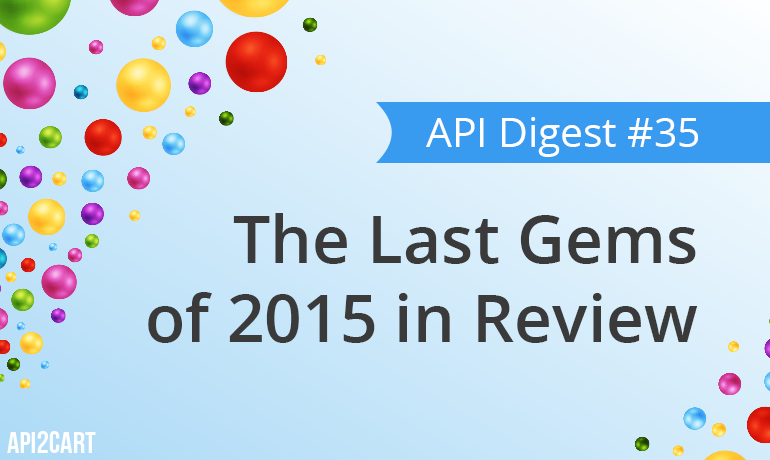 Though it's three days of the new year behind already, sparing a couple of minutes to groove on some of the gems of the last few weeks of 2015 could still be very enjoyable! That's what you can do with the first API digest of this twelvemonth.
Speaking of grooving, Guillaume Laforge invites you to take 90-minute a Groovy REST. Hear him talking about APIs, how Groovy and REST services interact, and how to test such APIs with Spock to be "enterprisey".
Getting socially acceptable involves dressing up a bit. Taking your API out in public is just the same, but how fancy should the clothes be? Lorinda Brandon, Senior Product Manager at Capital One, has a few API fashion tips as well as a couple of words on what things to figure out before taking your API public.
The most amusing witty talk you might be very unlucky to have missed is "A Quest for Simplicity" by Arnaud Lauret. The depths of ISs, the heights of APIs, and ROAST API recipe are what you can catch up on in the latest API Handyman blog post.
What changes and innovations do you think the new year holds for APIs? Steven Willmott has at least 11 to share. Find his 2016 API Predictions and 2015 API Predictions Year in Review on 3scale blog.
"This is going to be awesome!", says Zdenek Nemec about the future of API Blueprint. Sneak peek at where it is going next in his post for Apiary blog.
Yogeshwar Srikrishnan believes documentation tools used to support REST are similar to REST itself -- both suffer from the lack of standards. But he knows what could save the first ones mentioned, and that's the secret he reveals in REST API Documentation – Part 1.
In case you'd like to get back to the basics of REST, check out Brief Introduction to REST by Jeremy Morgan and Beyond REST by Yogeshwar Srikrishnan.
That's it for this API Digest. :-) Share it with your friends, subscribe to our newsletter, and suggest articles you believe the community should know about by sending us an e-mail. If you would like to have a demo of what API2Cart is and how it works, schedule a free call with our beautiful lady expert and have it all shown and explained to you.