API Digest #42: Without an API, Connected Things Don't Connect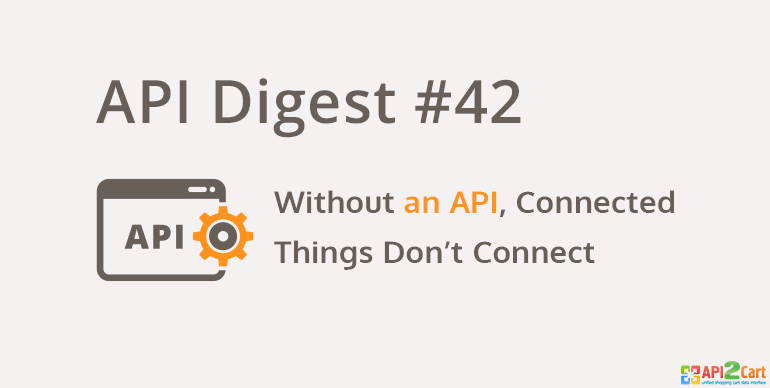 Happy to see you back to our API Digest series. This time, it's why connected things don't connect without APIs, #1 book to educate yourself about microservices, what's wrong with your Swagger definitions, and more that we have prepared. Enjoy! :-)
The pretty picture of everything being connected and working together in harmony that IoT-focused vendors paint is far from being a reality. They often lack the two important things that create interoperability actually -- APIs and developers. Without an API, connected things don't connect, affirms Ed Anuff.
Been looking for resources to educate yourself about microservices? Sam Atkinson suggests you should read Building Microservices by Sam Newman. Jump to his reasons for why it is the most important book you'll read this year.
Though it is believed that there is an API for every industry, there are sectors where APIs are relatively underrepresented. Chris Wood has taken a look at some of these areas of potential growth to see how they align to gaps in the API economy.
There are 3 reasons that keep organizations from delivering quality APIs, no matter how crucial they admit it to be to their organization. Jarkko Moilanen believes the idea of the API Model Canvas is part of the solution that can help to remedy the excuses.
From out of nowhere, security has recently been revived as a topic of interest. We came across 3 pieces that speak of the negative shades of API security we might have overlooked.
Guillaume Laforge knows what's wrong with your Swagger definition. His Restlet colleague, Thierry Templier, has had something to share too. Check out his tutorial on exposing datastores through a Web API.
After your API is ready, it needs to be managed. Kin Lane has collected the experience of the leading API providers and prepared a general list of the building blocks of successful API presence.
Come back in a fortnight for more! While the next API Digest is on its way, share your suggestions and ideas by sending us an email.