API Digest #43: How to Make API Users Happy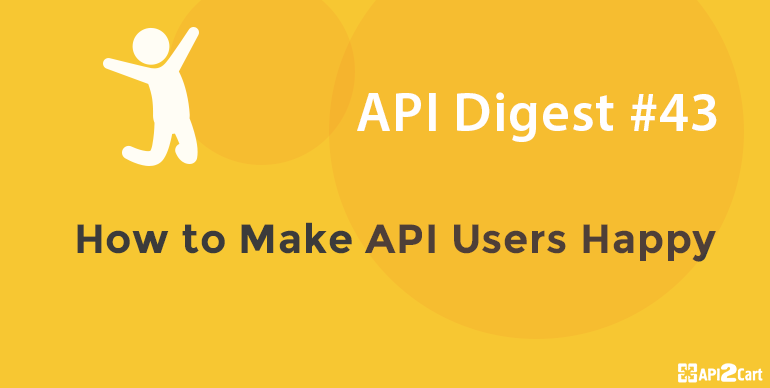 Making API users happy entails taking care of every detail and often from the very beginning when the project is at the planning stage. It's about saying 'hello' right, minimizing any possible confusion, and providing well-organized documentation. That's what you can read about in this API Digest.
Want to make the right impression with your signup / registration email? Kin Lane has shared a good example of what it should look like.
Simon Tabor knows how to make API users facing errors happier with defensive design. Read more in API Errors – The Good, the Bad and the Ugly.
API documentation is something you should think about from the very beginning along with the rest of the design and development process. In her interview for The API Economist, Jennifer Rondeau, a technical writing manager at Capital One, has explained how documentation fits into the overall API design process, what parts and sections matter, and which of them to automate.
What skills do your APIs offer? James Higginbotham believes it is time to start talking about API endpoints as capabilities.
It's no big news that APIs are today enjoying mass exposure. The API space is indeed evolving more rapidly than ever before, but not as fast as expected. Join Art Anthony in tracking the growth of the API Economy to find out how this growth compares with forecasts a few years ago, how sustainable it is, and why exactly the space has grown so rapidly.
International cyber war is occurring as we speak, claims Kristopher Sandoval. Learn more about the threat of attacks on the international scale and why attackers target APIs in World War API: Cyberattacks on the International Scale. Also, find out who exactly are launching these attacks and how to negate the damage caused if defenses are broken in the second piece on the topic.
Very soon the tech world as we know it is going to be rewritten. Phil Libin reckons bots are the future. Tim Poon underpins the idea with A Future Of Chatbots.
For more API news and insights, read This week in API land #47 by Guillaume Laforge.
Come back in two weeks for more! While the next API Digest is on its way, share your ideas and suggestions by sending us an email.