API Digest #50: The Web is (Finally) a Mature Platform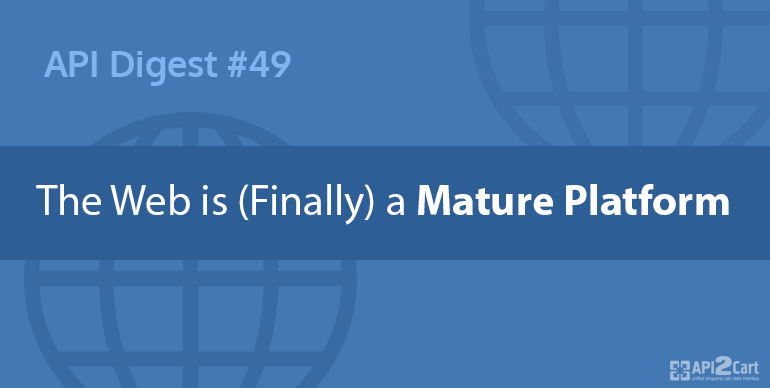 A fresh API Digest is here again to provide you with the most interesting API news, articles and insights of the last fortnight. In this issue: how moving to API-First Architecture helps to solve performance problems, use cases for API consumption,  how APIs help to smartly use tools and save time, how API are going to influence our routine and many more.
"There's no longer one 'right' way to develop a web application. Between Node, Python, Angular, Java, etc. you can do anything you could want to do!", says Adam Bard. Read more in his "The Web is (Finally) a Mature Platform".
Wondering how moving to API-First Architecture helped Etsy to resolve serious performance problems? Etsy software engineer Stefanie Schirmer spoke about it at QCon New York 2016. You can read the details here.  
The connection between IoT and APIs is stronger than you might think. In his article, David Berlind has explained how the Internet of Things is resulting in non-traditional API communications models.
APIs are one of the most successful technological innovations in recent history.", сlaims Otto Berkes in his article The Biggest Tech Innovation That You Never Notice.
Just imagine a cross-platform app that display information in real-time, no matter where users go. Twilio have made it real. Check out the article Twilio Sync brings developers real-time cross-platform info via a single API by Nate Swanner for details.
Business Process Orchestration & APIs (Video): watch Saul Caganoff discussing the different use cases for API consumption and the technical affordances API designers can provide to support those use cases.
Discover 8 problem spots for specific aspects of API testing with impacts on security outlined by Cameron Laird.
"In the not-too-distant future, users will no longer have to contend with multiple apps; instead, they will literally talk to digital personal assistants such as Apple's Siri, Amazon's Alexa or Google Assistant," believes Mark O'Neill, research director at Gartner. Read APIs: from connected home into programmable platform to learn how APIs are going to change our everyday lives.
When it comes to launching startups, time is worth its weight in gold. It is crucial to bring a great new idea to market as quickly as possible before it gets replicated. Read the article by Yves de Montcheuil to learn how APIs help to smartly use already existing tools and save a great deal of precious time.
Wondering how you can get the Angular CLI tool to generate a base Angular 2 app that includes the in-memory web API? Read Adding the In-Memory Web API to a SystemJS-Based Angular CLI Application to find out how!
For more API news and insights, read API developer weekly #122 and #123 by Keith Casey and James Higginbotham. 
P.S.: If you are interested in API2Cart, you can test how it works.
Got an interesting API story to tell or a link to share? Feel free to write your suggestions at our email. Have a great week! :-)