API Digest #52: Adapt or Die: It's Time To Go Big With APIs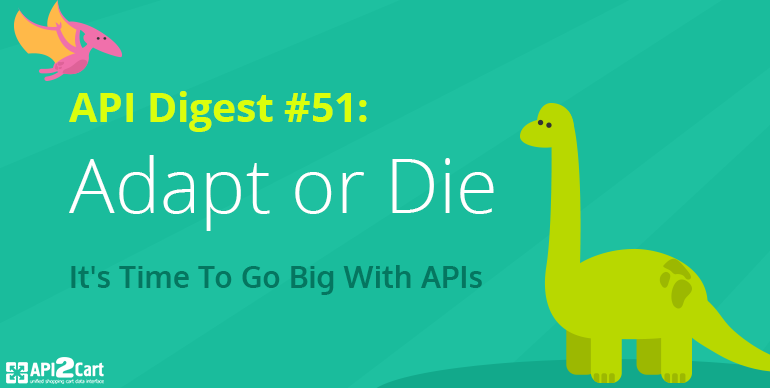 Welcome back to our API Digest series. As usual, we have prepared a new portion of API news and useful articles. Pour yourself a cup of your favorite drink and start this Monday with pleasure.
Adapting to a world in which "Silicon Valley is coming", as Jamie Dimon noted, means rising to the challenge laid down by today's API masters. Companies are pushed to use modern web APIs strategically and at scale to create value and ensure company's growth. Given this, it's the high time to go big with APIs, Bryan Kirschner states.
When it comes to API versioning, there are many best practices but still not a rock solid best one. Guy Levin knows what is the main versioning problem and how to solve it. Check out his RESTFul API versioning insights.
As to API design, Mike Swieton encourages API developers to be explicit about state when crossing system boundaries, which is also his own principle.
It is important to make a coherent story for the API (and ultimately) the service being offered. Christopher Young has pointed out essential channels for promoting web APIs. Has he missed any?
Watch Michael Hyatt talking about user delight driven design of APIs. He has discussed the main complains users have with APIs and ways to address them using early user acceptance testing, RAML, JSON schemas, traits and mocks.
The Internet of Things is still in its infancy, and harbors an untapped collection of world altering potential. Though the consumer market has "commoditized" the Internet of Things, sectors like manufacturing, transportation, medical, and education are producing amazing results with IoT, and future applications promise even greater returns. Discover new mind-blowing ideas on how IoT can transform the world in Kristopher Sandoval's article.
For more API news and insights, read API developer weekly #126 by Keith Casey and James Higginbotham.
Got an interesting API story to tell or a link to share? Feel free to write your suggestions at our email. Have a great week! :-) P.S.: If you are interested in the API2Cart functionality, you can test it by registering a trial account.