API Digest #54: APIs are not Web Pages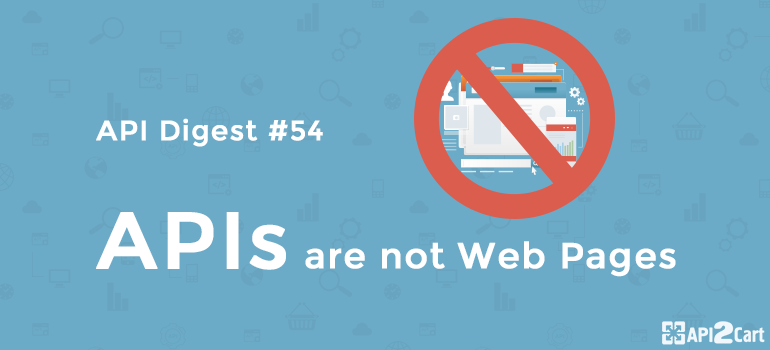 Hello, API community. Here we are with a fresh API-related news summary of the last two weeks. In this issue you will read about:
HTTP APIs and Hypermedia

Writing technical user stories

The five API Monetization models

Just because Github has a GraphQL API doesn't mean you should too

Building hypermedia APIs with HTML

"AAA" API testing – Accessible, Affordable, Agile

APIs are not Web Pages

Using IFTTT (IF This Then That) to extend API alert messaging
There's a tendency, particularly for networkers, to classify applications by the protocols they use. If it uses HTTP, it must be a web app. The thing is, even though web pages might be built from APIs, they are not the same. Read Lori MacVittie explaining why APIs are not web pages and why it is important to understand this.
Apollo's Sashko Stubailo claimed GraphQL to be the next generation of API design. Facebook is already using it, and Github has recently adopted it and indicated that GraphQL will play a major role in the future of its platform. Is GraphQL going to replace REST? Mike Stowe doesn't think so. Read his article explaining where GraphQL shines and where it is better to choose good old REST.  
The words REST and RESTful have been the subject of a lot of debate on the web. Michael Tecourt shoots down a bunch of common misconceptions about HTTP APIs and Hypermedia.
Interested in building hypermedia APIs with HTML? Watch Jon Moore discussing the pros and cons of using HTML for an API media type, as well as the particulars of implementation patterns, from representations to building programmatic HTML clients.
Recently Sogol Fathian gave a talk about writing technical stories and the ways she had found to slice user stories thinner at Product Camp Toronto. Find some of the ideas covered on the "On Product Management".
"A truly successful API is one that drives the goals of the business. And what is the primary goal of every business? Making mad stacks of $$$ y'all." -- Rob Zazueta believes. Check out his RESTFest 2016 talk in prezi about the five API Monetization models.
With third-party APIs now being used by core systems, it's more critical than ever for data to be secured and systems to be well tested. Heather Peyton spells out "AAA" API testing – Accessible, Affordable, Agile.
Kevin Farnham knows how to use IFTTT (IF This Then That) to extend API alert messaging. In the post, he illustrates how to create a new IFTTT recipe.
For more API news and insights, read API developer weekly #129 and #130 by Keith Casey and James Higginbotham.
If you would like to share any interesting API story, we will be happy to receive your suggestions. Please write them at our email. Have a great week! :-)
P.S.: Interested in the API2Cart functionality? Create a trial account and test it on live stores.