API Digest #57:Are microservices killing the API conversation?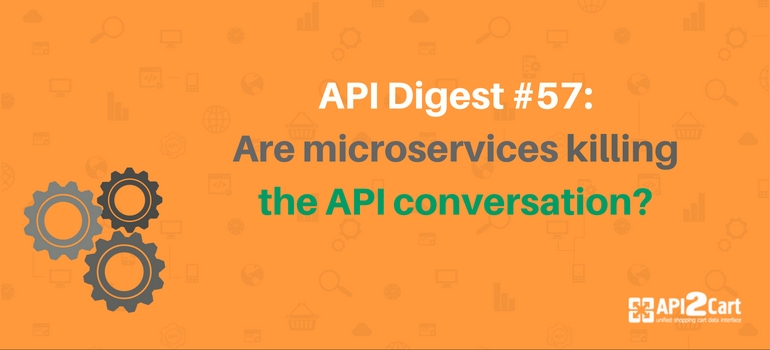 API Digest is back with the traditional at-a-glance survey of recent API news, articles, and insights. In today's issue you will find a brief overview of the following articles:
Are microservices killing the API conversation?

Why should developers write?

At Goldman Sachs, APIs point the way toward a platform future

Are API partners the weakest link?

Object Oriented Programming is an expensive disaster which must end

Asynchronous APIs in choreographed microservices

APIs help drive revenue, market cap increases

API First Transformation at Etsy – Human aspects & developer adoption
Mark Boyd worries that too much fixation on microservices can swamp the API conversation and relegate it to a technical issue rather than a business tool. He believes that microservices should be treated as a way to enable the value of APIs.
Despite the fact that few programmers zealously practice tech writing, the editor of Codeship's blog Chris Wolfgang strongly believes that every developer should write.
Saas companies are particularly vulnerable to supply chain attacks, which means that attackers are going after the partner apps that are connected to the Saas company via API. Partner apps often are less secured and will be less likely to notice if a user account has been breached. Read Rich Chetwynd's article explaining what the supply chain attack is, how it can affect the business, and what can you do to protect your Saas solution from it.
When building microservices, you have to first decide how you will manage service-to-service communication. Most developers choose to do it via API calls. That's right but, to be more precise, asynchronous API calls is the right choice here and Francisco Méndez Vilas explains why.  
Lawrence Krubner has a strong opinion that Object Oriented Programming is an expensive disaster which must end. Read his article for detailed explanations, arguments and relevant quotes.
"While the evolution of platform businesses are well understood – Uber, AirBNB and EBay are the textbook examples – there's new evidence from academic research suggesting that adopting an open API is a possibly the most important step on the platform journey." - writes Arik Hesseldahl in his article with the loud title "At Goldman Sachs, APIs point the way toward a platform future".
Darryl Taft's writes that the recent research conducted by Apigee and the Massachusetts Institute of Technology out of API management shows that API adoption helps to drive revenue increases. The study finds that companies adopting APIs experienced an average annual revenue increase of 13.5 percent.
In the third post in a series of three about Etsy's API Stefanie Schirmer tells about human aspects & developer adoption. She gives answers to the following questions:
How to make an entire engineering organization switch to the new framework?

How to achieve the cultural transformation to API first?

How to avoid this being the new thing that everyone knows about, but no one has the time to try?
For more API news and insights, read API developer weekly #135 and #136 by Keith Casey and James Higginbotham.
See you in a fortnight! In the meanwhile, send us article suggestions and ideas. Either way, we are happy to hear from you. :)
P.S. In case you'd be interested in trying API2Cart, you can create an account and see how the API works on live stores.