API Digest #64: API Predictions for 2017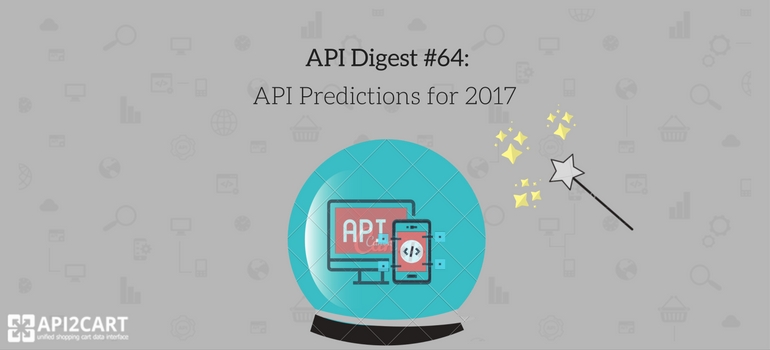 API2Cart continues the API Digest series, and in this issue, you will read a wrap-up of the following articles:
API predictions for 2017

Documentation-driven API design

Visualizing complex APIs using API Map

Leveraging API Documentation for customer supportUsing Github as an API index and data store

API innovation at Best Buy

What API Evangelist would like to see from API providers when it comes to public analytics
APIs have now become a key must-have strategy component for most large companies. We're seeing widespread deployment of APIs and of tools to help create, design, and manage them.  What does the future hold for APIs? Read Steven Willmott's API Predictions for 2017.
Guy Levin offers to turn development upside down: He recommends to start an API project with initial documentation. He believes, that by starting your code from the documentation, you can confirm exactly what people want and how it should work. Read more in the article "Documentation-Driven API Design".
A diagram generally provides an easy to digest overview of a complex software architecture. In Suhas Chatekar's experience, this forms a foundation of understanding that greatly helps while getting to understand that architecture in detail. So why not visualising complex APIs using API Map?
Сustomer support is among the key metrics for API strategy. Mark Boyd believes that treating your API as a product means treating customer support as a first class citizen. Let's look at how you can leverage API documentation for customer support and how customer and sales support should influence API documentation.
API Evangelist spends a lot of time studying how companies are using Github and he knows that usage of Github goes well beyond just managing code, and is making the platform more of an engine in any continuous integration and API lifecycle workflow. Read about using Github as an API index and data store.Check out the new
Check out the new Gordon Wintrob's newsletter edition: This time, he speaks with Eric Caron, Senior Product Manager of APIs at Best Buy. The top consumer electronics store has been carefully building an API platform for developers. They discuss API innovation at Best Buy, how the API got started, how to be a good steward of the developer community and e-commerce in 2017.
API Evangelist thinks of what a public API analytics would be like. He writes about what data he would like to see from API providers when it comes to public analytics. As a potential API consumer, seeing this data would help him understand what is possible, based upon what other people are already doing, and possibly light a fire under his imagination.
For more API news and insights, read API developer weekly #148 and #149 by Keith Casey and James Higginbotham.
See you in a fortnight! In the meanwhile, send us article suggestions and ideas. Either way, we are happy to hear from you. ?
P.S. In case you'd be interested in trying API2Cart, you can create an account and see how the API works on live stores.