API Digest #65: IT Transformation 2017: What Has Changed?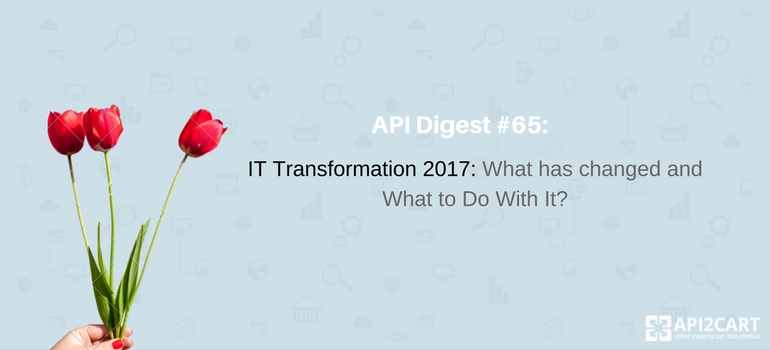 Welcome back to our fortnight API Digest series! In this spring issue, you will read an overview of the following articles:
IT Transformation 2017: What has changed?

When and how do you version your API?

Developers competition from

Oxford Dictionaries

Google Cloud Endpoints is now generally available

7 Trust Signals that help an API succeed - Developer Portal Strategy Part 1

When and how do you version your API?

Twitter API survey
We have been witnessing a significant IT Transformation during the last decade: there has been an onslaught of mobile, social, local, on-demand products and services "eating the world" as Marc Andreessen observed. What can companies do to keep up with that changes? Read Steve Guengerich's article "IT Transformation 2017: What has changed?" for the ideas.
Oxford Dictionaries gives everyone to try out their development talent and get great prizes for that. The company introduces a competition for developers: create a game, chatbot, web service, language-learning resource, or communication tool, using one or more of the languages in the Oxford Dictionaries API. Among the judges are API gurus, such as Manfred Bortenschlager, Sandro Cirulli, Kin Lane, and others. Follow the link to view the details.
After three months in beta, Google has announced the general availability of its Open API-based Cloud Endpoints (GCE) API management system, which aims to make it possible to build efficient, ready-to-scale API platforms, says Google. GCE allows to deploy, protect, monitor, and manage APIs running on Google Cloud Platform. Read more in Sergio De Simone's article.
Developer portals are important for your API's adoption and support. They are also a trust signal: a well designed and actively maintained developer portal shows that an organization is investing in its APIs. It helps convince developers that they can rely on them. In his post " Kristof Van Tomme zooms in on 7 trust signals that can be asserted through an API's developer portal.
One of the most frequent questions James Higginbotham receives during API training and coaching engagements involves versioning: When to version? How to version? Whether to version at all. While not all APIs are the same, he has found that there are certain patterns and practices that work for most teams. James Higginbotham have pulled these together in the article "When and how do you version your API?".
Striving to deliver better experiences and products for developers, Twitter has made a special survey. If you`re working with its API and have any thoughts on how it can be improved, follow the link to participate in the Twitter API survey.
For more API news and insights, read API developer weekly #150 and #151 by Keith Casey and James Higginbotham.
See you in a fortnight! In the meanwhile, send us article suggestions and ideas. Either way, we are happy to hear from you. :)
P.S. In case you'd be interested in trying API2Cart, you can create an account and see how the API works on live stores.