API Digest #74: WebHooks: the API Strikes Back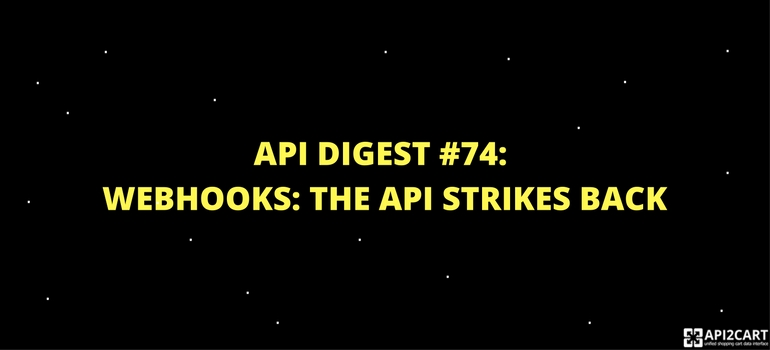 We are back with the traditional fortnight API Digest, and in this issue you are going to see a wrap-up of the following articles:
Starbucks should really make their APIs public;

WebHooks: the API strikes back;

Making the complex simple: how to market an API;

A practical three-phase approach to API implementation;

Working with APIs using Javascript;

Designing good static REST API documentation;

14 API directories;

How to talk about APIs.
Nick Lee believes that Starbucks should really make their APIs public. Starbucks has a great app. However, it is a tough nut to crack. Despite the URL being "openapi.starbucks.com," there are quite a few obscure hoops to jump through before one can even begin analyzing the calls the app makes.
Phil Nash takes a look at services that use Webhooks, exploring reasons to use WebHooks and the emerging best practices, and discusses implementing WebHook endpoints with live coded examples. Watch his video-presentation "WebHooks: the API strikes back" for details.
The first thing you need to do when promoting a product is ensure that your audience understands what you're talking about. Potential customers need to understand how they can benefit from a product before they even consider buying it. That's why it can be so difficult to market an API. In her article, Kristina Proffitt shows how to market an API and shares some lessons she has learnt along the way.
The goals of Mike Amundsen's three-phased approach to API design and implementation are to reduce the cost and potential risk of creating an API. The main way to mitigate these costs is by uncovering mistakes early on in API development and to keep uncovering them along the way. Early mistakes are less expensive to fix when they aren't set in code. The phased approach follows three steps: sketching, prototyping, and building. Check Alexandra Haefele's article "A practical three-phase approach to API implementation" for explicit explanations.
In this article Gregory Borrelly covers the basics of how to work with API's using Javascript. His goal is to explain clearly, without complexity in order to broaden the scope of new developers that this tutorial aims to help.
Designing and writing good developer documentation can be a daunting task, but is critical for any API-driven or business2developer company to ensure developer success. Your documentation is also your company's marketing asset and may be the first few pages a new prospect visits to understand how hard your integration is and how the product works. Derric Gilling guide you through all the important aspects of designing good static REST API documentation.
If you are an API provider and need to promote your public program, catalogue your API in these directories to increase its visibility. Or, trying to find web APIs for development? These resources also act as a good way to discover new APIs! Bill Doerrfeld laid out slides of 14 API directories where you can find the API you need.
Andrew Seward presents tips on how to talk about an API and how to create an ubiquitous language for that. Watch his full presentation "How to talk about APIs" to wrap your head around it.
For more API news and insights, read API developer weekly #171 and #172 by Keith Casey and James Higginbotham.
See you in a fortnight! In the meanwhile, send us article suggestions and ideas. Either way, we are happy to hear from you. :)
P.S. In case you'd be interested in trying API2Cart, you can create an account and see how the API works on live stores.