API Digest #75: Alexa, are you listening?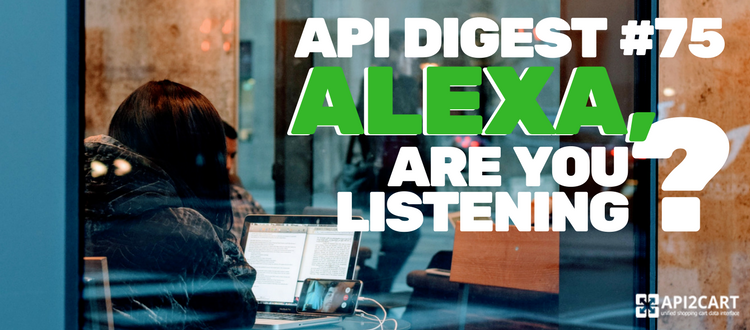 Hello, wanderer. 
Sit down comfortably and get ready for the trip into the API world. 
In today's edition:
API economy is driven by Open Source
The State of APIs in Federal Government
The State of API Languages  
Right ingredients for your API
Debugging SSL Errors in Your API Monitoring
Alexa, are you listening?
Financial APIs
Lessons learnt from integrating with the 3rd party APIs
Why APIs change everything
Finnish business developer with a doctoral degree, Jarkko Moilanen, raised an important discussion about the API management transformation with the end of API specification formats rivalry. In his latest article. Open Source Driven API Economy, the author not only lists the advantages of the OpenAPI but also provides us with unique insights about the Finnish API market.
You will enjoy reading our next discovery: API Evangelist Kin Lane posted his personal story of working at the U.S. Department of Veterans Affairs doing web service and API inventory. In the State of APIs in the Federal Government, Kin shared everything he learnt about APIs from four years of working with the government. Exact numbers are included as well as a couple of useful resources for the private sector.
Another valuable analytical material is a video-presentation by Jerome Louvel. Being CTO & Founder of Restlet, he is talking about the state of web API languages in 2016, covering especially OAS, RAML and API Blueprint. Probably, the most useful way to spend the next half an hour, do you agree?
Next nagging issue being discussed is dealing with return errors while working with APIs. Heitor Tashiro Sergent in his latest article Debugging SSL Errors in Your API Monitoring is giving a look at some of the most common errors: invalid certificates, and incomplete certificate chains.
Recent hype around the Facebook chatbots creating their own language has made everyone discuss the AI topic more precisely. Thus, Mark Barnes has written an article about the Amazon well-known chatbot: Alexa, are you listening? In particular, the issue of physical vulnerability is risen. If you'd like to learn more about chatbots complementing eCommerce, reach our article Perfect Trio: Chatbots, eCommerce and Messaging Apps.
Turning more to the business direction, Jennifer Riggins a.k.a Branding Ninja published a precious 22-slide presentation on right ingredients of the API documentation. Combining funny background images and such a crucial topic as API docs, Jennifer hits precisely into the heart. Exactly as presented at the annual APIdays in Paris. By the way, if you enjoy the material, make sure you reach our latest whitepaper on marketing integrations as well (Jennifer is one of 5 invited experts there).
Data analytics engineer Damon Swayn wrote a blog post about the lessons learnt from integrating with the 3rd party APIs. First goes like this: documentation is a key (so get back and check the presentation we've shared in the previous paragraph if you did not!). By the way, if you've got concerned about the real-time issues discussed in the third part of the article, learn more about the benefits of webhooks at our blog.
Wendel Santos, a Programmable editor, has recently submitted interesting research results considering financial APIs. In the article, he provides an overview on two growth spikes. A couple of graphs and future predictions made us consider financial APIs even more seriously than before!
Last but not the least for today is the article by Paul Johnston Why APIs change everything. A very interesting perspective on how Good Serverless design is the Unix Philosophy reimagined for a new world of building applications on top of clouds.
If you are interested in getting the latest news in the API world, check our digest #73 and 74 as well as stay tuned for the new blog posts.
P.S. In case you are interested in trying API2Cart, you can create an account and see how the API works on live stores.