API Digest #80. Operating a Real-World API, From Zero to 3 Million Calls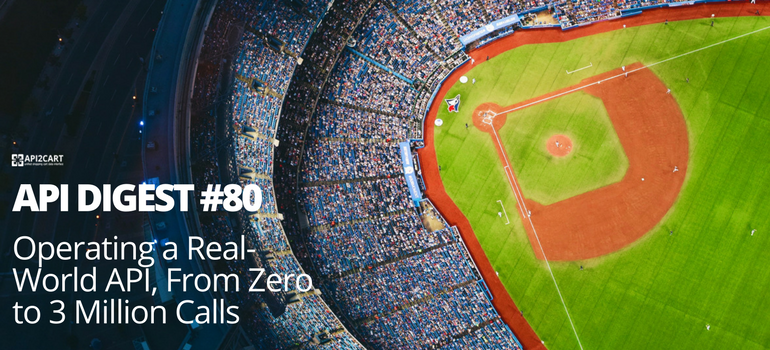 API Digest is back with the traditional at-a-glance survey of recent API news, articles, and insights. In today's issue you will find a brief overview of the following articles:
---
1. What makes a good API?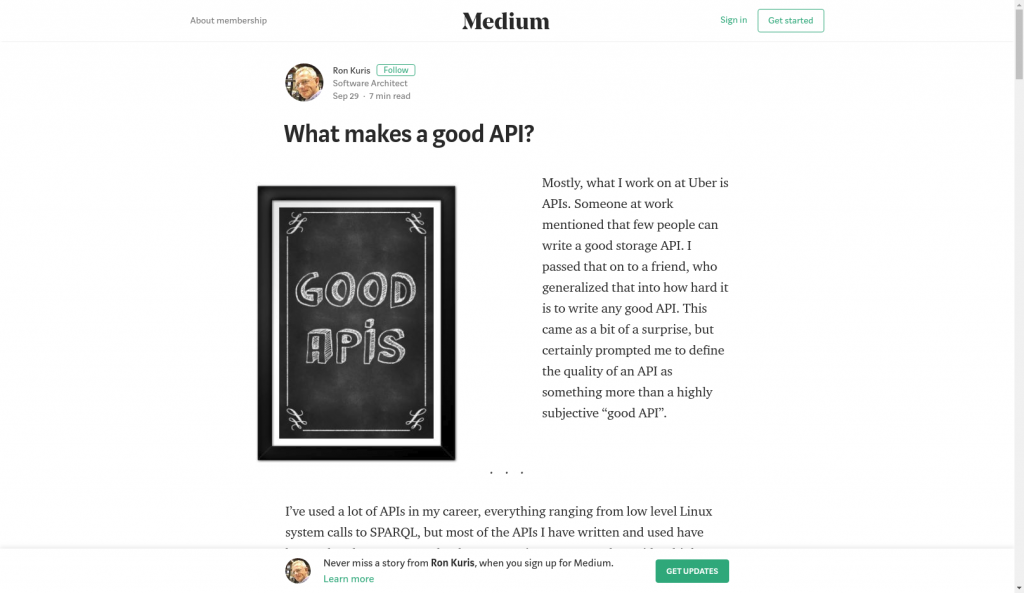 Ron Kuris, a software architect at Uber, is reflecting on his experience of using dozens of APIs. Generally, his suggestions may be applied to broadly any API. The author describes the first API he used and emphasises the characteristics it was lacking: documentation, solid error reporting, security, minimalism, time boundness, state info, testability and a developer surprise. This is sort of a checklist for a good API. How much will your API score?
---
2. Best applications to work with APIs on macOS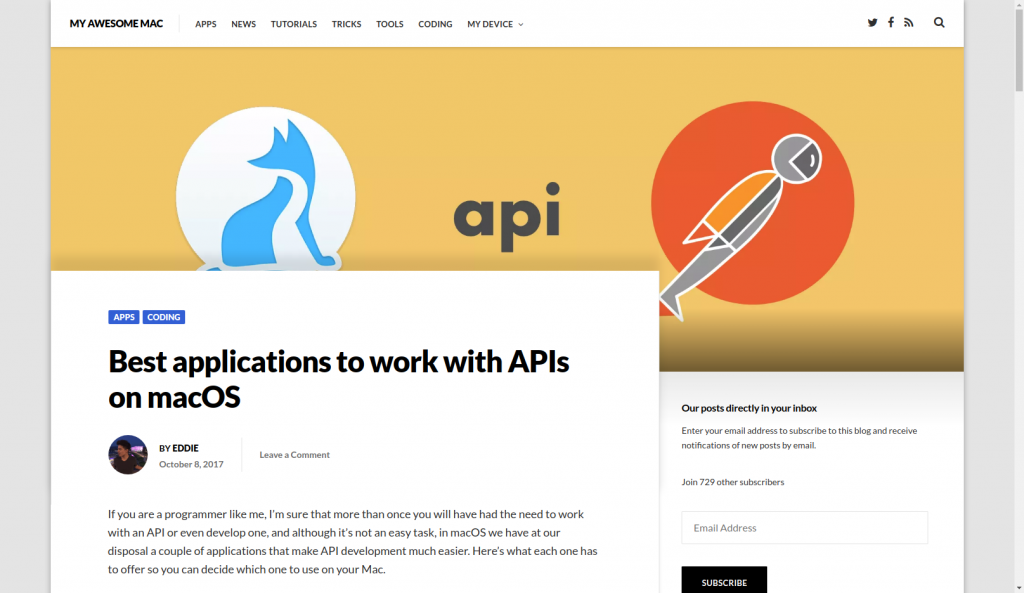 Eddie has published an overview of the best macOS applications which make API development much easier. Along with a detailed review, you will learn the best functions of each app (feedbacks are driven from the author's experience, of course).
---
3. API Governance for IT Culture Change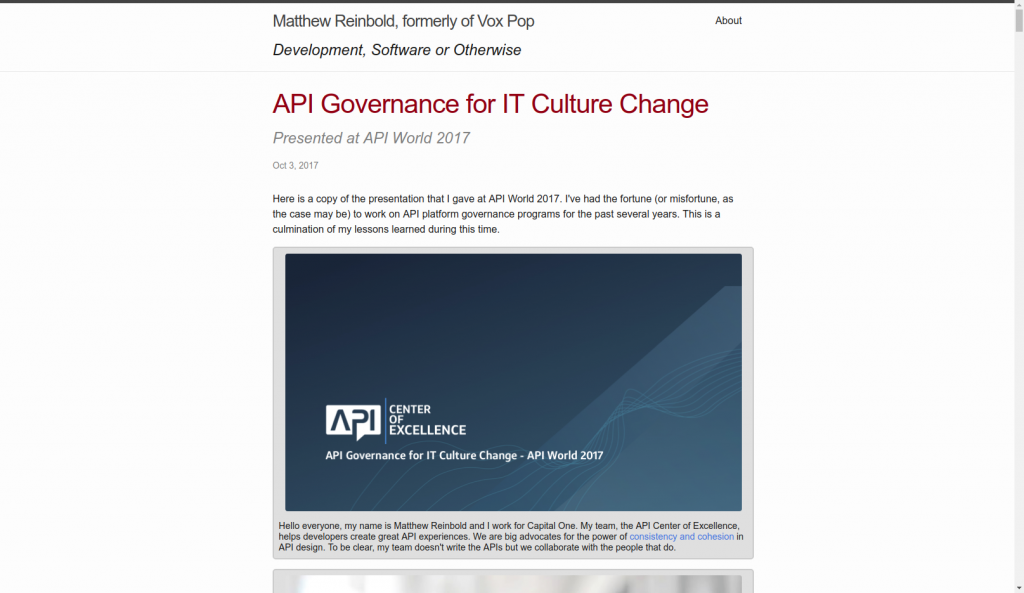 Matthew Reinbold, a head of the Capital One Center of Excellence, has published a copy of the presentation he gave recently at the API World 2017. It is mainly focused around the speaker's experience of working on API platform governance programs for the past several years. A great way to learn from the industry expert even if you didn't get a chance to attend the event.
---
4. Growing your business with an API
Another talk summary, this time given by Bruno Pedro, Spanish API technologist at the Nordic APIs Platform Summit 2017. It explores the idea that you should be able to measure how your API is contributing to your business revenue.
---
5. What is the Role of Blogs in the Developer Journey?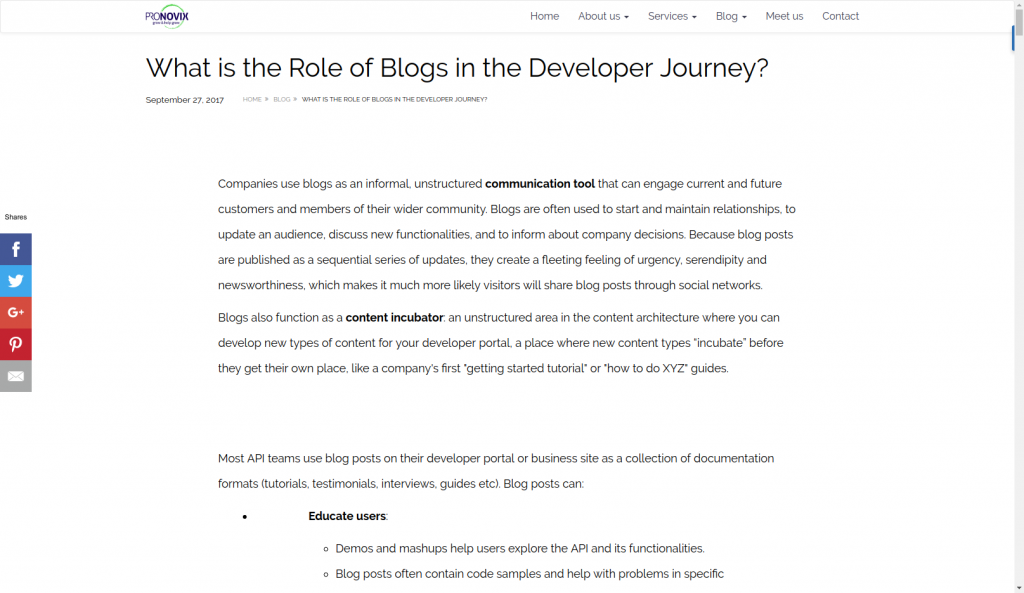 Katleen De Roo has reviewed over 20 blogs of the leading tech companies to analyze their role in the developer's journey. According to the article, blogs are mainly aimed to educate and build trust. Discover the best practices and get numerous ideas for advancing your communication tools.
---
6. Quick Guide to News APIs
Eran Levy believes that news APIs are the unsung heroes of the digitization. In the article you will learn the types of news APIs as well as a few valuable tips for choosing a right API. Interestingly, the author also arguments why using Google is sometimes not enough.
---
7. Operating a Real-World API, From Zero to 3 Million Calls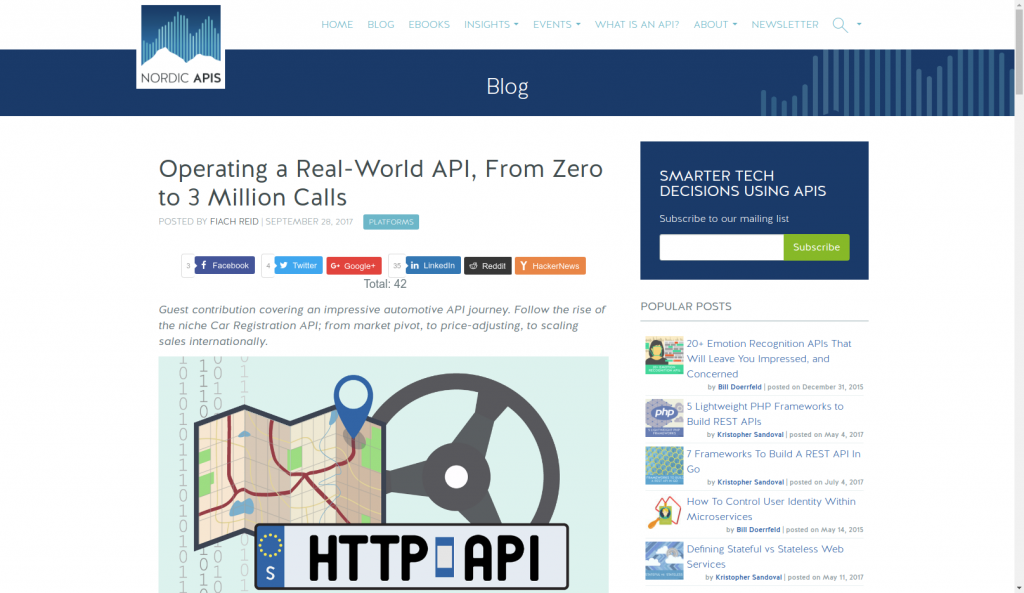 The article tells an impressive automotive journey of the niche Car Registration API. In rare cases, API can take on a life of its own, effectively making the underlying service so much more appealing to the right people that it becomes far more valuable than the original service. This is the backstory of one such API.
---
8. Bots & Messaging Application APIs
Jasmine Anteunis is a co-founder of Recast.AI, a collaborative artificial intelligence platform allowing developers to easily create conversational interfaces such as chatbots. In this video, she discusses integrating bots with messaging applications.
If you are interested in getting latest news in the API world, check our digest #78 and 79 as well as stay tuned for the new blog posts .
P.S. In case you are interested in trying API2Cart, you can create an account and see how the API works on live stores.