APIs for SaaS Vendors: Why A Vital Need?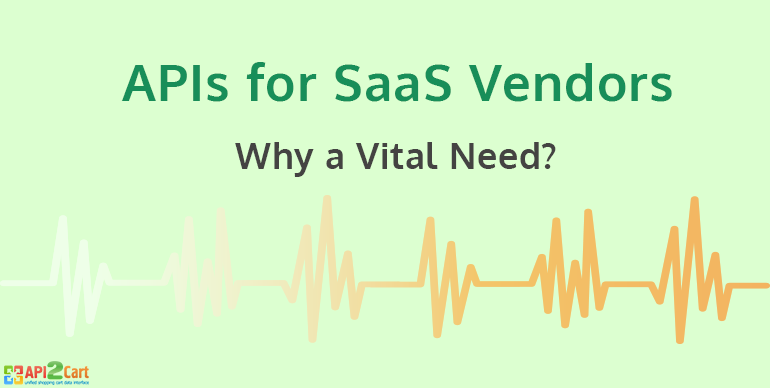 We are living in the age of enterprise cloud-based products that are creating the building blocks for the future of internet-based software. Years ago, high-tech businesses kept their doors closed and hid the proprietary code. Each company ran their software on their own systems and never shared anything with the public. Running a business in a closed world was not only expensive, but it also hindered an obstacle to innovation. Today, software and service providers do open and cooperative business where Software as a Service (SaaS) is one of the primary software distribution models.
SaaS lets enterprises plug in and subscribe to services built on shared infrastructure via the Internet. The secret of the popularity of this cloud computing service model is simple -- it is beneficial for businesses of all types and sizes. According to the technology research conducted by "Gartner", it will continue to rise and get a 20% compound annual growth rate through 2017.
In the strongly competitive market of B2B software, SaaS vendors need to make sure that there is a demand for such a solution, and it is irreplaceable in the value chain of interrelated business apps. Application programming interfaces (APIs) are what they need.
What is the Role of APIs for SaaS?
In recent years, businesses have changed their direction and focused on the digital transformation. According to this APIs and the possibilities they enable are in the demand as never before. An API helps SaaS applications connect with other applications and is the primary method how most SaaS applications retrieve and update data.
There are many reasons why SaaS vendors should offer APIs and why their consumers want them. APIs are crucial to enable channel partners and integrators to connect a set of apps and meet the specific needs of their customers. As APIs facilitate the work of channel partners, they also cut the cost of acquiring new customers for SaaS provider. Another important thing is that APIs ensure the ability for clients to export the data in case SaaS vendor goes bust or if consumers just want to change the provider.
The SaaS that offers applications that have powerful APIs as their underpinnings has advantageous among others. It enables users to interact with these applications through the UI, while at the same time, other apps can communicate with the underlying one through the API.
One More Noteworthy Advantage of APIs
Another great opportunity that APIs open for SaaS vendors is integration with other SaaS providers. This way, they can expand their functionality range and offer new features for customers that automatically increase their target audience and a number of potential clients.
For example, an e-Commerce SaaS provider can enhance their solution by getting access to shopping carts and providing all its users with their service. They can perform it by simply using an API of another SaaS that is integrated with those platforms. One of such services is API2Cart - it offers a unified API that enables to access 30+ top shopping carts simultaneously. By performing integration with this solution SaaS vendors can greatly improve their functionality range, extend the potential customers base and get new possibilities, and all of these thanks for API.
Conclusion
APIs are the glue of cloud computing. They help SaaS businesses to implement new channels and empower existing and new partnerships, drive innovation, reach customers, and grow new revenue opportunities.
In case, you are running a SaaS and interested in the integration of it with API2Cart and getting access to more than 40 shopping platforms, contact our representative or try how it will work for your B2B solution.