How to Import Orders from Shopify [Infographic]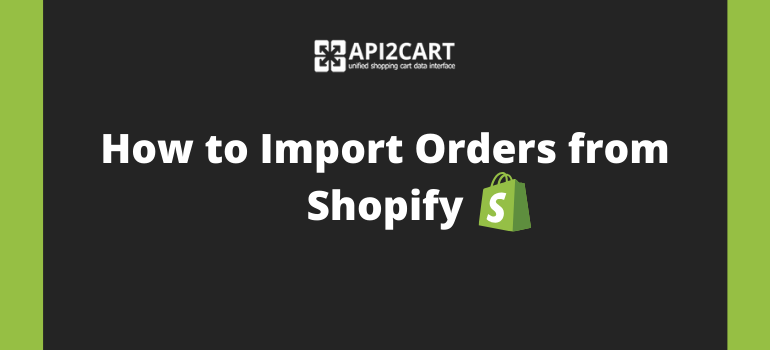 A significant amount of online store owners have chosen Shopify platform for running their eCommerce businesses. That is why SaaS vendors are looking for various options for developing the integration with this shopping platform. Their main goals are to get access to the valuable data connected for example with orders from e-stores built on Shopify and manage it for their systems' purposes. Without integration, SaaS app providers who work in the eCommerce sphere cannot propose their services to retailers.
However, building a connection with Shopify and importing order data from it is a hard task. It requires a qualified developers' team who's work costs thousands of dollars per month. Also, it needs further maintenance and upgrades.
This infographic will help you to understand how you can import orders from Shopify into your system easily without any additional efforts.

As you can see, API2Cart makes it possible to import orders from Shopify with the help of provided API methods. Using this service, you won't need to spend your valuable resources such as time and money on developing the integration with Shopify and retrieving the data from it.
With API2Cart, you will be able not only to import orders from Shopify but also to work with the other information from e-stores. It includes the data connected with products, customers, shipments, taxes, etc. You can retrieve, add, delete, and update it as you wish.
Moreover, API2Cart supports the integration with more than 40+ other shopping platforms and marketplaces. This list includes Magento, OpenCart, BigCommerce, PrestaShop, Amazon, eBay, and others.
So, if you provide ERP, shipping management, order management or inventory management software for retailers, and need to work with order data from Shopify or any other platform, you can try API2Cart. We provide 24/7 customer support so that you can contact us by phone, email, or chat at any time.
Also, you can try to use API2Cart for the 30 days absolutely for free. So, don't hesitate to contact our manager for more detailed information.