Interview with Jennifer Riggins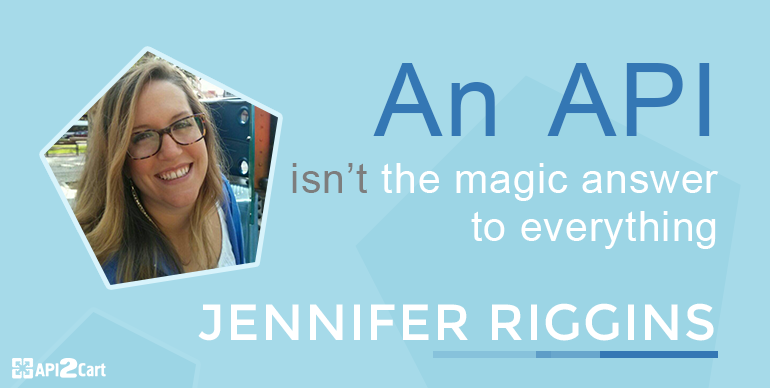 Today's interviewee is a perfect example of what a marketer and journalist in tech should be like. She's a true online branding ninja, a happy multitasker, and an author at ProgrammableWeb.
Meet Jennifer Riggins talking about how to stay organized when doing multiple jobs, what the future holds for the API economy, and why API equals flexibility but it isn't the magic answer to everything.
Jennifer, you can boast about bringing extensive experience in a variety of fields like B2B marketing, start-up mentoring, business software, and technology journalism. How about we start by you telling us a bit about your experience in the latter as well as the API economy? How did you get started in your career?
I like to think of myself as a translator. I have never coded so I don't speak the language, but I see the value in it. For both marketing and journalism, it's about listening to the stories and services API influencers have to share, and then translating those benefits into something someone like me could understand.
You manage to do at least 4 jobs simultaneously. What is your secret to self-management and doing well? What are your favourite leisure activities? :)
Not going to lie, sometimes am all over the place—I have a real problem saying no if it's a project that's interesting for me and my niche, and then I have to find the time to do it all—it's definitely a moment to scale for me. I would say my best trick is to my Fitbit plus Hootsuite—I only check my email, socials, WhatsApp, and phone two or three times a day. My Fitbit vibrates if I have the rare phone call and Hootsuite keeps me only looking at my clients' socials. (This is also really important when you live in European timezones with all those Game of Thrones spoilers out there!)
You have helped many tech startups grow, so you know exactly what matters for businesses that are just being started. How important are APIs for them? Are there any integrations that startups should consider before building their product?
API equals flexibility. You may have in your head that all your clients will be iPhone users, but then learn later they actually use your tool on a Website or Android. By building API-first, you can more easily build on top of it for whatever device they are using now or could use in the future. And then by having an API you allow any of your clients to integrate your services into their own workflow. But remember, an API isn't the magic answer to everything—it's about asking your clients about their needs—of course an API will often arise as a solution to those problems.  
What if a business in question is a B2B eCommerce solution? How crucial are shopping cart integrations for them? Do you think integrations can become competitive advantages?
If a company is building an eCommerce website, they absolutely want a shopping cart API because it then allows them to integrate with other tools that are super useful like shopping cart abandonment email automation and simply better analytics to learn why people leave right before paying. Then shopping cart integrations allow eCommerce sites to be more open to integrating with different payment APIs, that allow you to offer alternative payments that your customers are asking for.
And the last question. How do you think API Economy will change in 10 years?
I'm not completely convinced that the everyman will have heard of an API still. It will be driving the back-end of everything we do and everything we use—since within ten years everything will be online and the API is what's driving the Internet of Things, making those things smart. I think the API economy will continue to drive business but will be done so well, so smoothly, that none of us laypeople will never have to know about it because we will just use the integrations it enables to build the exact workflows we need to get things done.
We want to thank Jennifer for sharing her insights and super productivity secret. :-)