Magento Integration: Stay on the Top in Your Niche [Prezi]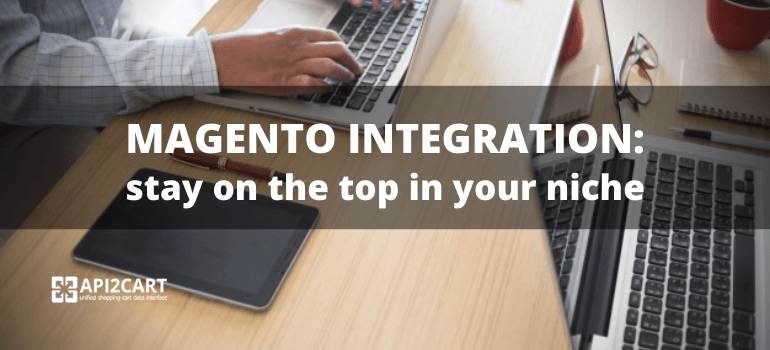 Jack Welch, an American business executive, and author said: "Willingness to change is a strength, even if it means plunging part of the company into total confusion for a while". 9 times out of 10 merchants are confused with the term of Application Programming Interface. However, in order to be competitive in the niche, they have to harness that innovation and channel it into benefits for the company, despite all the complexity.
Integration with various shopping platforms using API will bring a lot of advantages that are worth saying. For instance, access to Magento will bring more than 250 thousand potential clients and a plethora of satisfied active ones. Application Programming Interface allows you to retrieve, add, update and sync all needed data of your Magento stores and integrate it with your business soft in no time. So, in case you provide services in such industries like marketing automation, dropshipping automation, shipping, warehouse, order and inventory management or other types of systems , you will benefit from API as never before.
API2Cart is an online service that provides a single API to perform integration with 40+ shopping platforms and marketplaces as easy as pie. Magento, with all versions and editions, is in the list of supported platforms . Once you establish integration with Magento, it means you have it for 40 more, automatically with no extra efforts and payments.
Discover this prezi to know more about Magento Integration together with API2Cart - a real hand of help to perform data interaction easily and effortlessly.
If there are some questions, issues or any special requests, don't hesitate, schedule a FREE Consultation. Let our expert help you in fine fashion!