How to Implement Neto API Integration With Your Inventory Management Solution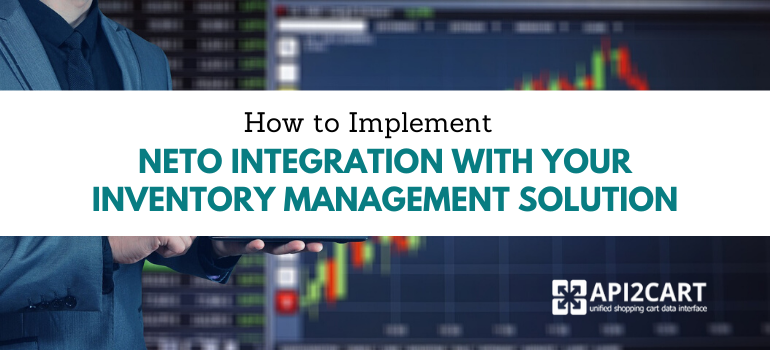 Decent inventory management is important for running an efficient and productive online retail business, but many eCommerce merchants believe they can handle their inventories without the assistance of these systems. In reality, the absence of an efficient software solution leads to stock process and warehouse management problems. Inventory management can, however, be very complicated, time-consuming and costly. As a result, inventory management software providers have emerged to assist this troubling part of an online business. Inventory management software allows retailers to regulate their levels of inventory, clients, accounts, billing, etc.
The inventory management software needs to access products, customers, orders and other implementable data from online shops stored on shopping platforms to operate these functions. This connectivity can be arranged using API integration with the shopping cart, as it allows interoperability and synchronization between the inventory management software and the shopping cart platform in real-time. The vast majority of platforms supported directly influences the number of potential customers. That is why it is essential for vendors of inventory management software to integrate with many shopping cart platforms as they can.
In this article, we'll show you why the integration of your software with the Neto platform, one of the emerging shopping platform for online retailers is very important for you as an inventory management solution vendor.
Why Neto API Integration is a Must-Have for Your Inventory Management Solution?
As you may not have known, Neto is fairly new in the eCommerce industry, but with its flexibility and usability, it's already grown in popularity. Neto is Australian retail management platforms offering a full eCommerce platform solution including point of sale, fulfillment, and inventory functionality. Neto allows retailers to sell their items through various channels, such as through an eCommerce platform, or point-of-sale. Neto powers more than 4,5k stores, implying that Neto API integration is a huge opportunity for B2B eCommerce solutions to attract more potential customers.
Inventory management systems are responsible for monitoring stock and inventory levels. Such software helps online retailers to avoid errors that can occur while manually maintaining the inventory. Additionally, they provide relevant data to store owners regarding the total number of products in a warehouse. They also mitigate financial losses due to paperwork inaccuracies.
Without integration with various shopping platforms and marketplaces, like Neto, inventory management solutions can not be effective. Also, the integration with various shopping cart platforms, such as Neto, will allow inventory management software to retrieve and import inventory data from different stores into their system. This is because they need access to data from the online stores of their customers. Without this, inventory software will not be able to provide clients with the full range of its functions. But you must be mindful that attempting to access customer data on various platforms requires significant technical expertise because each platform has its particular way of storing data. Thus, developing multiple integration methods will require substantial time and high money expenditure, which we will explain below.
What is the Easiest Way to Developing Neto API Integration with Inventory Management Solution?
When we talk about the integration of shopping carts we can assume that this is one of the most complex tasks for any company providing some sort of eCommerce services. The integration with shopping platforms presents various challenges and some of them are described below:
It might not be a good idea to implement integration on your own, because you may not be familiar with the technical problems of some shopping platforms. Therefore you will need to have a highly skilled dev team.
Establishing integration is a challenging task that requires constant effort, knowledge, and expertise. Besides, it takes at least one month to finish a single integration. So, you can imagine how long it will take for your programmers to develop multiple integrations with eCommerce carts and platforms.
Maybe the biggest problem with separate integration with different shopping platforms is the launch of their new versions. The integrations could have been built by your developers based on the previous editions of the platforms. Therefore, while trying to access information from new versions, you may experience some problems.
The good news is that you can easily integrate with Neto via API2Cart without needing to spend a significant amount of money or spend valuable time to manually do every integration. API2Cart can assist your inventory management solution to make all integrations simultaneously. Through only a single API you will be able to connect to 40+ eCommerce platforms such as Neto, Magento, Shopify, Etsy, WooCommerce, OpenCart, BigCommerce, and many others.
In case you have any questions considering API2Cart, feel free to contact us.