How to Import Customers from Multiple eCommerce Platforms via One API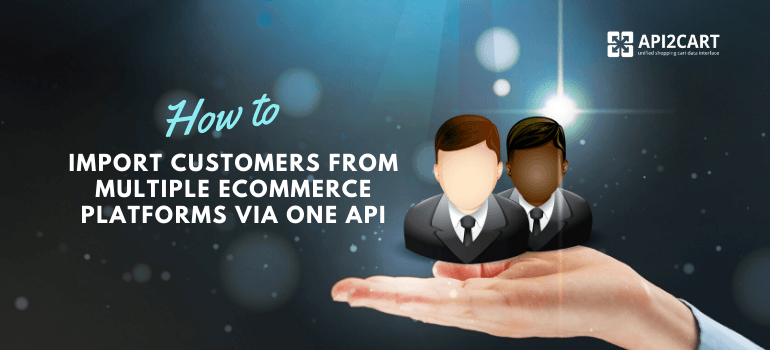 Today eCommerce software vendors such as order management, marketing automation, warehouse management providers should have some kind of integration with different eCommerce platforms to compete on the marketplace. Integration with eCommerce platforms enables them to work with store data such as orders, products, categories, shipments, customers, etc.
Customers are one of the necessary store data that can be used for various business purposes. In this article, you will find out why it is necessary to integrate with different eCommerce platforms and which business cases you can implement having an easy way to import customers.
eCommerce Marketing Automation Business Cases
eCommerce marketing automation software offer store owners plenty of unique opportunities to expand their businesses.
Online merchants can provide a subscription model to their customers and visitors to subscribe to the items they use more often. This feature allows customers to obtain a product every month or every year.
Online store merchants can not deal manually with a large customer base, while marketing automation programs can send a resale reminder to all store customers.
These systems can record the order and search profile of an online visitor. This helps motivate loyal customers to visit the internet store the next time the customer comes to the online store.
By using marketing automation software online store owners can also mail new goods, discounts, and exclusive customer deals.
Because of all this, integration with eCommerce platforms for marketing automation software solutions is extremely crucial for the effectiveness of these functions as well as imported data on customers.
Order and Inventory, Warehouse Management, Multi-channel, ERP Business Cases
Warehouse Management, Multi-channel, Order and Inventory, ERP providers offer online shop owners much functionality. One of which is reporting on each channel to monitor the situation. As a result, such types of software need to have access to products, customers, purchase orders, and other details from the shopping platforms to carry out this function. A reliable and successful order process for online merchants is essential.
Shipping Management Software Business Case
Some of the most beneficial mechanisms helping online retailers to optimize revenues, improve and streamline business processes in the eCommerce industry are shipping software. Thanks to them, online retailers can handle customer orders at a single location, choose suitable transportation shipping method, build and print shipping labels with all correct details, ship package, etc.
For these and other similar functions shipping software must have access and process orders, consumers, and product details from online shops.
Implementation of a shopping cart connection can seem like a nightmare. Every single platform has its specialized way to store information. It also needs substantial investment in money because of the need to pay the eligible developers who will work individually on each integration. The easiest and quickest way to access the shopping cart data is through a unified API provided by API2Cart.
Simple Way to Import Customers and other Store Data from 40+ Shopping Platforms?
As we mentioned above, shopping cart integration is a very difficult process. Even if you've developed an integration with some eCommerce platforms it is not the end. Regularly new shopping cart versions come out, so you will have to constantly monitor those changes and update your software according to new versions. It is not so difficult if you have the support of only one shopping platform but what if you have more than one supported platform.
In that case it is better to rely on a ready-made integration solution such as API2Cart. It enables you to integrate with over 40 shopping platforms and marketplaces like Magento, Etsy, Shopify, BigCommerce, OpenCart, WooCommerce, Amazon and a lot of others.
API2Cart provides more than 100 API methods that allows to work with needed store data such as orders, products, customers, categories, shipments, baskets, and much more. In particular, via customer.list method you can easily import customers from multiple eCommerce platforms. You can find more information this or other methods on our documentation.
If you have any questions about how our service works please contact us or schedule a call with our representative. We offer FREE 30-day trial, so you can explore API2Cart features and see how you can implement your functionality with us.