Nowadays, the digital world and eCommerce, in particular, are full of innovations and modern standards of how to conduct profitable business. Each and every merchant pursues new trends in order not to be in the doldrums. They strive to prepare their business surf the tech wave and make a go of it.
"The world is a book, and those who do not travel, read only a page" - this quote said by Saint Augustine is as never relevant to the eCommerce market. Merchants who never explore novelties during profit-making are seriously missing out. It could be said that they are stuck in one place without moving forward. In order to be competitive, vendors have to travel through the tech world and look in every corner for innovations. Moreover, they have to harness them and spread over the business to achieve the best results.
Application Programming Interface is considered to be such novelty that helps vendors stay on the peak of market's mountain. The usage of this technology is like a successful way to reach the top. No matter which service you provide, mobile commerce, inventory, shipping, repricing, PIM or other types of services, API will help to stay in the picture.
What is essential to know about PrestaShop API?
Access to various shopping platforms appears to be a rapid innovation promised by Application Programming Interface. PrestaShop is powerful solution that is on the market for over 11 years. Since the platform releases its API, developers and vendors breathe a sigh of relief. CREATE, READ, UPDATE, DELETE (CRUD) are 4 basic operations to manipulate with data in PrestaShop stores as well as it uses REST architecture. In HTTP there are also 4 main methods presented for managing data. The correspondence can also be done with CRUD and SQL.
PrestaShop API integration will bring you 250+ thousands of store owners as your potential clients. Increase the revenue and provide the live customers with an excellent experience at one stroke. However, establishing integration isn't as simple as may seem to be. It requires strong technical experience and expertise.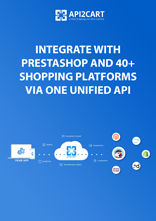 PrestaShop Integration via API2Cart
Explore how PrestaShop integration can help your business become more competitive.
DOWNLOAD
How API2Cart can easily perform PrestaShop API integration?
API2Cart is an online solution that will help to perform integration with PrestaShop and 40+ other shopping platforms in an easy and secure way. Its unified API gives access to such industry leaders like Magento, WooCommerce, BigCommerce, OpenCart and others with no extra investments. Once, there is an integration with PrestaShop, it means you have it for 40 more. Retrieve, add, update, delete and sync all needed data from the clients' stores on PrestaShop and integrate it with your business soft at one stroke.
What is more, API2Cart provides you with static and interactive documentations which outline best patterns and practises on how to work with the service. Currently, solution serves more than 3000 active stores and this is definitely not a limit. Its flexible infrastructure allows to add an unlimited number of clients stores, and SSL certificate that is used provides you with secure data interaction.
API2Cart can enhance such eCommerce spheres:
Inventory management service.Easily connect your soft with PrestaShop, retrieve products and orders from the stores and control inventory and stock levels easily.
Mobile commerce. Get and sync products, orders, customers and other related info from online shops and reflect the changes into mobile one in no time.
Data feed management. Retrieve products with related data and send the info to various channels to establish excellent data feed service.
Shipping management software. PrestaShop API integration allows you to import orders from the online stores based on this shopping platform, update tracking info and order statuses, monitor and sync inventory levels, etc.
Marketing automation system.Send emails featuring new items, discounts and special prices, notify on order statuses, track cart abandoners.
Dispel all doubts and enhance your online business in a blazingly fast way with API2Cart. If there are some questions to ask, schedule a FREE Consultation and our expert will help you to strike out all the dizzying issues.