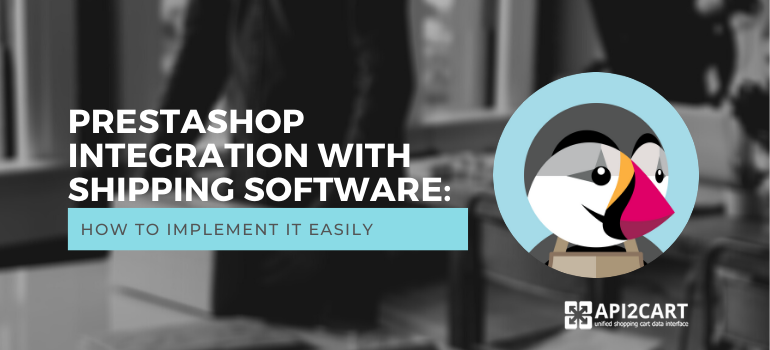 Shipment is one of the most time-consuming characteristics for every online store owner that runs an eCommerce business. A great shipping system allows online sellers to do a lot more about their web store. For every eCommerce shipping software integration with shopping platforms is vital. Without this, these systems can not perform their essential functions including the ability to regulate the data that is stored online. Shopping cart integration enables them to easily access and process orders, customers and other details from online stores. That's why you as the shipping solution vendor have to consider the option of integrating your shipping platform with as much of eCommerce shopping cart as you can since you and your clients benefit enormously from this type of integration. Developing Prestashop integration with your shipping solution is a worthwhile investment.
In this article, we'll show you why integrating your shipping solution with Prestashop, one of online retailers ' widely used shopping platforms, is vital for your success as a shipping software provider.
Why Do You Need to Have Integration with Prestashop?
As you should know, Prestashop is a platform that allows online merchants to create an eCommerce website in combination with great features. PrestaShop is among the largest website building platforms for eCommerce and has an exquisite design for extremely good handling of online shops. It offers more than 300 advanced functionalities that enable retailers to handle their methods of payment, shipping, item listings, distributors and clients. There are currently 270,000 online stores working on PrestaShop, while the amount of its participants in the open-source community is almost 1,000,000 people all over the world.
Integrating your shipping software with the Prestashop shopping platform might give you access to a variety of new customers and many opportunities. But you have to know that integration poses many significant challenges, as we will see below.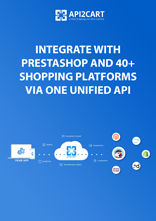 PrestaShop Integration via API2Cart
Explore how PrestaShop integration can help your business become more competitive.
DOWNLOAD
How to Easily Develop Prestashop Integration with Shipping Software?
When we speak about shopping cart integration we could conclude that this is undoubtedly one of the most challenging tasks for any company that provides some type of eCommerce products. This type of integration implies that you will have to cope with the following issues as a supplier of shipping software trying to integrate your software with shopping carts and platforms:
Integration takes a considerable amount of time to develop. Throughout this time, the accountable developer must examine the platform's design, and will most probably be in a dilemma a few times.
Be ready to pay a large sum of money and probably more if extra configurations are necessary. Once the incorporation is complete and properly elaborated, developer effort and attention will be needed when the latest versions appear, meaning more improvements.
Each integration is both a great deal of work to do and a persistent thorn in the side that never vanishes after the work is completed. You would like to hire someone competent and professional to create better results, which is not easy to find.
All these factors make the integration of shopping carts very complicated, so finding a way to make it easy is necessary. You can conquer all of the problems of integrating a shopping platform and carts with API2Cart, since this API model has already implemented integration with more than 40 shopping carts and marketplaces, including Prestashop.
API2Cart is a particular online platform that offers a single API to connect to more than 40 shopping platforms including PrestaShop, Shopify, BigCommerce, Magento, OpenCart, WooCommerce, as well as many others.
The most significant advantage of this kind of integration for your shipping software solution is that you will not need to create separate integrations or implement support for the new shopping cart versions when such occur. When you integrate your shipping software with API2Cart, you will connect and use shop-based data from any of the platforms listed above. This will save money, time, and development resources for you and will bring many potential customers. What's even better is that API2Cart has customizable pricing and that it promotes you to test the service for 30 days entirely free. Please feel free to contact us for more details about API2Cart.