Thrive Your Online Business with 3dcart Integration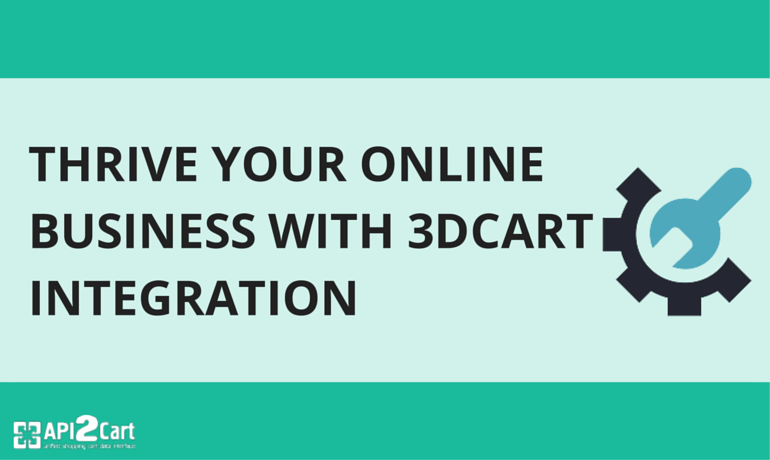 e-Commerce is developing as fast as the whole Internet technologies are, and new tendencies are coming up every year. In order to meet users' demands and to win the competition, you have to transform your online business according to all these new trends. Integration with multiple shopping carts is in the list of such drifts and by performing it, you will provide your customers with an excellent service.
For non-technical vendors, this may sounds like a programming trap that will constantly distruct them from conducting business. So, what is the solution? API technologies! This term is in the air for a quite long period of time. Fastness, openness, responsiveness, accessibility - all these words are considered to be synonyms to API.
With the help of API you are able to retrieve, add, update and sync various data from the clients' stores and integrate it with your soft in order to provide qualified online service. Application programming interface will help you to corner the market with no extra efforts.
3dcart Integration as a Nostrum for your e-Business
Nowadays, e-market provides merchants with a possibility to choose the proper shopping cart to integrate with, as the variety is huge. 3dcart is reasonably among top solutions with 15 years of successful work behind the back and plethora of adherents. As well as 15 000 of online stores are powered by 3dcart. Obviously, integration with this platform will bring you a lot of advantages, thus, you will satisfy clients' needs and increase your income simultaneously.
However, integration processes aren't so easy task, even, if you are using API. Merchants usually have to face up a lot of difficulties that cut into their job seriously, thus make them being in doldrums. API2Cart is an online integration service that is considered to be a robust solution to solve the issue. You are able to perform integration with 3dcart easily and effortlessly.
Moreover, API2Cart is proud to give you an opportunity to integrate with 30+ other platforms. Magento, Shopify, BigCommerce, PrestaShop, OpenCart, VirtueMart and other leaders with all their versions and additions are in the list of API2Cart's supported carts. In the aggregate, it's an access to 85% of the whole e-Commerce market.
API2Cart in Details
Let's look deeply on how API2Cart works. The number one point for developers is a single API that provides integration with more than 30 shopping solutions. So, they don't have to waste their time and forces to develop many modules for every cart. Interactive documentation is another benefit that is worth mentioning. Programmers are able to try and see how everything works directly on our web page. To access the system it is offered 32-symbol API key to ensure the process. When talking about uptime, it's worth saying that our service is available on 99,9%.
Service API2Cart is very scalable and flexible as you are provided with the possibility to add as many stores as it's needed. Add, update, retrieve and sync up to 10 items with related information just in 3 seconds. Fast, isn't it? Furthermore, it's feasible to broaden the functionality on your request.
API2Cart can be a real hand of help for online service providers in such industries:
Mobile commerce;
Accounting system;
Social commerce;
E-mail marketing;
Inventory management;
Order management;
Comparison shopping engines;
Analytics system;
Reprising system;
Drop shipping;
Feed management;
Other third-party systems.
So, you don't have to worry, if you have some troubles with data manipulations. API2Cart allows you to add, retrieve, update, sync various data you need, including products, customers and orders with related information. Easily get customers' names and addresses in order to perform e-mail marketing campaign. Monitor prices and change it in real time with no extra efforts, retrieve products' quantity to inform your client's on its lack as well as get all needed data to perform qualified analytic service.
You are free to broaden the list of API2Cart's advantages after establishing integration with 3dcart. Don't waste your time and empower your e-Business soft with API2Cart that makes an integration process supremely easy and convenient.
If you have some questions, feel free to ask them. Let our expert help you! Schedule a FREE Consultation.