15 B2B E-Commerce Events to Attend in 2016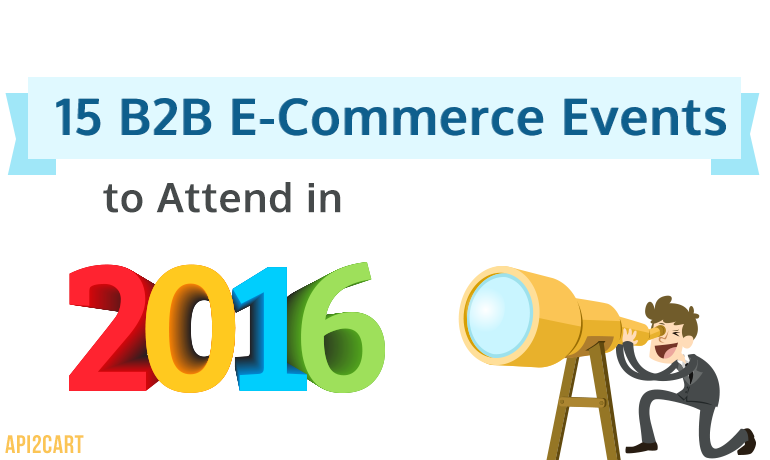 Advent calendars are started, Hanukkiahs are lit, and the year is about to come to a close. It's not only surprises that 2016 holds. It's also something as interesting as a gamut of big events. More business networking, more business opportunities to explore, and more loyal clients to be found!
March 13-15, Orlando, FL. Have a warehouse management system to enhance? Get advice from and connect with top professionals in the industry. Hurry to catch early-bird rates expiring soon.
April 11-13, Las Vegas, NV. This yearly conference organized by Magento gathers over 2500 e-retail experts such as merchants, agencies and solution providers from 45+ countries to network and share the latest inspirations, technologies, and strategies transforming the industry. Sounds like something you would like to attend? Register here.
June 7-10, Chicago, IL. Fancy diving into the latest online commerce trends with those who lead them? IRCE 2016 is just the chance to do so. Being focused on everything about e-Commerce and the people behind it, Internet Retailer magazine expert editorial team do a thorough job to hand-select the best industry speakers having much real business experience to share.
More than 130 conference sessions, over 220 expert speakers, two full conference days with five tracks each, additional two days dedicated to workshops, and ready-to-implement solutions are waiting for you.
September 14-15, Manchester, UK. BCSC is an annual chance to get weeks worth of networking and business deal making over just 2 days. Meet more than 2500 participants representing all industry sectors -- the best retailers, investors, service providers, developers, agents and professional consultants are all going to be there! Book a stand and benefit from exhibiting. The hosts promise BCSC will be the place to connect with all those delivering future change.
ETail 2016
ETail is the largest series of yearly e-Commerce-related gatherings that take place in different spots all over the world since 1999. In the year to come, the following local events are scheduled to take place:
Other Related Events
September 22, Austin, TX -- MivaCon 2016 (gathers web designers, developers, store owners, and e-Commerce industry experts to talk Commerce under one roof)
September 28-29, London, UK -- eCommerce Expo 2016 (a free to register and visit event for marketplace for buyers and suppliers of the latest e-Commerce technology, products and services)
November 2016, Miami, FL -- TigerDirect Innovation -- IT Conference and Expo (a one-of-a-kind B2B event focused around innovation and business-oriented technology that makes a spot for both business people and IT vendors and professionals)
Warehousing & Inventory Control Conference (offers two tracks each dedicated to warehouse and inventory management issues correspondingly)
The fifteen meetings mentioned in this post are indeed not the whole list, but they are those that have proven to be worth your attention. Let us know if there is an event that you are planning to attend and we missed.
P.S. If you would like to find out how API2Cart works and how it can enhance the functionality of your B2B service, schedule a FREE call with our representative.