Accounting System Integration: Stand Out of the Crowd of Competitors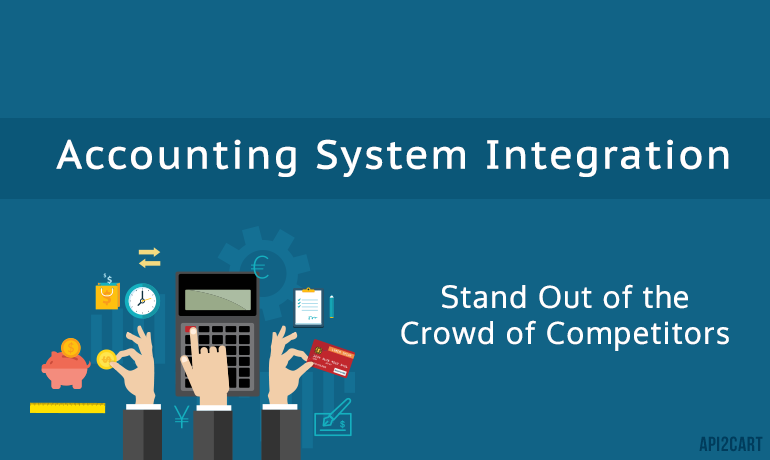 Accounting is something that sounds pretty obscure if you think of starting a business and becomes a priority as it grows into profits. Simply because you want to keep finances neat and clean, be well aware of your financial gains & expenditures, and never blink an eye in fear of your business audit.
Why Accounting Systems Are in Great Request
For merchants owning one small shop, maintaining finances in order is no big deal. But as the venture grows and the retailer starts using all possible sales channels like online and brick-n-mortar stores, marketplaces like Amazon or eBay etc., things get hectic. The hardest part is putting a whole picture made up of the small fragments -- each of the sales channels separate financial reports -- together. It is hard to do on paper or using various types of accounting software and a few employees performing the task.
Accounting can be much simpler if done with one of the numerous accounting systems offered on the market. They claim to be indispensable tools for each business and at the scope of their typical functionality makes it hard to disagree. Accounting systems streamline reporting and save time by eliminating the need to keep separate financial and cost-accounting records. It also does a great job with invoicing, payroll and inventory management, presenting a comprehensive view over how your business is doing in general.
How to Make the Most of It
While business owners are sweating choosing the right accounting software, its vendors are struggling to find ways to attract new customers to their product. Apart from developing new advanced functionality, a great way to expand the circle of potential customers is having everything to meet the needs of any of them. For example, having integrated an accounting system solution with popular shopping cart platforms, vendors automatically receive thousands of potential clients -- all the supported shopping carts' users.
While others might be taking a long detour striving to find a way to get into each particular shopping cart and retrieve the necessary data, there's a much faster way. API2Cart serves as a connector between your accounting solution and 30+ most popular e-Commerce platforms including Magento, PrestaShop, Shopify, OpenCart, WooCommerce and many others.
Using API2Cart, you get the following opportunities:
retrieve orders with related data to handle payments and bills effortlessly;
receive the quantity of products and orders to generate reports in a few clicks;
retrieve placed orders to provide merchants with detailed analysis on their business progress;
get order total to provide an analysis of a clients' sales as well as an insight into their trade details in order to offer a review.
Other than that, API2Cart offers a bunch of great features to ensure maximum convenience for its clients:
it takes care of the integration security and offers a 32-digit API-key to access the system and SSL certificate so that any breaches are eliminated. thanks to the comprehensive interactive documentation most of your questions will be answered at the spot.
in case you have any special requests or issues, API2Cart team of professionals is always there for you ready to help you anytime.
If you are not sure API2Cart can come in handy for your accounting system, it's a good idea to talk to one of our experts to make up your mind. Schedule the free consultation now to work out the best strategy for your accounting system integration and business benefit with API2Cart.