Analytics Integration: Invisible Weapon Against Business Failures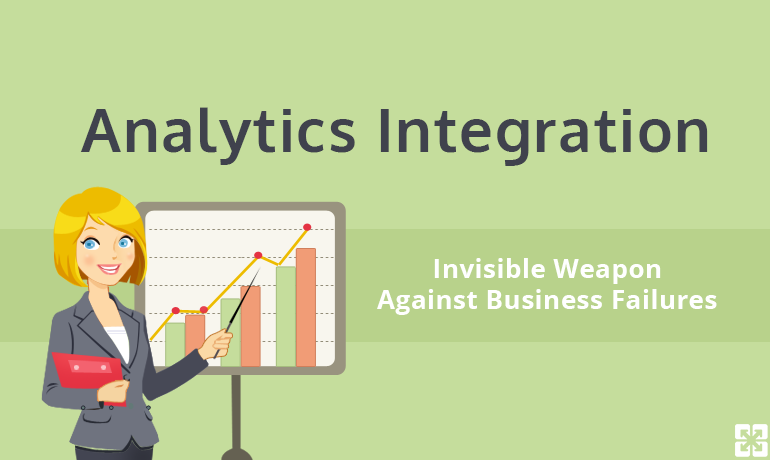 For many merchants, online retail business has innumerable advantages over running a brick-and-mortar store. Nevertheless, there's one serious drawback to selling online almost every e-merchant dreams of overcoming: they know very little about their customers. They do know the name and shipping address, but not seeing how clients behave, how they find their way around the store leaves many question marks. Luckily for such merchants, analytics systems have been introduced. They gather all possible kinds of data to provide a deep insight into what's actually happening on the site, from the number of visits and pageviews, quantity of orders and abandoned carts to building heatmaps and recording videos of individual site visitors.
Thanks to the data presented by an analytics system, especially the one with built-in eCommerce analytics, a store owner can better understand the customers and their needs and improve their experience to reach the business goals. Of course, the data by itself means little, but with correct interpretation e-merchants can discover hidden problems and opportunities within the store website. For example, critical steps in the sales funnel, where most customers fall off, or particularly successful newsletter. Analytics systems can show in numbers how effective your marketing strategy is and point out the activities that bring little to no result. Due to the abundance of analytics software on the market, only most common features are mentioned, while each tool has a whole lot more to offer to its clients.
Still, in order to stand out and grow their business, analytics software vendors have to find a way to attract new clients with something exclusive and very useful. Developing exquisite functionality for extra deep analysis doesn't always work well as only a small number of users would know how to use it. There's a more promising way of attracting many new clients - developing integration with different shopping carts. eCommerce is a highly prospective sphere, since merchants always seek for ways to improve their business, and analytics can answer their needs.
Once decided on which carts to integrate with, vendors can face serious challenges since each platform has their own API or other unique way of letting you access their data which makes retrieving it no easy matter. Working on shopping cart integration can incur serious money and time investments, which are not always affordable. Imagine what a headache it would be to elaborate tens of those. The good news is, this issue has already been dealt with by API2Cart. It provides a unified API for easy integration with over 30 most popular eCommerce platforms, including Magento, Shopify, Bigcommerce, PrestaShop, WooCommerce, OpenCart, and many others.
All that is left for an analytics software provider is connecting to API2Cart, using the static and interactive docs and code samples. It opens the way to the following functionality:
get the necessary data to generate forecasts and statistics for customers
retrieve orders data, products prices and ensure accurate statistical analysis
retrieve orders with related data to discover most productive scenarios that lead to best results for your clients
provide your clients with a refined data management software for data analysis and productivity boost
connect unlimited number of clients' stores
Apart from that, API2Cart takes care of its clients and provides full technical support, well-documented API and total security for your data thanks to the use of SSL certificate to secure the integration, plus 32-symbol API key to access the system.
Making a decision like that can be tough, but, let's face it, the opportunity is too good to lose, plus it never hurts to try. So, go ahead and schedule a totally cost free consultation with one of the experts from API2Cart to dispel your doubts and work out the ultimate way of cooperation.