B2B E-commerce News Monthly: What You Need to Know When Expanding in Europe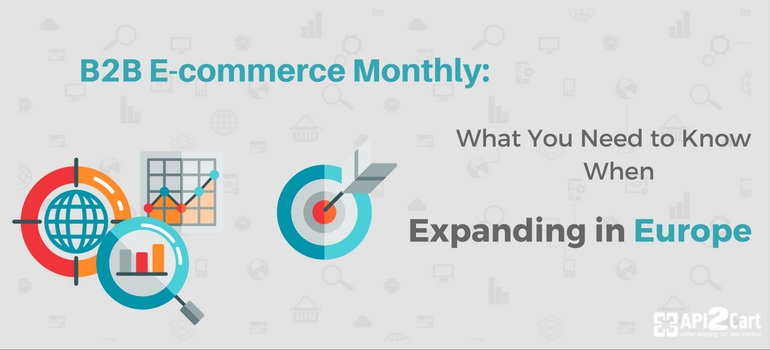 We are back with our regular monthly roundup of B2B e-commerce news and useful insights. Here is the list of topics you will find covered in this article:
what you need to know when expanding in Europe

emotion recognition: Software as a Superhero

five reasons business power users should adopt data science techniques

visual search for e-commerce going mainstream

how e-commerce is changing warehouses for the better

what is growth hacking?

big data and analytics: creating new value

US Comptroller gears up for blockchain and Internet Finance
Emotion recognition software is a growing field of technology that comes almost terrifyingly close to the mind reading super power. While some people shun machines with emotional intelligence, others use them as a competitive advantage for their business. Read more in Kris Schulze's article.
Industries from healthcare to agriculture to banking to retail are hitching their wagons to the big data and analytics train, and for good reasons. Discover these five reasons business power users should adopt data science techniques.
Visual search for e-commerce going mainstream and Gagan Mehra knows why. Discover five primary reasons why visual search is experiencing great adoption and how can it be of use in business.
E-commerce is constantly forcing warehouses to upgrade for greater reliability, higher efficiency, and a better fit for customers. So how have they been responding for new demands? Larry Alton has shown how warehouses have evolved over the past two decades.
There are many definitions of growth hacking, and this causes difficulties in understanding this term. So Jonathan Aufray decided to explain what the growth hacking really is, as well as it's key principles and components.
Cross-border commerce requires a lot of research, adaptation, flexibility, and understanding of the new market to be successful. Richard Kirk, sales director at B2C Europe, has shared his knowledge on things that e-commerce players need to know when expanding in Europe.
By the way, you might also be interested in learning what shopping carts to integrate with if targeting the EU market.
The massive amount of data available from connected devices creates an opportunity for increased optimization of products and services -- and, consequently, revenue. Brad Russell has explained how big data creates new value for business.
The U.S. Office of the Comptroller of the Currency has a lot of catching up to do in dealing with innovative information technology, as it affects not only conventional finance, but also new channels of e-commerce made possible through advances in IT. Read more in the John Higgins's article, "US Comptroller Gears Up for Blockchain and Internet Finance".
That is all for November! If you have any questions or suggestions, feel free to contact us. See you next month!