The Essential Guide to Promoting Your eCommerce Store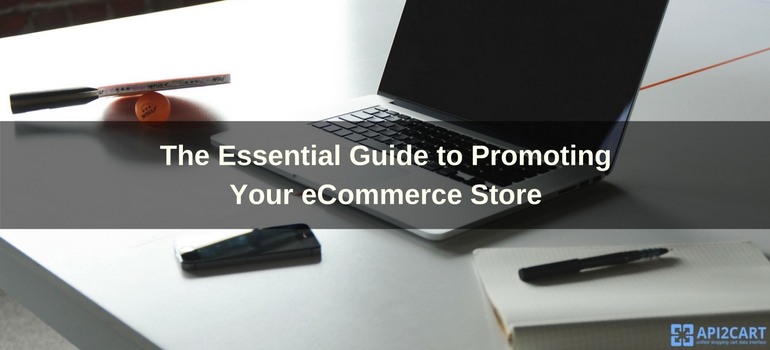 You're fully stocked, your eCommerce store is online, but you have no customers. Don't worry, we've been there, and we have some useful eCommerce tips and tricks to help you promote your eCommerce store.
Contrary to popular belief, there's no need to spend thousands of dollars on marketing. If you know what you're doing, you can establish a strong online presence for next to nothing. In 2016, total retail sales across the globe reached $22 trillion, and experts estimate that they will grow three times faster than the retail industry in 2017. In other words, the market is ready—you just need to capture your slice of the pie.
Understand Your Customers as Well As You Understand Yourself
"The aim of marketing is to know and understand the customer so well the product or service fits him and sells itself." Peter F. Drucker
The main prerequisite of any marketing campaign is a thorough understanding of the target customers. Spend some time thinking about their likes and dislikes. Find out who they are, what they want to buy and why. Consider developing detailed buyer personas. A persona is "a summary of the characteristics, needs, motivations and environment of a key type of website user," as defined by Dave Chaffey from Smart Insights.
Besides your customers, you also need to know what your competitive advantage is and what your brand stands for. The chances are that your eCommerce store isn't as original as you may think. After all, there are millions of retailers on the web, so it's perfectly understandable that not everyone can be 100 percent original. The question is how you convince customers to choose your store over your competition. The answer is simple: You need to stand out from the crowd and offer something of value, be it a friendly personality, fantastic prices, excellent customer service, or useful content.
Become Social
"Social marketing eliminates the middlemen, providing brands the unique opportunity to have a direct relationship with their customers." - Bryan Weiner
In April 2017, the worldwide number of monthly active Facebook users reached 1.97 billion, according to Statista. Other major social networks are not far behind: WhatsApp has 1.2 billion users, WeChat has 889 million, Instagram has 600 million, Tumblr has 550 million, and Twitter has 319 million.
Every single of these networks can be used as a powerful eCommerce platform for small businesses. If done correctly, social media can significantly boost your sales, help customers recognize your brand, and act as a powerful catalyst for your word-of-mouth marketing efforts.
Start by creating attractive profile pages on various social media networks. They should include your logo, contact information, and a short section where you explain to visitors what your business is about. From there, you just need to post engaging content and actively answer any questions regularly.
Have Something to Say
"Marketing used to be about making a myth and telling it. Now it's about telling the truth and sharing it." - Marc Mathieu
Search engines love great content, and consumers love using search engines. Marketing experts are well aware of this dynamic, and they've been preaching about the benefits of content marketing for years.
Content Marketing Institute, a leading global content marketing education and training organization, describes content marketing as a strategic marketing approach focused on creating and distributing valuable, relevant, and consistent content to attract and retain a clearly-defined audience—and, ultimately, to drive profitable customer action.
This content can be anything from blog posts, explainer videos, behind-the-scenes photos, infographics, and so on. Its purpose is to answer questions. For example, a person who wants to buy a new sofa may wonder what the pros and cons of leather versus other materials are. She goes to Google and types in "pros and cons of leather sofas." If your furniture store has posted a detailed article on the topic, the chances are that it will rank high in search engines and drive in potential customers. When you answer a question like the one from our example, you instantly build trust between you and your customers, increasing your chances they will choose your store.
Consider Paying for Ads
"If you build it… you may still need Google AdWords." - Jennifer Mesenbrink
Even with the proliferation of ad-blockers and steadily decreasing global ad revenues, one of the most echoed eCommerce tips for small businesses is to embrace pay-per-click (PPC) advertising. Using various platforms for targeted advertising, such as Google AdWords, Facebook Ads, or Pinterest, you can precisely target people based on their search history, location, demographics, and more.
Hochman Consultants, advertisers on the Google AdWords ad network pay over $2 per click at a conversion rate of 6.5 percent, which adds up to $33 per conversion. "We've seen budgets ranging from $50 per month to $500,000 per month and even more," states the search marketing agency.
While PPC advertising can be done on any budget, it's usually businesses with more cash to spend who see the biggest results. That being said, some marketers argue that the extremely low cost per 1,000 impressions of certain advertising platforms, such as Facebook, represents a tremendous opportunity to get in front of thousands of potential customers. "If you just spend $1 per day on Facebook ads, you will get in front of 4,000 people that wouldn't have seen you otherwise. If you are doing that and your competitors aren't, you win the awareness game in your niche," explains Brian Carter in his article posted on Moz.
Conclusion
When you build an eCommerce website, you're at the very start of a long journey. With our advice, you will be able to quickly create a large base of loyal customers and social media followers. Don't feel pressured to implement all marketing tips from this article at the same time. Take it one step at the time and use your own results to help you adjust your course.
Author Bio
Rohan works as a Digital Marketer at Pixpa. Apart from studying business strategies and techniques, he's a fitness enthusiast and loves to read about fitness and nutrition. He prefers protein shake over coffee any day.