Magento Inventory Integration: A Golden Opportunity for Your Business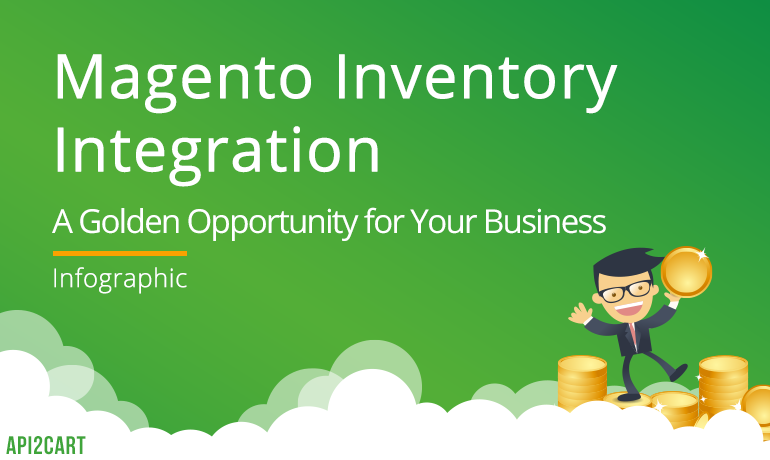 It is not a secret that e-Commerce is becoming more popular with every new day coming. From a little child to a grandmother, everyone buys things online, and this encourages many to become e-retailers themselves. As their stores become more popular, and sales begin to grow,  it becomes harder to maintain all the information on the number of items sold and those running out of stock.
Inventory management software releases e-merchants from headaches and handling inventory control. It manages orders, updates inventory and stock levels for all channels automatically, and forecasts potential product needs to prevent both overselling and extra expenditures. As an inventory management service provider you might be interested in finding some new opportunities for your business. If so, integration with shopping carts is what will take you to the next level.
There are many shopping platforms used by various store owners nowadays. And one the most widely used is Magento. Magento is an excellent e-Commerce platform that provides everything to help merchants attract more customers, increase their sales and make their business more profitable. Magento is used by over 26% of online stores which is equal to almost 250k e-shops, and all of them can be your potential customers. Magento inventory integration gives you an opportunity to retrieve all the needed information on the state of inventory and sync it within your system.
The main problem you will face is the integration module elaboration. It is a hard process that requires a lot of time and effort. Moreover, it will need maintaining and updating after it's done. Fortunately, you can avoid those problems with API2Cart . Thanks to its unified API, this service provides you with an opportunity to get access to the database of not only Magento but also 30+ shopping carts. Among the supported platforms you will find  such well-known shopping platforms as WooCommerce, Shopify, BigCommerce, X-Cart, OpenCart, Ubercart and others. Also, you will get over 55 API methods for various operations that might be needed.
Go through this infographic to find out more about Magento inventory integration and API2Cart as a tool to perform it.
Once decided on setting up an inventory management service, consider enhancing it via integration with API2Cart. Schedule a FREE сonsultation with our expert and let them answer all your questions, and help you to leave your doubts behind.