Magento Inventory Integration as a New Opportunity for Your Business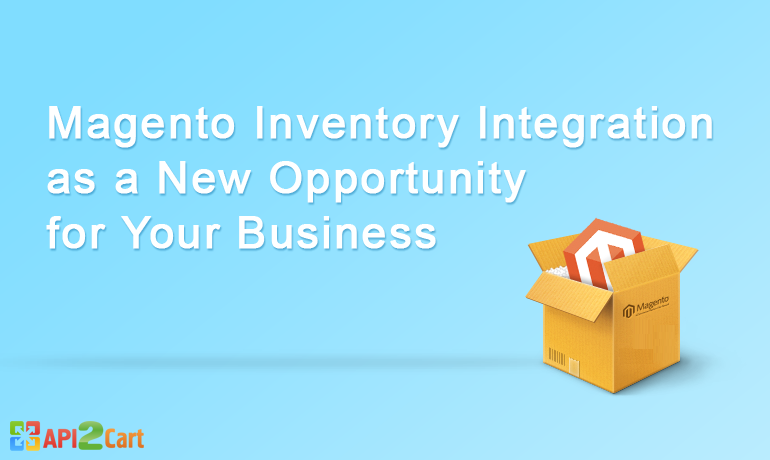 As an inventory management system provider, you are probably looking for new golden opportunities that would make your business even more successful. Some of the potentially advantageous moves would be expanding your market share and finding a way to satisfy a growing number of clients with your enhanced and better service that would beat rival offers. So how do you make your competitors tap out?
First of all, the right thing to do is managing to keep up with concurrent businesses or catching up if you are currently falling behind. It appears to be common knowledge that Magento is one of the prominent shopping carts. It has the biggest user community thus makes a vivid example of an e-Commerce platforms worth integrating with. Let us dwell on this very e-retail cart and possible benefits you might obtain.
Magento is a superb shopping cart the main pros of which are high flexibility and a rich number of SEO and marketing tools. It is enormously popular thus attracting for numerous witty businesses to connect to. It is no wonder that thousands of services have obtained access to the database of the e-Commerce platform, as this allows to retrieve the information on the state of inventory for an impressive number of their potential Magento clients. What it boils down to is that even if some B2B service providers do not intend on connecting to the e-retail cart at first, they do it in order to simply catch up.
As far as you probably know, one needs APIs in order to get access to the database of a shopping cart. The matter is that Magento can be regarded as a unique e-Commerce platform in terms of Application Programming Interface usage. It is currently not maintaining APIs, so attempting to elaborate an integration module for it will end up with facing multiple complications and incurring vast expenses. Hardly any developer will be willing to burn the midnight oil for a red cent. That is why be ready to both wait a long while and pay a pretty penny.
The good news is that there is a way to both avoid the pains of trying to connect to Magento and gain access to a great number of other shopping carts. With a dozen of satisfied big business and numerous developer clients, API2Cart has proved to be a reliable tool of integration with oodles of e-Commerce platforms. It will provide you with a single unified API that makes it possible to access the database of not just Magento but also 30+ other shopping carts such as Shopify, BigCommerce, WooCommerce, X-Cart, Ubercart and many others.
Such a collaboration or, in other words, Magento inventory integration performed will let you receive the data on and about your items offered for sale. You will also get up to 55+ API methods which will let you find plenty of useful operations at your disposal. Be aware of the state of the stock and know when some product is in shortage with the help of real-time synchronization.
If you have decided on running an inventory management service or simply would like to boost your current business, consider enhancing it by means of integration with API2Cart. Schedule a FREE сonsultation with our expert and let them answer all your questions, and who know, maybe you will have your doubts dispelled.