Must-Have Features for Business Automation Software and Key Challenges to Provide Them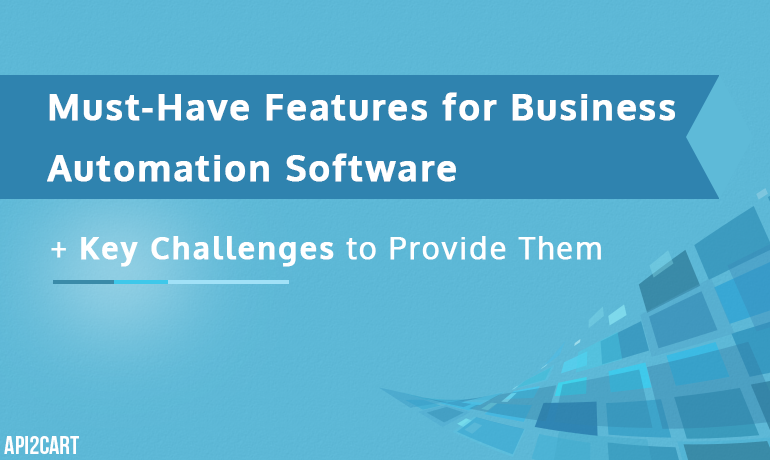 In the frenetic pace of e-Commerce development, it is not easy to stay competitive. It is like that for web store owners too because, in order to provide great service, they need to juggle a lot of business processes -- from managing orders, sales and marketing to tracking inventory and maintaining accounting records. When their business becomes a big fish - the work never ends. In this case, your business automation system might be exactly what e-retailers need.
Notwithstanding that the number of business automation systems presented in the e-Commerce market is huge and the competition is strong -- it is a great idea to build a business in this field. No matter if you just going to start it or already own one, it will be exactly demandable if you'll provide right features and great service. In order to achieve that goal, you need to build a system that would solve as many e-retailers problems as it actually can. In this article, we're going to present you the key features to provide and the challenges you will face on your way to success in this niche.
Warehouse Issues
E-Commerce sites usually rely on a large warehouse inventory, which can be hard to maintain. You will need to run off of each product's unique SKU number to track the inventory flow. This will be especially helpful to large e-commerce businesses and those with a physical retail location. If the product listed online is bought in the live store, your automation software has to recognize the sale and remove the item's SKU from the online inventory. You will need to exclude the need for store owners to update stock manually and exempt them from risk to sell the product that is out-of-stock in the warehouse.
Order Fulfillment
In a few words, order fulfillment is a multi-step and very time-consuming process, and your automation software needs to crucially streamline it. For example, when an item is purchased, the system has to automatically create a picking ticket, which pickers can use to match the product SKU. In such a way, you will cut down not only retailer's order fulfillment costs but also the time customers have to wait for their order to be prepared and shipped.
The Opportunity of Targeted Marketing
Your business automation system has to track not only e-retailers inventory, but also sales and manage customer relations. When a customer visits the online shop, explores a particular product, buys an item, or signs up for a promotion, your automation software have to analyze all that data. By giving such information to the web store owner, you enable them to build targeted campaigns and customized promotional offers.
Moreover, your clients might want to automate their promotional offers. Accordingly, you will need to provide them with the possibility to set the system to automatically trigger certain actions when a customer behaves in a definite way. For instance, if the buyer abandons their cart, the system has to automatically trigger a shipping discount or price drop alert to be sent to them. In such a way, you will help e-retailers to encourage their customers to complete the transaction.
The Biggest Challenge
In general, to overcome all the challenges mentioned above and provide clients with those features you need to solve the greatest problem of the retrieving products, categories, prices, orders, customers and other data from e-retailers stores. The reason for this is that all general functionality of your system will require getting and synchronizing this information. You will need to have access to the data of e-retailers' stores that are build on different shopping platforms. Therefore, you will need to integrate with them to meet all the clients' needs.
A Simple Way to Integrate with Multiple Shopping Carts
At the beginning, you will probably start from one e-Commerce platform. In order to get connected to it, you will need to go through the winding road that begins with searching for a professional programmer. You'll need one who will be able to develop an integration module which must be secured and bugless. After you find such a specialist, the process of elaboration will take a long while, and you will very likely pay through the nose for it. Moreover, the module will require further maintenance, and consequently more money expenditures from you. Like any other entrepreneur, you want to build a successful business, and in future one shopping cart will be not enough for you. So, you'll need to repeat the same process with each platform you want to integrate with.
There is a bit easier and faster way to integrate with multiple shopping carts with the help of API2Cart. The service offers its unified API that enables you to get connected with 30+ shopping carts. Thus, you can perform one integration instead numerous ones, and get access to the data of stores located on any of these platforms. Among those shopping carts, you can find such industry leaders as Shopify, Magento, PrestaShop, Bigcommerce, WooCommerce, 3dcart, and others.
To find out more information about API2Cart and how you can perform integration with multiple shopping carts at once, schedule a FREE consultation by simply clicking on the button below.