How to Start Marketing Your Newly Developed B2B E-commerce Software: 5 Simple Low-Cost Tips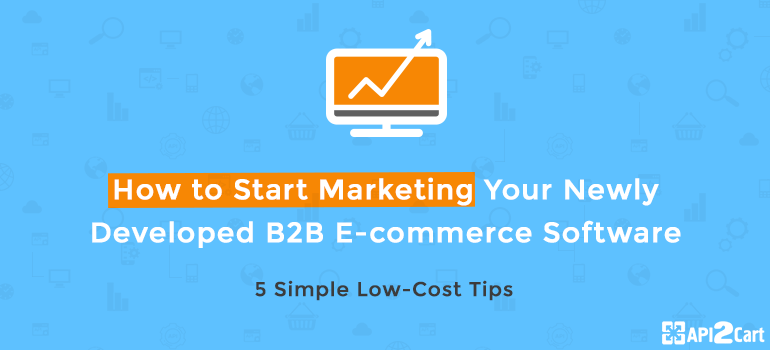 In the modern tech world, just developing and releasing a great and useful piece of software is not enough to make it successful. In order to get noticed and appreciated, every creation, even the brilliant one, needs to be promoted and presented correctly.
Software promotion can take a lot of time and resources, but even if you can't afford an expensive marketing campaign, you can take a few easy low-cost steps to build a web presence and get attention online. Here are five tips on how to start promoting your brand-new software effectively without investing much money and time:
#1 Set up Analytics for the website
To develop the best marketing strategy for your business, it is critical to see the results of your campaigns and identify the most successful practices. Installing analytics software is the best way to stay aware of how your business is doing, as it shows how many people are visiting your website, how they got there, what pages are the most interesting for visitors and much more. This allows you to make grounded marketing decisions.
#2 Be concise
In this busy era, people filter information very quickly, so you have only seconds to grab their attention. Think up a short and simple explanation of what your software does. Up to three sentences will be just perfect. Mention just the essentials there to get the point across to the potential customers.
These few sentences describing the product should be the first thing people see on the front page. Instead of cluttering it with information, you can link to other pages for details.
#3 Show your activity
Once you got some people interested in your software, your next task is to keep them interested. Having a customer-focused blog incorporated into your website where you explaining what is going on and what your plans are is an effective way to show people that you are engaged with your project and continually improve it. By regularly posting updates and plans there, you show that you are not just another fly-by-night venture.
What is more, if you manage to make your blog really useful and compelling, you will build the whole community of your customers and just passionate folks around it. This will help you to create a buzz around your project and get invaluable feedbacks on how to improve it.
#4 Start doing Search Engine Optimization (SEO)
If you are reading this while just planning on developing a software, we recommend you to get your website domain up as soon as possible. While you will be elaborating your app, the website (ideally, full of keyword-rich content) will be aging like a fine wine and earning credibility in the eyes of search engines; slowly, but steadily. There are a lot of different ways to do SEO, but whichever you choose, remember to keep your focus on making your website useful for people, rather than on getting better ranking on search engines. Otherwise, you may win in the short run but will definitely lose in the long run.
#5 Start off small
Don't have time to create a website? Start with a single page of html explaining what your software does, where to purchase/try it and who to contact for the details. You can slowly grow your website over time: add new pages, expand descriptions, and link to new features like use cases and documentation.
Don't have much time for blogging? You can either outsource it or try microblogging. Create an account on Twitter, put a Twitter feed on your website and write short messages once in a while.
In case you run some e-commerce B2B software system, consider integration with shopping carts via API2Cart. It provides a unified API for seamless integration with 30+ shopping platforms. Thus you can save time, money and efforts on multiple integrations.
You can try how unified integration via API2Cart will work for your business or schedule a call with our expert to find out more.