API2Cart: Year in Review 2014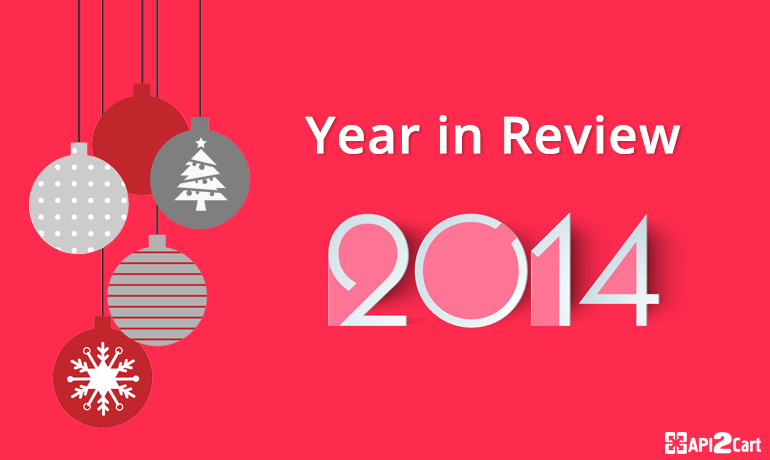 "Oh, the weather outside is frightful. But the fire is so delightful." - Yes, that's it. Do you already feel the Christmas spirit in the air? One more lap around the sun is in its completion and I have thought that it would be interesting to have a look back at the past year in the context of API2Cart. So, let's briefly list API2Cart highlights.
That was a significant year for our Team. More professionals have joined our ranks enhancing the developers' resources. Also, service's functionality has been improved greatly, the number of supported platforms expanded as well as new API methods were added. Let's look closer at all the achievements.
API2Cart Milestones
The list of supported platforms is enlarged with Shopware. Adding this shopping cart is the next step forward to provide you, our dear customer, with the highly-qualified service. Now you get an opportunity to integrate with this solution, thus, keep broaden the potential audience in no time.
New API2Cart web site release. Updated look, user-friendly navigation and other improvements to fulfill all expectations are presented to show our appreciation to our customers. All changes are done to satisfy the most spontaneous desires. Supported API methods are separately displayed on our new site to provide you with a possibility to navigate through them and see or try out how they work.
Thousands of code lines were written in order to add a bunch of new API methods to enrich the functionality. Numerous bugs were catched and fixed thanks to our dedicated developers and QAs.
New documentation. Our developers have kept their noses to the grindstone and released fresh and updated docs to provide developers with excellent DX. Both static and interactive documentations help establish productive work with API2Cart at once. Each of 55+ API methods is described with all necessary parameters. Integration code samples on PHP are presented to help to get started easily. Integration Basics section holds the basic info about the way to connect the store to API2Cart, how to work with products, customers, orders, and categories. Also, a lot of additional information is given, including recommendations for  developers and all filter fields explanations. And that is definitely not a limit, we are continually working to satisfy programmers and soon all error descriptions will be available. As well as code samples on Java and C# will be presented to make the service a clear tool to use.
Planned platforms section. We are eager to help our customers to win the frenetic pace of e-Commerce competition leveraging the number of supported shopping carts for integration. So, another 27 platform is going to be maintained by API2Cart.
Some of the Major Product Updates
A lot of work and forces have been invested into service's functionality enhancement by adding new methods for integration with Magento, WooCommerce, xt:Commerce Veyton, Bigcommerce, OpenCart and many others. All processes concerning retrieval, adding, deleting, syncing are now expanded with numerous new API methods.
The list of product updates may last for pages, so for more details go through the Supported Methods section.
Useful and Informative Blog Posts
Interview with Kin Lane, tech gypsy, API Evangelist and just a great guy. His experience and expertise in API is worth sharing. So, no wonder that his thoughts and insights about Application Programming Interface is the hottest topic.
Interview with Matt McLarty,  the vice president in API Academy at CA Technologies He has a vast experience in IT and API in particular. He didn't mind sharing with us his views about Application Programming Interface notion here at API2Cart.
API Glossary. Often people face a lot of problems in understanding the complex term of Application Programming Interface. So, this article deserved to be in the list of most viewed posts on our blog.
JSON vs XML: API Data Interaction. This rhetorical question bothers tech community, which format to choose to perform data interaction. And our blog post makes a contribution for clearing more details that programmers need to know before a decision.
API Testing: Is It Essential to Perform? The post clearly describes the basics of API testing. So, don't miss the chance to read it once more as this article was among the most readable ones on our blog.
One word really can sum up how actually we feel about 2014. And this word is "Grateful". We are grateful to you, our customers, who continually inspire us to enhance API2Cart functionality. The aim to bring value for your business through our code is a crucial part of the whole work. API2Cart Team wants to express all the best festive wishes. We are truly grateful for your trust in our company. This time of year brings to mind those things in life that are most important. Love, joy and peace are the ingredients for a wonderful Christmas. We hope you find them all festive season. Have a Merry Christmas and a Happy New year!