FinancesOnline distinguished API2Cart with the Great User Experience 2016 Award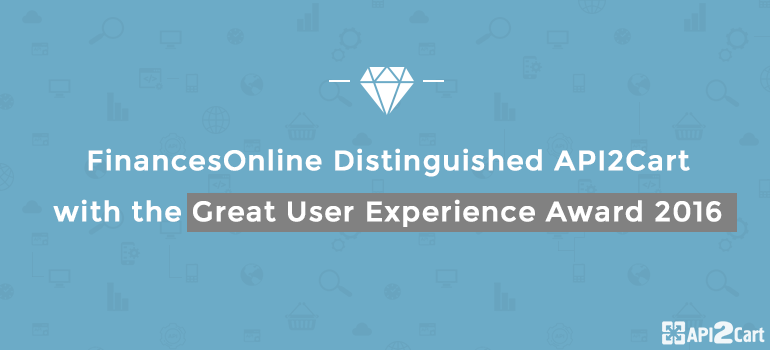 The API2Cart team cares to provide our customers with an excellent user experience, and their positive feedbacks and success stories affirm this. This does not go unnoticed by FinancesOnline, one of the most popular business software directories.
We are happy to share the news that experts from FinanceOnline have distinguished API2Cart with the Great User Experience 2016 award for their best shopping cart software category. This award is given to applications and services that significantly contribute to the quality of user experience, and we are excited to be among them! :-)
We are also proud of our API2Cart software review by FinanceOnline SaaS and B2B experts. In the review, they paid special attention to customer support systems, technicians competency, and advanced features. They also noted that our service not only meets the current needs of the B2B market, but also offers reasonably priced plans for saving companies a significant amount of money they would spend on separate integrations and their maintenance.
Honored by the award, we are inspired to continue enhancing our product. We encourage you to leave feedback so that we can improve our functionality and customer support even more. If you are not familiar with API2Cart but would be interested in shopping cart integration for your business, let's talk! Book a call with our representative or just try how API2Cart would work for what you are doing.