Amazon API
Amazon is a marketplace that is popular among e-merchants across the globe. Amazon powers approximately 20 million live websites.
With the development of integration with Amazon API, eCommerce software providers can offer their services to all sellers who use this marketplace.
Amazon API is an application program interface that allows to programmatically exchange data on listings, orders, payments, reports, and more.
The building of integration with Amazon API is a time-consuming and technically complex process. Amazon API has existed for a long time and requires certain skills and knowledge. For example, in order to work with products, shipments, etc., it's necessary to use a CSV file or XML.
However, the development of connection with Amazon API is unavoidable if you need to get access to all the data from the stores listed on this marketplace.
Need help with Amazon API integration? Contact us for a free consultation by submitting a form.
Why integrate with Amazon API via API2Cart?
---
Expand the number of your clients
Amazon integration allows you to provide your software or application to millions of e-retailers who this marketplace for running their online stores.
Access all Amazon data needed
Using API2Cart API methods, you can import and manage Amazon data connected with products, orders, and other useful info.
API2Cart provides full tech support 24/7 by email, phone, or chat. Also, we have detailed guides and video tutorials on the FAQ.
We give 30 days to test our API. No functionality is hidden. Create your account and see how API2Cart works for your business.
How to Get Started with API2Cart
---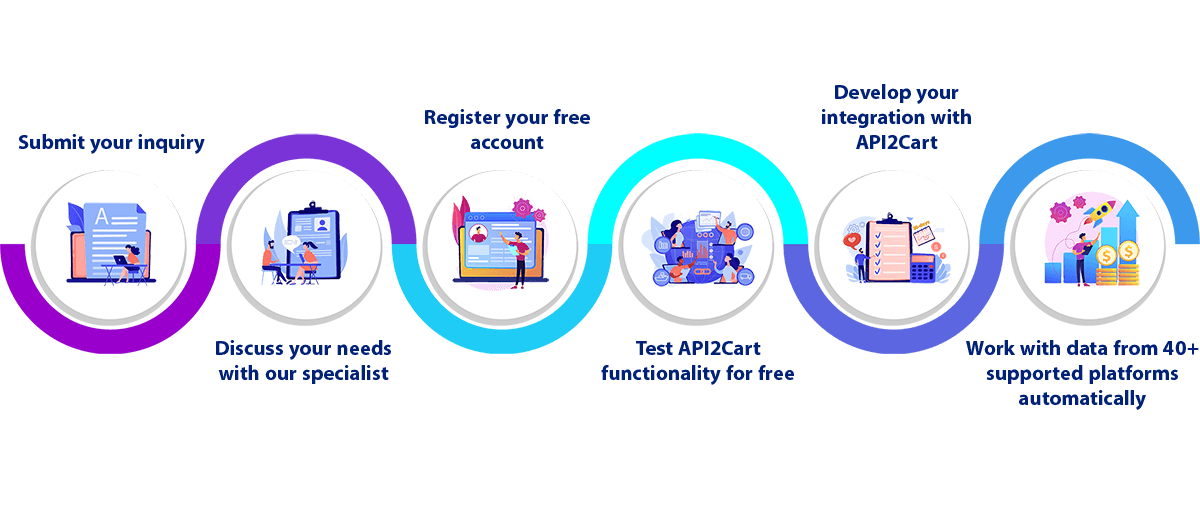 What our customers say
---

So we have a proprietary POS system called Rain Retail. rainpos.com has more info if you want to see how it works, but your platform is allowing us to integrate with Shopify so our clients who already sell on that platform can centralize inventory management in our system. We LOVE you guys, thanks for everything your support team has been doing for us!!!

We use Api2Cart for our customer integrations and have found them to be very helpful and responsive to any issues we have faced.Integration across so many variants and versions of shopping carts gets complicated very quickly and their expertise has helped us smooth over this process. I would recommend them to anyone looking to simplify their integrations.

Consistently Amazing - …the API and the infrastructure we use for shopping carts is built by a solid software engineering team we've known for years.Salesorder.com is a mission-critical order management platform for wholesalers. Our due diligence selected API2Cart as the best in its class. They've connected over 50 carts. It's how they earn their living, and they're probably best there is on Earth at cart integration and supporting a critical part of your business.

I have been using API2Cart since beginning of 2014 for our new webstores product. We have successfully integrated close to 100 stores and are currently doing 5 new stores every week.We started with the standard plan (shared hosting) and in 2015 we upgraded to a dedicated server to increase the number of monthly and concurrent API requests. As an ecommerce company with more than 20,000 online sellers security is very important for us. During the time that we have used API2Cart we have not had any problems related to security. The support that API2Cart provide us with is excellent. Communication is quick and the expertise from their engineers have helped us to successfully integrate API2Cart with our own platform.

We use API2CART now for more then a year. Several customers of our application are succesfully connected to this platform. So far we are very happy with the product and the service as well! Keep up the good work!

We have been working with you now for nearly 2 years now and your support is fantastic, one of the best I have worked with plus we have never had any security issues with you.

An API connection to shopping carts is the best way to work with merchants. Managing all those connections is a lot of work and requires a lot of knowledge. By using API2Cart we don't need to spend the time and effort to create and maintain all these connections.

Cooperation with API2Cart is a great opportunity for UniSender to become more accessible for e-commerce platforms users. For us it's fast and profitable since API2Cart supports integration with dozens of shopping carts thus providing secure and reliable integration. For our users it's even more opportunities to quickly and securely transfer their client's contact information from the most popular platforms into UniSender and start an e-mail marketing campaign immediately.

Thank you, API2Cart. Your API has helped us integrate with a new platform. You are a big part of our success.

So far API2Cart has been great! Simple and functional. I really liked the collector class from the code sample. It's so easy to call the functions I want through that.

At AppsBuilder we have been using API2Cart for over a year and so far over 100 of our clients have successfully used it to connect to the eCommerce provider of their choice. We have found the security of API2Cart to be excellent , and are confident that our clients' data and that of their customers in turn is more than adequately protected. We have certainly not encountered any problems of a security nature and nor do we expect to.

API2Cart enables us to support synchronization to any of the e-Commerce carts that our customers use. This means we can focus on what we do best, enabling turnkey mobile commerce applications.

We are delighted to be working with API2Cart and be able to offer our mCommerce solution to hundreds of thousands of eCommerce store owners looking to go mobile. Being invited as part of the API2Cart network means any eCommerce store owner can easily synchronise their store with MobiCart.

We have finally succeeded in getting our first client adding the store to API2Cart. And the API worked! Pure magic. I simply press the button and receive all the necessary information. This thing is really awesome.