Download Use Case for Localization Software API Integration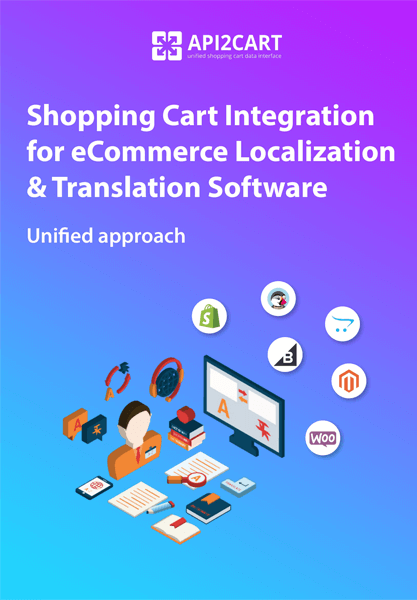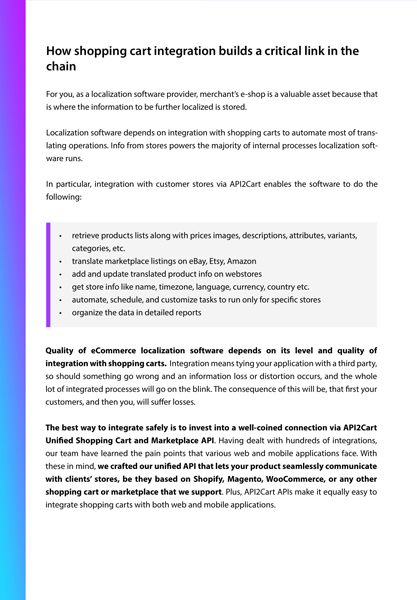 Good Integration with shopping carts and marketplaces is the lifeblood of your business.
It powers the majority of features and processes that every Localization system covers. Read more in the Use Case
Localization Software API Integration
Translation and Localization
Why API2Cart
---
API2Cart has everything for easy localization software API integration with eCommerce platforms and all methods needed to carry out your operations
Integrate your product with more than 40 shopping carts via one API
Get list of products along with prices, images, descriptions, attributes, variants, categories, etc.
Translate marketplace listings on eBay, Etsy
Get store info like name, timezone, language, currency, country etc
Automate, schedule, and customize tasks to run only for specific stores
API2Cart-Localization Software Workflow
---
What Our Clients that Provide Localization Services Say About API2Cart
---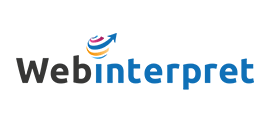 I have been using API2Cart since beginning of 2014 for our new webstores product. We have successfully integrated close to 100 stores and are currently doing 5 new stores every week.We started with the standard plan (shared hosting) and in 2015 we upgraded to a dedicated server to increase the number of monthly and concurrent API requests. As an ecommerce company with more than 20,000 online sellers security is very important for us. During the time that we have used API2Cart we have not had any problems related to security. The support that API2Cart provide us with is excellent. Communication is quick and the expertise from their engineers have helped us to successfully integrate API2Cart with our own platform.
Unified shopping cart integration saves you
---
Time
Connect to dozens of platforms via one integration. It's months of expensive development work avoided
Money
Minimize TCO
. In-house IT costs on integration with multiple shopping carts are up to 9 times more expensive than integration via API2Cart
Human resources
Concentrate on what matters for your business. We take care of platform updates / the API maintenance