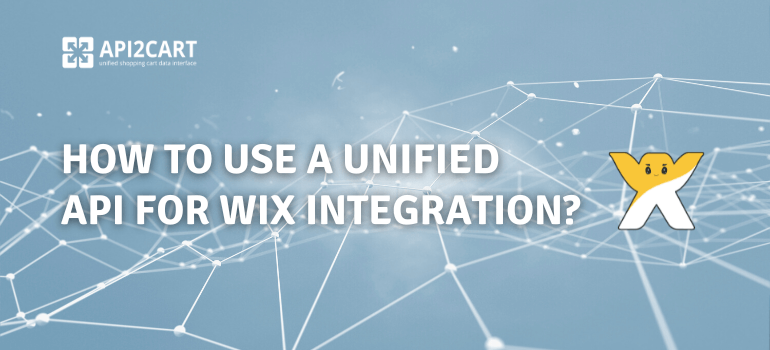 The modern consumer's needs are ever-changing and eCommerce businesses must keep up with the times in order to retain customers. To maintain success, they need solutions that meet their specific needs. It is where eCommerce software vendors like you come into play. You provide businesses with sophisticated Software as a Service (SaaS) solutions to help them streamline their online business operations. By delivering services that allow companies to drive customer engagement and boost growth, you can be assured of having a major impact on the world of eCommerce in today's age.
With eCommerce growing rapidly, retailers must have access to store data to stay up-to-date on their business operations. In order to equip these merchants with the necessary information to succeed, software vendors must integrate their tools with APIs for Wix and other shopping platforms. Therefore, it is even more important for software vendors to equip their software with store data to help these vendors. Furthermore, with such efficient integration through APIs, e-retailers can effectively gain real-time updates on improving and adjusting their online stores.
Top Reasons Why You Should Connect to Wix
For any software looking to offer its services to hundreds of thousands of online merchants, having Wix integration is a must. Not only will you have access to the platform's data in retrieving, syncing, updating, and deleting, but you'll also be able to manage product and shipment information effortlessly. In addition, it helps your retail customers optimize their business and provides many other benefits for your own business. Let's consider some of them:
Wix has over 10 million users and is one of the most widely used eCommerce platforms today. The company has global coverage of more than 190 countries and is growing every year. The Wix integration will offer you more coverage if you need to expand your business.

Integration with Wix can help you expand your eCommerce business software around the world. You can cover international clients with Wix presence all over the world.

More customers and capture means more revenue and, ultimately, more profits. Certainly, connection with Wix clients and the development of reliable integration with this platform can significantly increase the income and profit of your business.

API integration with Wix can help you provide customers with better service than you do now. For example, it allows you to receive updated Wix information about orders, products, customers, delivery details, etc. and allows the software to perform its basic tasks.
Main Aspects of Wix API
API is a powerful tool for creating custom integrations with the Wix platform. It allows developers to access Wix users' store data such as products, contacts and orders. With Wix API, you can control user input and utilize an authorization flow through OAuth to keep the data secure. The API utilizes standard HTTPS terminology and returns responses encoded in JSON format.
A key feature of API for Wix is its capacity to handle high-use volumes of traffic without affecting performance, with requests up to 200 per minute, per instance. It also provides OAuth 2.0 authentication protocols which ensure a secure user experience. However, there are some restrictions. For example, webhooks are not supported and creating real orders on the trial store is unavailable. In any case, API for Wix can provide incredible performance for most applications and sites.
As technologies continue to evolve, the Wix API makes sure it keeps up with the latest advances in order to provide customers with a comprehensive experience when using its services.
Wix Integration Issues
Wix API integration challenges can make the process of connecting to Wix more difficult. Developers must be aware of certain nuances and potential pitfalls that can arise while working with a Wix API.
Developing Wix integration can take a lot of work to set up and maintain. In addition, there might be associated costs that come with implementing integration. Beyond the practical considerations, security is always a major concern for eCommerce providers, as API abuse can cause serious data loss or breaches and affect user trust in your products.
Nonetheless, the potential gains of bringing your product onto the Wix platform can far outweigh the drawbacks, making it a worthwhile endeavor, provided you expect to stay on top of maintenance.
Usage of a Unified API for Wix Integration
Do you want to start working with API for Wix, but need help figuring out what to start with? Don't look further than the API2Cart, the highest-rated solution that makes connecting your eCommerce software to the Wix platform easy and straightforward.
A unified API created by API2Cart provides the solution for rapid and efficient integration of your SaaS system with different shopping platforms. This API enables businesses to connect to not only Wix but more than 40 other large shopping platforms and marketplaces at once, so you can save time reintegrating for each different platform. Our unified API makes it easier than ever to create a seamless connection between systems without worrying about compatibility.
API2Cart is a unified API provider with more than 100 methods that give you easy access to data associated with orders, products, shipping details, categories, and prices. This reduces the time and effort previously required to build separate integrations.
You can get everything you need for easy integration through API2Cart, regardless of your niche. We can help you develop your business and cover all of these tens of thousands of potential clients at Wix.
Now Wix integration can be done quickly - all you need to do is register for a free account and you'll be able to explore API2Cart for 30 days completely at no cost. If you require additional information, our managers are available on hand to help out.