About the Value of OpenCart API Integration for B2B Software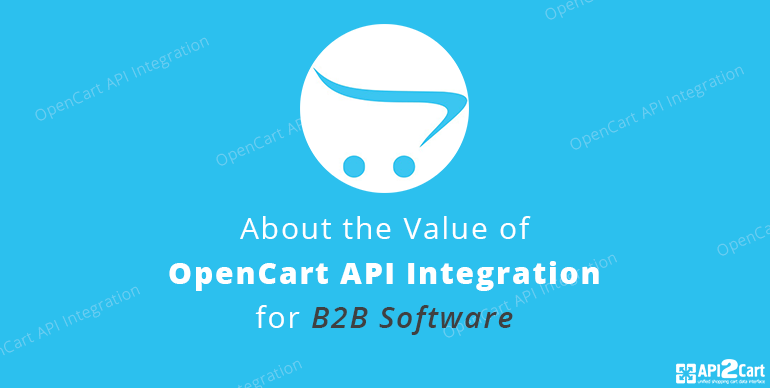 In the highly interconnected world we are living today, Application Programming Interfaces (APIs) are the glue. As a B2B software provider, you know they make application integration possible so that the parties can interact data and use it for functionality and business enhancement. In this article, we are going to focus on what they mean for the e-retail sector.
Integrations in the World of e-Commerce
B2B e-Commerce as we know it today is built on data connections. One of those that software in this industry cannot work properly without is the connection with shopping carts because the majority of the features and services that they offer need data from stores to work. For example, inventory management systems cannot track order statuses without order ids and billing last names, and price optimization systems cannot suggest better prices and autocorrect them when needed without knowing the seller's prices.
Apart from being essential for many businesses, shopping cart integration is also a beneficial investment. Every new platform a piece of software integrates with opens up a bank of potential clients that often counts tens of thousands of online merchants. Plus, the access to data on customers, products, orders, tracking numbers, etc. makes an opportunity to extend the set of features that an application supports. 
Integration with OpenCart
Judging from both the market demand and what our clients ask for, OpenCart is one of the most frequent integration choices. The platform powers more than 8% of e-Commerce stores out there, which is equal to 200k+ retail businesses.
The integration process, however, is something you will not like. It will take no less than one month, cost a pretty penny to pay for developer work, and make you spend more money for its upkeep and maintenance. Imagine what a pain it will be to integrate with a number of shopping platforms!
How to Perform Multiple Integrations at Once
API2Cart offers a unified API designed to make it possible to data interact with more than 30 shopping carts and all their versions with only one connection developed. Among the platforms that the solution supports are Magento, Shopify, WooCommerce, X-Cart, CS-Cart, and more.
If you'd like us to tell you more about our API and how it will work for your business, schedule a call with our representative or leave us a message.