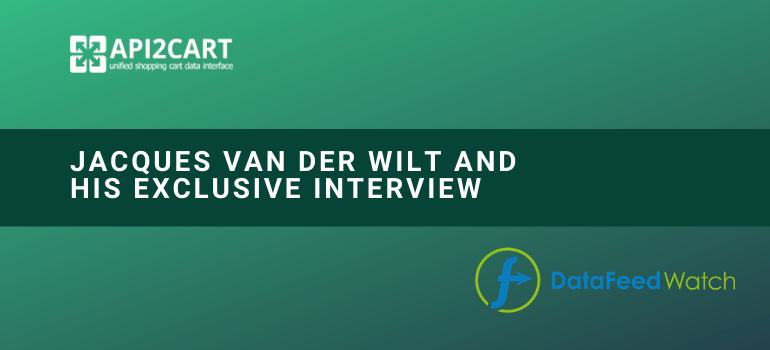 Editor's note: Today we have a pleasure to interview a person with more than 20 years of Internet business experience - Jacques van der Wilt, the founder and CEO at DataFeedWatch.
In the interview Jacques talks about his experience in web business, shares inside ideas on how to successfully manage data feeds and outlines key benefits and perspectives of API integration in eCommerce industry.
Short bio: Jacques van der Wilt has worked in online media since the early 90's. In the past 10 years, Jacques has worked as an entrepreneur and founded several start-ups. He is also a mentor at accelerator StartUpBoothCamp. As the founder of WordWatch (automated bid management) he is an expert in search engine marketing for medium-sized advertisers. In 2012 he created DataFeedWatch, a web-based tool for merchants to optimize their data feed for Google Shopping and other comparison shopping channels. Jacques is an industry leader in data feed management and Product Listing Ads.
Jacques, tell us a few words about yourself. Where and when did you start your way in the online business? What is your current business and position?
I have been in the Internet business since the early 90's. I have founded several companies in the last 10 years and I am currently Founder and CEO of DataFeedWatch.
It's quite complicated to stand out from the crowd nowadays. What are the key factors of DataFeedWatch success? How can you help a web store owner develop his or her business?
Shop owners need to advertise on Google or Comparison Shopping sites. To do so, they need to export a data feed to those channels. We offer them a simple tool to create those product data feeds. It is very easy to create and improve your feeds, analyze the performance of your campaigns and exclude the unprofitable products. So our customers increase their campaign performance with 40%.
Creating and syndicating data feed in modern eCommerce is a must-have feature that can become a competitive advantage of an online business. What are your top 3 tips for someone who is just going to start working with data feeds?
Pictures . Make sure that your pictures are great
Create compelling product titles
Add as much information for each product to the feed as you can
How did you come up with the idea of using API in your business? And how did cooperation with API2Cart help you bring this idea to life?
An API connection to shopping carts is the best way to work with merchants. Managing all those connections is a lot of work and requires a lot of knowledge. By using API2Cart we don't need to spend the time and effort to create and maintain all these connections.
In the end of our interview, could you give us a forecast on how, in your opinion, data feed management and API technology are going to develop and influence eCommerce in the nearest future?
API Technology is already a key ingredient in our business of data feed optimization and with more and more shopping carts and shopping channels creating API-access, its role will only get bigger.
If you are interested in seamless API integration of your eCommerce software with 40+ shopping carts API2Cart is here to help you. Don't hesitate and contact us right now!