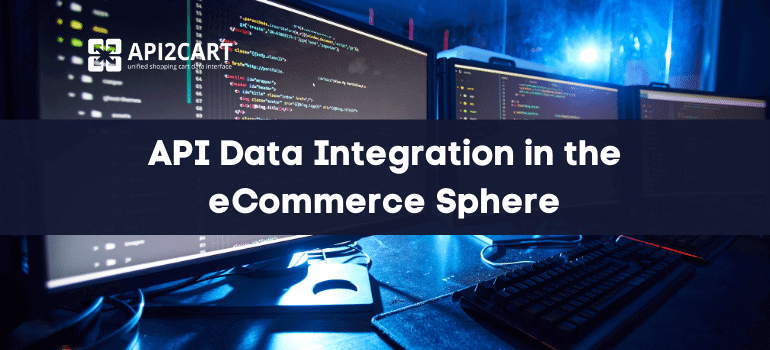 What is API Data Integration?
API data integration is the connection established between various apps and software programs for data exchange. Such integration is extremely important for different industries and companies. It allows keeping data in synchronization between multiple systems.
API data integration also is an essential part of the eCommerce branch. According to the latest eCommerce studies, this market will continue to grow and expand in 2021, with the number of new eCommerce users expected to increase by over 400 million. That's huge growth. The global revenues are predicted to grow to $2.7 trillion in 2021 and might hit $3.4 trillion by the end of 2025.
All of these statistics spell one single word for high-volume eCommerce software providers such as ERP, shipping software, WMS, order and inventory management, pricing software providers – potential. The potential your company can have in the years to come is huge. Especially as the number of your prospective clients is growing by the day.
To capitalize on this growing trend and take your high-volume eCommerce software business to a whole new level, you need to be able to offer your services to all your prospects who are using a wide range of shopping platforms. To do that, you need to focus on API data integration development. Below, we'll show you how you can leverage the power of API integration with shopping platforms to grow your business and expand your clients' base.
Main Aspects of Data Integration in the eCommerce
As an eCommerce software provider, you need to be able to develop robust integrations with shopping platforms. For example, with such platforms like Shopify, Magento, or WooCommerce. The entire point of these integrations is to tap into the data stored on them. So, you can gain access to all of this data and manipulate it for your benefit.
In the eCommerce sphere, API data integration allows you to gain access to a wide range of data required for performing your software functions. You can access info about products, orders, inventory, prices, taxes, and the list goes on. With the info you get due to the integration, you can do the following:
Create customized reports and send them over to your customers
Manage, update and sync the orders, boost fulfillment processes and enhance e-stores' customer satisfaction
Track online store products with ease
Automate shipping operations, create shipments
Create product catalogs and feeds
Organize warehouse operations and tasks
Make updates in real-time
Of course, the data you have to retrieve and manage from eCommerce platforms depends on your sphere of work.
When talking about API data integration, it's worth mentioning the difficulties associated with this process. Manual integration with just one platform, such as Shopify, can take weeks to complete. Moreover, it usually involves high costs. You need to work with a reliable team of developers who have experience in these types of integrations and know how to navigate the shallow waters of API upgrades and improvements. Additionally, you need to make sure that the team you hire will continue updating the connection and fixing any bugs that appear along the way.
What Can You Do by Accessing the Data from eCommerce Platforms?
Depending on your niche, you can do many amazing things by gaining access to eCommerce platforms' data. For example, like shipping management software, you can use the customer data you pull to provide reliable shipping management services for your clients. Also, it can ensure that not one of their clients is receiving the wrong package.
Simultaneously, as a pricing software provider, the data you access can enable you to control product prices across many platforms. Also, such data allows you to ensure that any price change is reflected across all the retailers' sales channels correctly.
If you provide marketing services to eCommerce store owners, you'll need to access data related to customer and order details. It allows you to send emails to e-stores' clients with order status notifications, recover abandoned carts, etc.
If you are running an ERP solution, you need to retrieve and manage the data on orders, products, shipping details, customer info, etc. It allows you to provide the functionality related to taking control over inventory and fulfillment, streamlining sellers' order processing by preventing errors and eliminating manual bottlenecks, automation of shipping operations, etc.
In terms of the benefits you get to leverage by working with this data from eCommerce platforms, we have to mention the ability to expand your customer database, develop new features, and innovate in your services.
How to Develop Data Integration with Multiple Shopping Platforms?
As an eCommerce software vendor whose aim is to provide flawless services to thousands of customers simultaneously, you cannot trust manual integrations with eCommerce platforms. The time and money investment are too big. Especially if you have to connect with multiple platform APIs at the same time. The good news is that there is a cheaper and more reliable alternative.
You can now bypass the API data integration difficulties by using API2Cart. API2Cart provides a unified API that allows you to connect your software with 40+ shopping platforms at once. The list of supported platforms includes Magento, Shopify, WooCommerce, PrestaShop, WP e-Commerce, etc. Also, it has 100+ API methods. With their help it is possible to get, delete, sync and update data on orders, products, customers, etc.
For high-volume eCommerce software providers, API2Cart has Enterprise On-Premise Solution. Its main benefits are:
access to the data from all the supported 40+ shopping platforms required for your system operations;
100+ API methods that allow managing the data on orders, products, customers, etc.;
you won't need to make any changes every time a new version of a shopping platform appears;
high level of security. Only you can control who can manage your API2Cart server infrastructure by using the functionality provided by AWS, Microsoft Azure, and Google Cloud Platform, make all requests over HTTPS protocol;
premium customer support 24/7;
free 30-day trial period.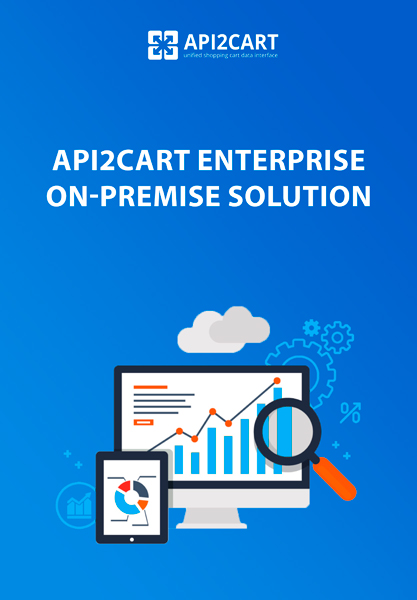 API2Cart Enterprise On-Premise Solution Guide
Explore all the features and benefits of API2Cart Enterprise On-Premise solution.
DOWNLOAD
Basically, with API2Cart's Enterprise solution, you can dramatically expand your software possibilities, choose your desired platforms for integration, and save a whole lot of time and money.
Conclusion
Unfortunately, integrations with eCommerce platforms are unavoidable, especially for high-volume eCommerce software vendors that want to ramp up their businesses. Without reliable integrations in place with multiple shopping platforms, you'll soon fall behind your competition.
2021 is the year to take your business to new heights and expand your company like never before, getting prime access to those countless new customers hitting the eCommerce sphere. Contact us now and learn how API2Cart might be precisely what you need. Also, you can try API2Cart for a month for free and see how it can help you with API data integration. All you need to do is to register your free trial account now.