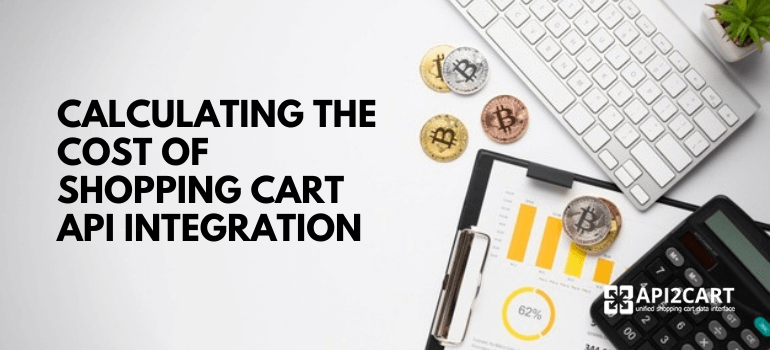 The cost of API integration with different shopping cart software depends on a few factors. Usually, the shopping cart API integration process requires a significant budget and months of developers' time. Before you start building the connection with any eCommerce platform like Magento, Shopify, OpenCart, PrestaShop, etc., it's is vital to figure out the real cost that your company would need to spend for that.
Having developed dozens of integrations, API2Cart from its experience knows how much time each stage of this process takes and how much it costs.
API2Cart is a unified shopping cart API integration interface that B2B SaaS companies use to automate and simplify their business operations. It is a connective service that makes it more convenient for its clients to connect their SaaS applications to multiple eCommerce platforms at once. API2Cart is operating for more than seven years in the integration solutions market and has a wide clients' base.
So, in this article, we are going to calculate the actual cost of shopping cart API integration according to our own experience.
How Much Does It Cost to Develop a Shopping Platform API Integration on Your Own?
In-house development of API integration costs a lot of money, which may hamper the operations and business functionality of SaaS app providers. The costs involved in this process usually include the following expense items:
Subscription costs

SaaS app providers usually have to spend a lot of money on different services that are necessary for their technical specialists. Traditionally, subscription costs include developers' tools like CS (code repository), CI/CD Services, Cloud Services, etc. They require hundreds of dollars a year. As a result, revenues and profit margins are low. It doesn't mean good for business.

Integration development costs

SaaS providers incur labor costs in terms of salaries to the developers working on each integration with the shopping platform. B2B software providers face with spending money on the tech specialists due to the tasks' difficulties. The higher the difficulty, the more costs companies have to pay, and vice versa. The average salary of one developer ranges from 3000$ to 6000$ per month.

In-house integration development is also a very long process. That is because only one connection can take up to two months. As a result, valuable time that could be used to serve clients is lost.

Maintenance expenses

These are the significant spending of budgets of maintenance that include necessary integration updates. Again, service providers' costs are usually high due to the number of developers that have to support the connection with multiple eCommerce platforms. The higher the number of developers, the higher the labor costs.

Server hardware costs

SaaS app providers usually have to meet very high server hardware and application hosting costs due to the frequent upgrades or entire replacements. New hardware requires thousands of dollars.

Employee training and development

Training of new and existing employees also requires some money. It needs to be included in the general API integration costs. It incorporates online seminars, webinars, and courses for developers. This automatically means high recruitment and selection costs since new employees come every day.
So, the in-house shopping platform integration development costs hundreds of thousands of dollars. As a result, SaaS app companies are reverting to cost-effective strategies. They can use third-party services like API2Cart because it helps them to reduce their expenses significantly.
How to Save Costs on Shopping Cart Integration with API2Cart?
Since API integration costs must be incurred, the only way is to adopt API2Cart which will minimize them to manageable levels suitable for business. That way, the SaaS app providers will easily enjoy competitive advantages stemming from the eCommerce platform integration.
Below you will explore in detail all expense items included in the costs required for the integration via API2Cart:
Subscription costs

The annual and monthly subscription plans of API2Cart are flexible. Therefore, SaaS providers can select the plans they are most comfortable with after using the trial version for 30 days. For example, with as low as $500 a month, you can comfortably get and use API2Cart. A low subscription fee reduces the overall costs of business and increases the profit margins and revenues.

Integration development costs

Using API2Cart for integration needs reduces the number of your developers to only one. That is because the usage of our service requires you to have just one developer for building and supporting the integration with API2Cart. Is means a significant reduction in labor costs.

Paying just a few hundred dollars a month for integration via API2Cart you can connect to more than 40 shopping platforms and marketplaces at once. Additionally, the time you can save by eliminating the lengthy one-by-one integrations can be well utilized in customer service.

Maintenance expenses

The usage of API2Cart totally eliminates these expenses since the necessary upgrade and maintenance costs will be covered on behalf of the service providers. This is opposed to the one-by-one integrations which are not only very costly to create but also even more costly to maintain.

Server hardware costs

As API2Cart is a hosted software, you won't need to have your own infrastructure to host the application or buy any server hardware.

Training and development

eCommerce integration via API2Cart will eliminate employee training costs since we have very qualified specialists who are ready to serve the clients. So, you won't need to have a great developers' team and train it on how to do documentation and create user guidelines. Hence training costs will be saved in both the short and long run.
Conclusion
So, as you can see, the cost of API integration can be really low with API2Cart. Also, you will not need to spend your budget on further maintenance and support of the integration.
You can use our Total Cost of Ownership Calculator to compare the costs of developing in-house integration with various shopping platforms and via API2Cart.
API2Cart is popular among shipping management, order and inventory management, WMS, marketing automation, dropshipping management, ERP, and pricing software providers. Connecting to us, you'll be automatically integrated with 40+ shopping platforms and marketplaces.
All that is required is to take the first step, which is to register a free account on API2Cart. If you need more information, contact our specialist right now!