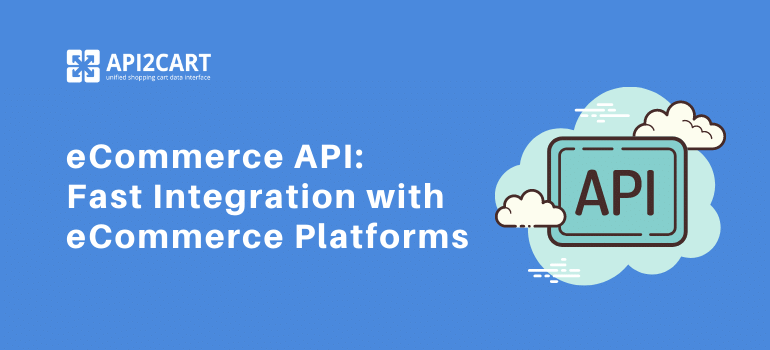 What is eCommerce API?
eCommerce APIs are used by developers for transferring the specific info from one software to another one. For example, when the B2B software providers who work with e-retailers need to access the data from particular shopping platforms, they need to develop the API integration with them.
API or Application Programming Interface acts as an intermediary between various digital products and applications. The API works as a messenger. It delivers a particular request to the other app and then comes back with the answer.
API request happens when the developer adds the endpoint to the URL and performs a call to the server. The API response is received after the making of the API request. Usually, it can be in XML or JSON format.
eCommerce API integration means the process of tying the various software solutions or applications with the purpose of sharing the data between them. API integration allows software developers to get access to all the needed data from the required solution and manage it by their systems.
The development of the eCommerce API integration with shopping platforms like Magento, Shopify, OpenCart, PrestaShop, WooCommerce, WP e-Commerce, etc. requires high-quality specialists, previous investigations, a lot of time and further maintenance and upgrading. It is a technically complex process that can cost thousands of dollars if performed in-house. That is why more and more B2B software solutions choose to use third-party services for the development of API integration as they can help them to save their money and time.
More detailed info about the eCommerce API and eCommerce API integration you can find in the infographic below.

Most Popular eCommerce APIs of 2021
The list of the most popular eCommerce APIs includes Magento API, Shopify API, Ecwid API, WooCommerce API. Let's explore them in detail. Magento API allows developers to access the needed data from Magento stores. Magento supports REST and SOAP APIs. Performing requests and receiving the responses are possible with the help of using the HTTP protocol.
Shopify API also enables developers to retrieve the data from Shopify stores. It supports XML and JSON formats. Shopify API works with HTTP requests (GET, POST, PUT, DELETE).
Ecwid API is a REST API. It allows developers to easily read, create, update, and delete Ecwid store data. For example, such data includes store categories, products, orders, coupons, etc.
WooCommerce API is a REST API that allows creating, reading, updating, and deleting WooCommerce data. It supports JSON format.
In addition, there are a great number of eCommerce APIs. Most software developers need to be able to interact with all of them. The easiest way to do it is to use API2Cart. So, let's explore how to develop eCommerce API integration via this service.
API Integration Development With eCommerce Platforms
API2Cart is a perfect solution for those software companies which operates in the sphere of:
shipping management
warehouse management
marketing automation
order and inventory management
ERP
dropshipping automation
POS
mobile app development
localization
repricing and price optimization
The main benefits of API2Cart:
more than 40+ shopping platforms and marketplaces are available for the integration with
more than 100 API methods that are provided for managing the data retrieved from the shopping platforms
detailed API documentation
no need to maintain each connection separately
high level of the data security
24/7 customer support by phone, chat, email
With API2Cart unified API, you will be able to connect your software with the most popular shopping platforms at once. For example, it will be possible for you to integrate your solution with Magento, Shopify, OpenCart, WooCommerce, Ecwid and the other eCommerce platforms via just one integration. Also, API2Cart provides easy and fast integration with well-known around the globe marketplaces. For instance, it includes the following marketplaces: Amazon, eBay, Etsy and Walmart.
API2Cart has flexible pricing that depends on the number of connected stores and the quantity of the required API requests.
So, you can develop the eCommerce API integration with dozens of shopping platforms in less than 30 days with the help of API2Cart. More detailed information you can get by scheduling a quick call with API2Cart managers.
Moreover, you can test the service absolutely for free and see how it works for your business simply registering your free account right now.