The recent eCommerce industry's shift makes it possible for pricing software providers to reach a growing number of prospective customers. While some niches sank in 2020 due to the COVID-19 pandemic, most eCommerce niches have flourished. A significant number of online stores appeared on the market in 2020.
All of this means that pricing software providers can propose their services to the new e-retailers and expand their customer base. For that, they need to improve and diversify their strategy to overtake their competitors. To do that, they need to learn how to enhance their functionality and to be able to update prices on multiple shopping platforms used by e-retailers more effectively and fast.
Suppose you are one of those who provide pricing software. In order to offer innovative features to your customers, such as combining rule-based pricing with AI-driven optimizations or automating everyday pricing decisions, your system must access and work with e-stores' data with no difficulties. Gaining access to this data and the ability to manipulate it allows you to offer a full stack of digital services to your clients, enabling them to:
Track competitor prices
Set repricing rules
Manage prices on multiple sales channels
Change prices quickly if it is required
The ability to retrieve data for providing price monitoring and optimization is quite a tedious task for pricing software providers. However, with flawless API integration with the leading shopping platforms, you can provide superior price optimization services and allow your customers to adjust their products' prices based on the actual market demand easily.
Below, we will take a closer look at how you can develop the integration with various shopping platforms and easily update prices on all of them. Also, we will reveal to you the best option you can choose for the integration development.
Why do Pricing Solutions Need to Work with e-Stores' Data?
As a pricing software provider, you need to use all the possibilities at your disposal if you want to beat your competitors. As more and more online retailers have come to uncover the benefits they can get by using repricing software, the competition between such kinds of solutions providers is getting fiercer by the day. The great news is that you can overcome your competitors easily if you develop the integration with various shopping platforms and start working with all the needed e-stores' data correctly.
You need to be able to get pricing info in real-time, enabling your customers to react quickly to price changes and market conditions. This allows them to stay competitive and keep track of products' seasonality while ensuring they offer appropriate discounts.
The industries most dependent upon product seasonality are fashion, FMCG, electronics. eCommerce shop owners who operate in these industries need to effectively use pricing software since the delay of information for even a couple of hours could lead to huge losses.
As a pricing software provider, you need to work with e-stores' data to retrieve vital information, including price data and product info. The price info allows you to provide various functionalities, such as:
Live price monitoring
Automation of everyday pricing
Management of prices on multiple stores
Creation of dynamic repricing strategies
The ability to schedule time-specific rules that enable your clients to optimize their repricing strategies
Providing up-to-date statistics and analytics regarding the prices of e-stores
The ability to work with all of this info and provide these functionalities to your customers involves mandatory API integration between your service and the eCommerce platforms used by e-store owners. Without the integration in place, you cannot propose advanced software functions to your clients and gain access to the data regarding prices, products, orders, and the list goes on.
How to Update Prices on Various Shopping Platforms?
Now that you are aware of the huge importance of integrating your software with the APIs of the shopping platforms used by your existing and prospective clients, it's time to get practical. Below, we'll show you how you can quickly and seamlessly develop the API integration and update prices on numerous shopping platforms like WooCommerce, Shopify, Amazon, eBay, easily.
The easiest way to connect to multiple shopping platforms is to use a special high-quality solution. One of the best API integration tools is API2Cart.
API2Cart provides a unified API to 40+ shopping platforms. The list of supported platforms includes BigCommerce, Magento, Shopify, ZenCart, Squarespace, PrestaShop, 3DCart, Cs-Cart and many others.
API2Cart has more than 100 methods that allow to retrieve and manage the data from e-stores. Among them are those that enable users to update the prices on various sales channels automatically.
API2Cart provides two main API methods for price updating:
product.list: this method allows you to get a complete list of products from a specific store
product.update: allows to update the quantity and price for a certain product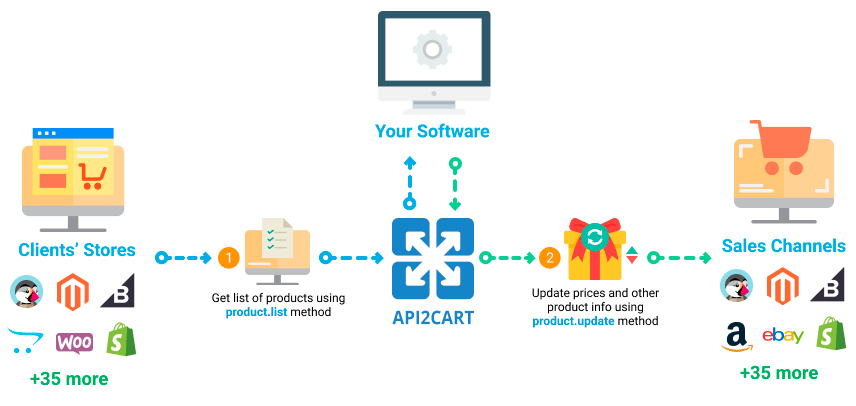 Using these two methods, you can better serve your clients and allow them to change the prices of their products when the competitive environment allows it.
What Else Can Your Pricing Software Do With API2Cart
In addition to enabling you to seamless update prices on multiple shopping platforms and offer a wide range of functionalities to your end customers, API2Cart allows you to:
Synchronize the prices across multiple sales channels
Access the order history and find out exactly what were the best-selling products during certain time intervals
Retrieve product lists along with their associated details, such as images, descriptions, and other similar info
Create customizable coupons and special offers to ramp up sales
Generate smart and up-to-date reports
As you can notice, API2Cart offers a whole lot of benefits to pricing software providers who want to get an edge on the market and be able to offer a full range of functionalities to their customers. To learn more about how our solution can help you outsmart your competitors in 2022 and beyond, contact us now, and one of our experienced managers will come back to you.