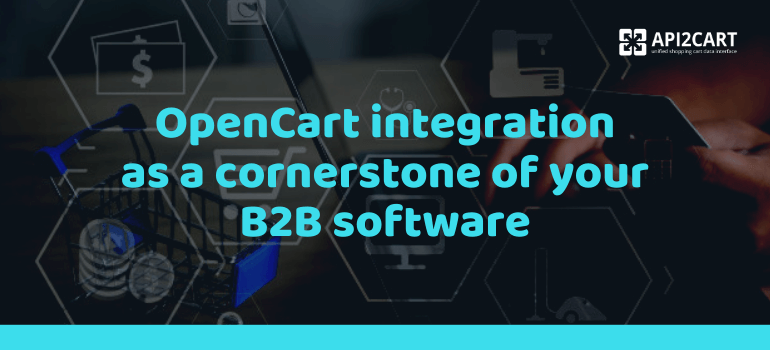 Looking back at the beginning of eCommerce, becoming an online merchant was not only cutting edge, but also technically challenging. Unless able to code, e-seller wannabes had no choice but hire a web developer to not only build the looks, but also make data connections so that order placements, payments, and other operations could happen.
At some point, there appeared shopping carts, platforms aimed to make building a web store easy for even the most "non-technical" individuals. That's when B2B services intended to supplement the functionality of the store and boost sales started to show up too. Clearly, they needed to be able to access specific information from stores to make data processing happen. That was how data interaction became the cornerstone of a whole new niche of businesses.
Over the years, the number and diversity of B2B software vendors increased, but their need for data from stores remained the same. That is why shopping cart integrations are still essential to many solutions related to the eCommerce industry. As to the platforms they connect with, these are mostly shopping cart industry leaders, one of which is OpenCart. That is why more and more B2B software providers are searching for the best way of providing OpenCart integration.
The range of industries that can feel all the advantages from the connection with OpenCart includes:
shipping management solutions

marketing automation systems

pricing software

order and inventory management systems

dropshipping automation software

chatbots

ERP

mobile commerce app development
The integration with OpenCart allows them to retrieve and manage the data from the online shops based on this shopping platform easily. They can work with the information connected with products, customers, orders, shipments, baskets, etc. Also, it is an amazing opportunity for B2B software providers to increase the number of their prospective clients dramatically.
OpenCart Integration Pitfalls
Every integration entails common challenges that multiply as the number of platforms to connect to grows. In particular, vendors deal with the following:
considerable expenses (which equal hundreds of development hours multiplied by $60 as an average developer hourly rate)
lengthy and complex process (which includes learning the logic put into the architecture of the shopping cart, building the integration pattern, and finally writing the code)
more expenses (the connections have to not only be maintained but also upgraded to the latest versions of the platforms; if they differ from the previous ones a lot, there appear more integrations to develop)
How to integrate with OpenCart and other eCommerce platforms easily
API2Cart provides a single API to reach all the data from stores that shopping carts allow to access. Through one integration instead of many, you can integrate with OpenCart and more than 40 platforms and avoid much of maintenance and never worry about shopping cart versions.
Try API2Cart today! Create a trial account and see if the API returns, updates, creates, and deletes the data you need for your business. Use either demo or your stores to test the functionality. If you have questions, we are here to answer them!