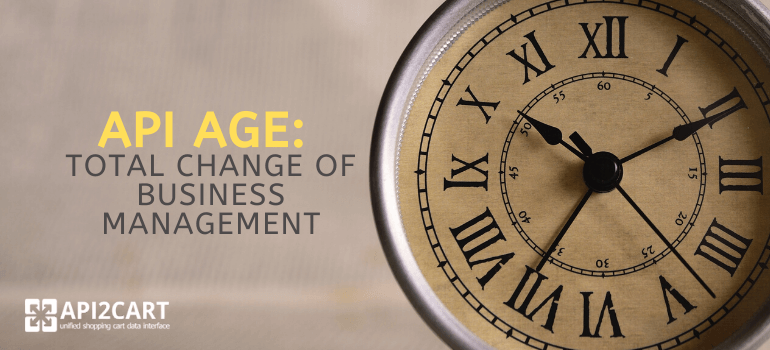 Unstoppable changes are continuously happening in the modern technology world and increasing API popularity provides more possibilities for its development. That's why API2Cart Team wants you to stay up-to-date with the latest tendencies, So, today we continue our set of useful articles published by famous bloggers about API opportunities.
We are entering a new era of computing and it will forever change the way we do business. Companies that prepare for the shift will realize tremendous benefits for years to come. Those that don't, won't. They may not die immediately, but they will be severely crippled if they can't adapt or become a fast follower.
It's at the edge of the enterprise where we see this new era emerging, at a point where ubiquitous computing meets people. An application renaissance has dawned thanks, in part, to the Application Programming Interface or API – self-service, often cloud accessible building blocks that are essentially the glue that holds applications together.
A startup or new business can now build its entire operation with Web APIs for every imaginable business function — from HR to procurement to finance. There's an API for just about everything.
Popularly called the API economy, this new paradigm is opening up new markets at a dizzying pace. Presumably, as APIs become more ubiquitous and continue to build on one another, the rate of innovation will speed ahead faster and faster.
This is the critical moment when companies need to decide how they will use the convergence of mobile, cloud computing, social platforms and Big Data in the coming years. Just as previous eras of IT computing (such as back-office computing, PCs/Client-Server, and World Wide Web/e-business) spanned over decades, we are ushering in a fruitful new era, in which technology fulfills age-old promises to enrich people's lives, create far more efficient and profitable businesses and maybe even make the earth a better place.
The technologies available today will fundamentally change the way corporations engage their customers, the way products are made, distributed, marketed and sold. Commerce won't just take place on a web site or over a smartphone; it will happen everywhere, all the time. Studies show that most high-level executives are aware of the new era of computing, but simply don't know how to proceed. Those that have invested in mobile commerce platforms and analytics are already seeing results. (A Nucleus Research study found that 21 IBM clients realized an average of $12.05 in returns on every dollar they spent on digital commerce analytics and applications.)
Now the customer experience is limited only by our imagination. Businesses born on the web are creating value through APIs at an accelerated pace, while brick-and-mortar-born enterprises are starting to explore them.
Take Best Buy: The electronics retail chain last year announced plans to transform the business by enriching the customer experience, improving operations and growing its revenue and customer base. Best Buy uses various APIs to enable things like real-time access to customer questions/answers, product specs, reviews, ratings, hyper-relevant offers and more.
In under a year, the company's online sales jumped 16 percent in the first quarter and $175 million in sales and administrative expenses were eliminated. Much of the company's progress is attributable to its willingness to invest in the customer experience. Now consumers can use their phones to do things like look up whether an item is available at the nearest Best Buy store, or they scan an item at a competitor's store and see whether Best Buy has something comparable and how far away they may need to go to get it.
Businesses such as Best Buy are in a position to use social media to understand customer response to new products, competitors' products or to brainstorm new ideas. And thanks to location-based data generated on mobile devices and social media platforms, we can now get a granular view of how customers in local markets behave. The market of one has emerged such that information about a user and their location can be used to provide them with tailored notifications when they want.
Similar analytic tools used to target and find customers can be used to look inward. Businesses can see, for example, areas where expenses should be cut, how to allocate sales resources, ways to efficiently manage supply chains and so on.
It's a daunting and exciting time. Technological feats that weren't possible even ten years ago will become fairly normal and increasingly affordable. The question on most executives' minds is not whether they will participate in this new generation of computing technology, but how quickly they can make it happen and how deeply they will go.
If you have some questions about API2Cart benefits, schedule a FREE Call with our expert. Make your mark with the most convenient way to go in step with the times!