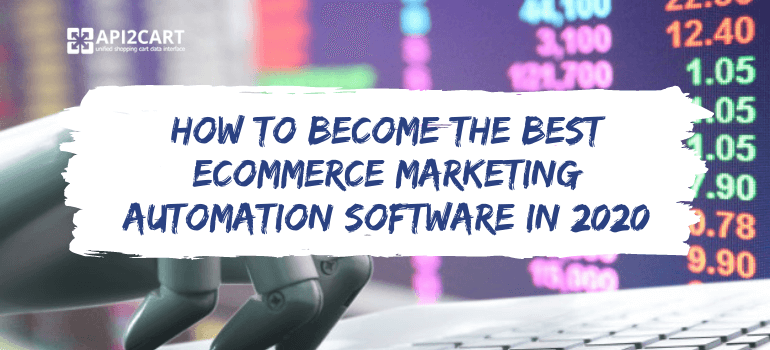 Sales and marketing teams in the present business scenario have found an efficient and effective way of managing their clients. eCommerce marketing automation software has streamlined the way companies interact with their existing and prospective clients. From setting up communication with the visitors to closing deals with the customers, automation systems are the lead players.
The advancing technology behind automation systems and the features they support have now left the software companies in a fierce competition. Several software vendors make it even more challenging for others to stand unique and sell their products. So, what can you do to become the number one marketing automation system in the eCommerce market?
Top 11 Essential Features of eCommerce Marketing Automation Software in 2020
The retailers expect your marketing automation software to resolve all their issues connected with sending emails, lead generation, visitor tracking, analytics, etc. Let's explore what functionality you can add to your system to satisfy all their needs.
Email marketing

Email communication remains the most efficient and reliable way of interacting with clients. Marketing automation systems have to make it possible to allow the store owners to create and send useful emails to their customers. Also, it will help them to connect with their potential leads individually without actually talking to them.

CRM integration

Lead information is crucial for every business. To maintain a flawless functioning of business processes, CRM systems work to track sales and organize data. That is why every eCommerce marketing automation software needs to be integrated with companies' CRMs. It helps to transfer information connected with leads easily between marketing and sales.

Lead management

From capturing potential leads to making them be able to make a purchase, lead management is another vital function of marketing automation systems. It allows the businesses to move the lead data across the entire marketing funnel and manage that information in a CRM system efficiently.

Landing page builder

Landing pages are an excellent lead capturing tools. When marketing automation systems are used along with their landing page builders, they ensure forwarding complete information of the lead to the sales department. That is why, for marketing systems, it is essential to provide their customers with professional templates for creating useful landing pages.

Visitor tracking

An eCommerce marketing automation system must track visitors' behavior when they land on a website or landing page. It should monitor their preferences, activity, and page clicks to allow retailers to analyze their prospective customers' preferences and to lunch effective marketing campaigns.

Abandoned cart recovery

A significant number of retailers want to recover lost revenue from abandoning shoppers. They can do it easily with the help of abandoned cart emails.

Cart recovery email is a message that can be sent to the visitor of the online store who leaves it without making a purchase but mentioned his email addresses. It is an effective way to boost sales dramatically. That is why sending abandoned cart emails automatically is one of the most critical features of any eCommerce marketing software.

Predicting the customers' behavior

Predictive analytics has become a significant step in marketing. eCommerce marketing automation systems should use machine learning to forecast customer behavior and recommend products for future purchases. It enables businesses to deliver the right information about their goods to the customers and send them useful emails.

Content marketing

Advancements in technology and the needs of the businesses have made marketing automation systems more sophisticated. AI-powered marketing software can help retailers to create new content that includes emails and personalized subject lines.

Conversion rate optimization

The next-generation of eCommerce marketing automation systems is all set to facilitate multi-variate testing to track website behavior. The retailers now can be able to optimize their website for increasing conversion rates with the help of marketing software.

Education courses for users

An exciting feature of marketing automation systems that add value to their software is educational courses. They provide customers with every single detail of marketing automation. The classes for users must be able to offer in-depth knowledge of automation tools and present the methods to utilize them in the best possible way.

Integration with eCommerce platforms

eCommerce marketing automation software is worthless without the integration with multiple shopping platforms. Without that, it is impossible to manage the data about the products, orders, and customers from e-stores effectively.

The shopping cart integration makes it possible for marketing systems to send emails to the customers of online stores featuring new items, discounts and special prices, retrieve product lists, import contacts and manage the abandoned cart data.
The integration with eCommerce platforms and marketplaces requires a lot of time and a significant sum of money. That is why a lot of marketing software providers choose to use API2Cart.
API2Cart can connect your system with Amazon, eBay, Shopify, Magento, WooCommerce, BigCommerce, Prestashop and the other shopping platforms at once.
Want to know more? Feel free to schedule a quick call with one of our managers and try API2Cart for 30-days absolutely for free.