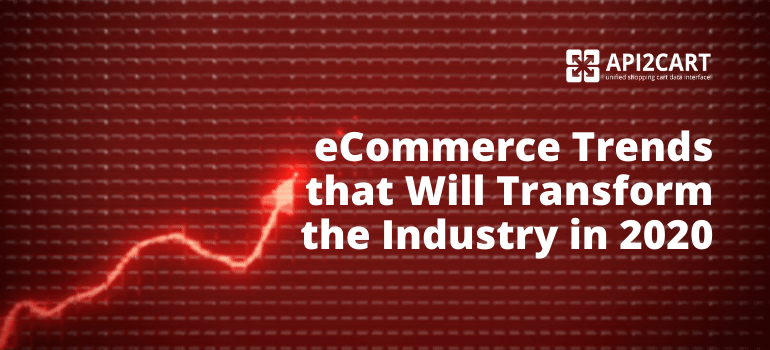 Retail industry moves fast and companies need to keep pace in order to stay afloat. There have been many shifts in retail over the last years. 2020 promises to be even more revolutionary in terms of technology, though.
To help industry players learn what to focus on and how new trends may affect their business, we have envisaged and gathered most significant tendencies that are going to pervade commerce in 2020 and onwards:
Tech Gets into Brick & Mortar
eCommerce market keeps growing. But this doesn't in any way call into question the existence of physical stores. They remain indispensable and the most important customer touchpoint for retailers, providing the ability for customers to touch and try the products before they buy.
However, with the rise of eCommerce, store owners started experimenting with computer technologies in their stores in an effort to bring the facilities of online experience to the Brick & Mortar. Brand experience is being enhanced by innovative technologies like virtual & augmented reality, beacons and reward programs via mobile apps.
For example, the home improvement retailer Lowe's recently arranged a place equipped with the VR headset in the stores where customers could watch a 3D reproduction of their home or another place they're renovating. Customers can change and add details like room sizes, equipment, and colors.
Customer Reviews will be Important as Never
What is the first thing most people do when deciding to make a purchase (well, if its something of a bigger importance than a pack of chips)? They turn to reviews from around the web to find the right item. Nowadays, consumers are addicted to reviews, they examine product comments and rely on them when making a choice. Companies should encourage users to leave feedback, but the ultimate success will be building a whole customer community around the product/service.
Omnipresence Will Be a Standard
Investing in omnichannel strategies is promising to pay off handsomely in 2020. Retailers are increasingly taking their business on the global scale and push their omnichannel strategies further than ever before in an attempt to make the shopping experience truly seamless.
Modern customers want to buy anywhere, get anywhere, and return anywhere using any channel they want. That is why retailers should build presence offline, online, on mobile apps, social platforms, marketplaces, etc. to meet the high expectations.
Thus, brands provide the ability to place orders via Facebook Messenger or launch special mobile apps (like Starbucks did) that allow customers to order and pay before picking up in-store.
Integrations. There's no Getting Around Them
Coming off the last paragraph, it is obvious that retailers will need to be getting more and more integrated to be able to provide seamless customer experience. Thus, the number of retail-centric apps, platforms, SaaS, IpaaS, etc. will increase, and retailers will actively make use of them.
One of such platforms is IpaaS (Integration platform as a service) API2Cart. It is a unified API designed to provide retailers and B2B eCommerce software vendors with the ability to integrate their systems with multiple shopping carts easily. Through only one integration with API2Cart, you can get connected with over 40 shopping carts simultaneously. Among them are all industry leaders such as Magento, Shopify, PrestaShop, and other platforms.
If you are interested in integrating your B2B solution with many shopping carts and would like to talk about the technical details, please schedule a consultation with our representative or try how API2Cart would work for your business.