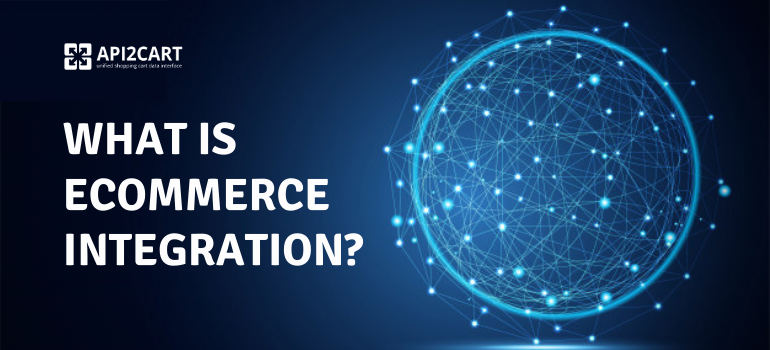 What is eCommerce integration?
For SaaS application providers, it becomes necessary to connect with various eCommerce platforms to gain an edge in the competition. The establishment of such a connection is termed as eCommerce integration, which means the process of tying SaaS applications with shopping carts and marketplaces. The answer to what is eCommerce integration also specifies its importance in terms of managing operations that involve access to data connected with products, customers, orders, shipments, and carts. Shopping cart and marketplace integration ensure high revenue and expanding the customer base for SaaS applications.
The article aims to highlight the answers to the questions of what is eCommerce integration and how is it going to influence your SaaS software business. Also, it will provide you with the best possible solution for your SaaS business needs.
Why SaaS app providers are in need of eCommerce integration?
Knowing about what is eCommerce integration is not enough. To make it work efficiently, you need to understand why do you require such an integration solution as a SaaS application provider. eCommerce integration allows you to operate and maintain your business functions efficiently. You can access information on products, shipments, orders, invoices, customers, etc. from online stores without switching between different systems. Accessibility to clients' stores is not possible without eCommerce integrations.
Apart from this, if you are spending your whole day in moving data between your systems, then it's high time you require an eCommerce integration to manage information across the e-stores. It eliminates manual work and saves time for you to concentrate on other essential tasks. It also maintains accurate and up-to-date product information across all the online platforms to keep away from out-of-stock situations. If you are making your core functionality and looking forward to upgrading your systems as per the needs of your clients, eCommerce integration is a must for you. It will ultimately lead to an increase in your market share.
eCommerce integration is a must-have for such services as shipping management, email automation, order and inventory management, mobile app building, ERP and others whose clients are the owners of e-stores.
What are the benefits of eCommerce integrations?
The question, "What is eCommerce integration?", unfolds many benefits of integrating with shopping carts and marketplaces along with its importance for SaaS application providers. Securing a robust connection with eCommerce platforms allows you to leverage the following:
expanding your customer base on integrating with shopping platforms like Shopify, Magento, WooCommerce, BigCommerce, PrestaShop, Opencart, etc. The connection with such eCommerce platforms allows getting access to the thousands of retailers that base their stores on them;
eCommerce integration with shopping platforms allows your SaaS solution that works with retailers to retrieve and manage all the information connected with orders, customers, products, shipments, baskets, categories, taxes easily;
connection with various shopping platforms can help you to adopt and propose new functionality to your clients;
increase in profits. It is easy, more customers mean more money for your business.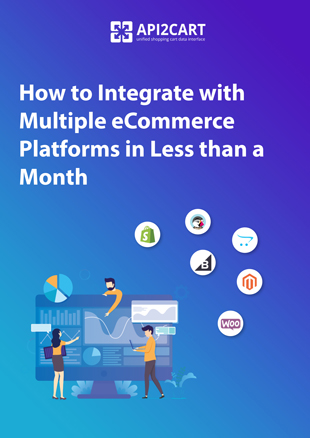 eCommerce Integration Development
Explore how to develop the integration with various eCommerce platforms in less than 30 days.
DOWNLOAD THE GUIDE
What are the main disadvantages of manual processes?
eCommerce integration is connected with a significant number of difficulties if to try to maintain it manually and without the help of 3rd party solutions. If you are thinking of developing a shopping cart integration on your own, then think about the following issues you may face:
integration with each shopping platform costs thousands of dollars;
it takes about a month to complete one integration. For SaaS app providers it is recommended to have multiple integrations. However, waiting for each one of them to be developed and tested correctly may cost you the thousand of potential client;
it is challenging to cope with the integrations when the shopping platforms upgrades. You may face the loss of information or incorrect data retrieved. Also, you have to spend a lot of time on changing your own code;
there are a lot of troubles connected with APIs of some of the shopping platforms and marketplaces. For example, Amazon API is really old and its API Docs are really complicated and sometimes don't provide all the necessary information. Magento API integration also isn't so easy because of the inaccuracy of its API Docs. Lack of Etsy API documentation can cause extra development time and investigations and its API behavior can be changed without notification;
eCommerce integration requires highly skilled developers with expert technical knowledge. Such developers are hard to find, as a robust integration is embedded with significant technological complexities;
the manual development of integrations can cause serious security threats to your system. If the connections are weak, your SaaS application may be prone to malicious users who could try to end up with data theft.
What options do you have?
Now that you know well what is eCommerce integration and what are the difficulties associated with its manual development, you must be thinking of finding the best way to provide it. For you as a SaaS app provider, eCommerce integration with shopping carts and marketplaces can be easier and cheaper with API2Cart. Our unified API is there to overcome all your integration challenges.
With API2Cart, you can connect your software with 40+ eCommerce platforms at once. You will be able to get access to the information from online shops based on PrestaShop, Shopify, Magento, Bigcommerce, OpenCart, etc. Also, we have more than 100 methods to manage data connected with products, orders, categories, shipments, and customers. Don't worry about the cost. Our price is as flexible as our service. To know more, schedule a meeting with our consultants.