Magento is one of the world's leading e-commerce sites with over 250,000 e-businesses, which makes it attractive to integrate with various software vendors, including those that offer POS solutions. As an increasing number of online retailers choose this shopping platform, integration with Magento is a clear necessity for POS vendors seeking to improve their business.
Various Magento POS systems are currently on the market, capable of improving company efficiency and providing numerous benefits. In this article, we gathered a summary of top of them.
5 Magento POS Integration Solutions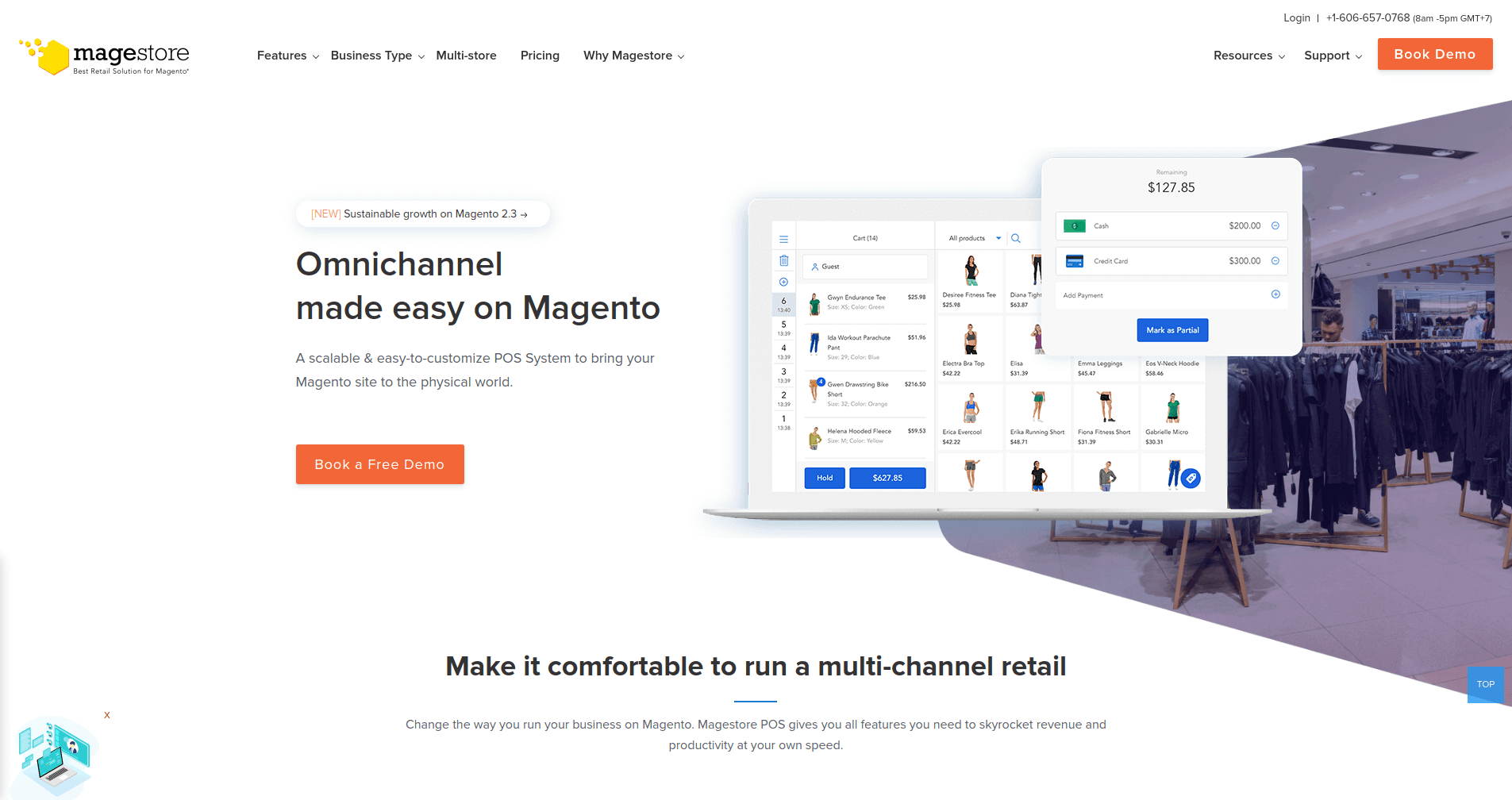 The Magestore Magento 2 POS solution is fast, efficient and user-friendly. The entire checkout process is precise and easy to use. Processing the payments is fast safe and flexible. Remember that Magento 2 POS accepts several (Online and Offline) payment methods. It can also be easily linked to other Magento modules that manage inventories or to marketing features such as rewards points and gift vouchers for offline buyers.
Here are several functions in the Magestore POS System:
Add products to Cart Quickly
Use of Customer search bar
Hold Orders and process multiple orders simultaneously
Easy to use coupon with custom discounts
Can use offline POS
Get several methods of payment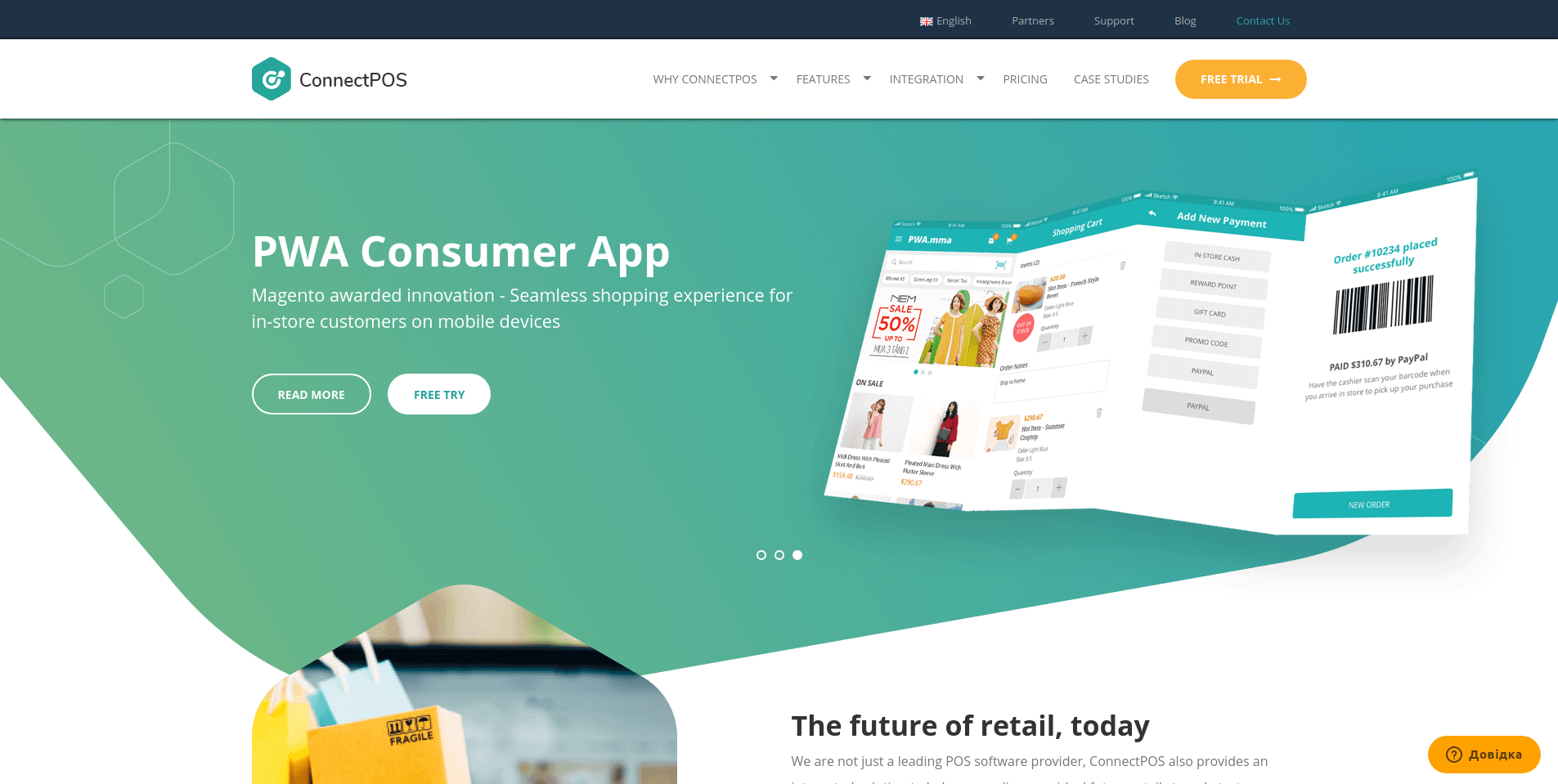 This is a perfect POS solution for every online store based on Magento. It ensures quick and easy check-out in 3 steps, maximum speed, and high estimation accuracy. Additionally, ConnectPOS provides you with a smooth and user-friendly payment process, which includes 3-step checkout, order note, custom sales, advertisements, several tax rates, distribution, invoice and support for iPad devices.
Here are some features for ConnectPOS solution:
Multiple deposits and several sales, refunds, and exchanges are accepted
Magento 2 Backend Framework real-time synchronization
Support all kinds of Magento items, easily scan for products by ID, SKU or barcodes
Display goods to switch between list view and grid view easier
Fast order processing with barcode reader to add items to the buyer's cart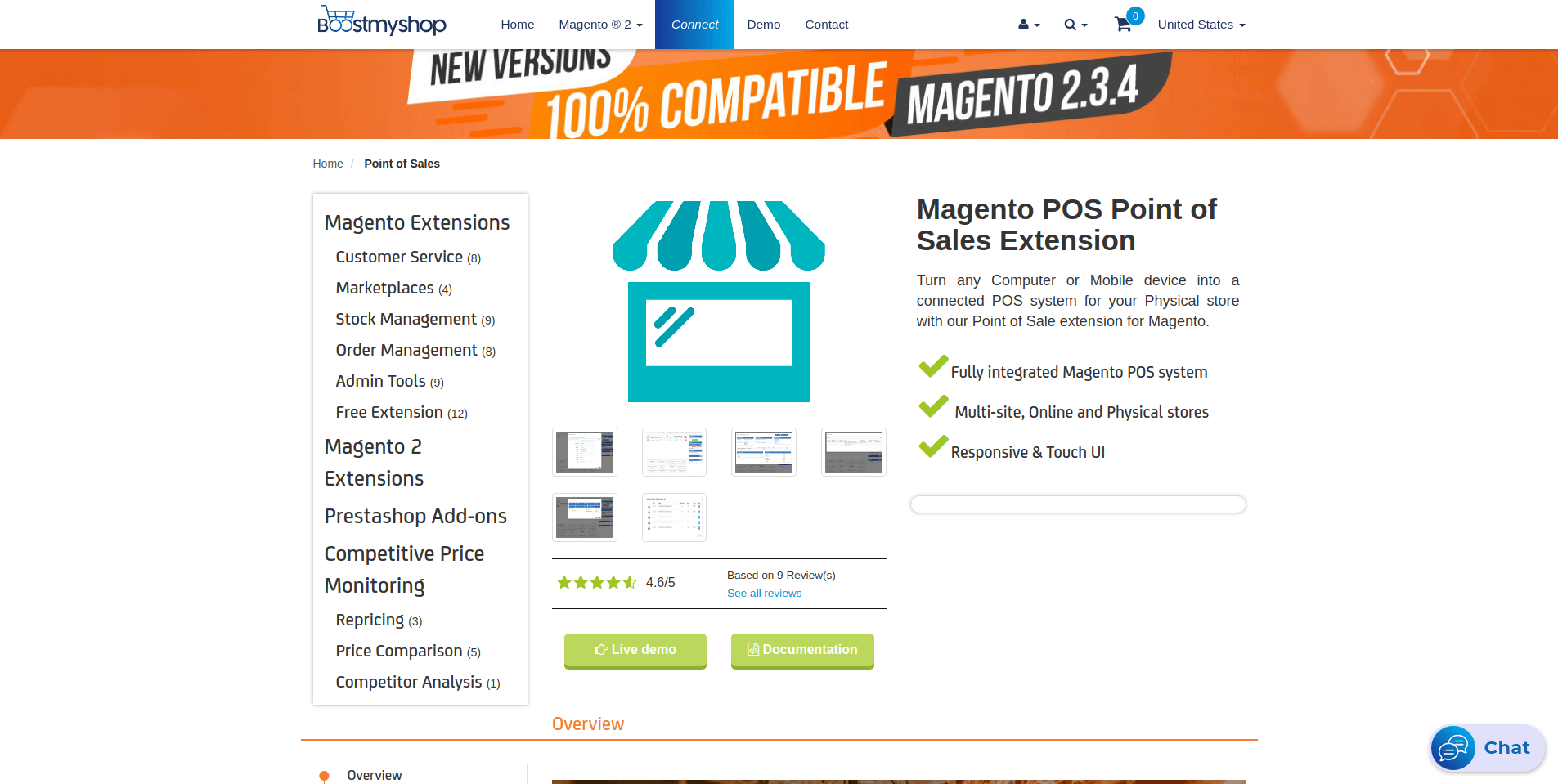 Boost My Shop offers an impressive Magento 2 POS involving online ePOS for shops and e-Stores. Within the Magento 2 back office, you can quickly and easily submit sales orders without further complications and hesitation. Also, you can build an endless number of virtual or physical deposits. Every submission is allocated a feature as to whether the related items are salable, deliverable or require modifications.
Here are a few characteristics of the BoostMyShop POS solution:
Barcode scanner is supported
Optimized mobile user interface
Allows multiple purchases, personalized discount codes, and pricing
Generates and prints the receipts automatically
Supports guest customers, existing clients, and new ones
Z-reports can be generated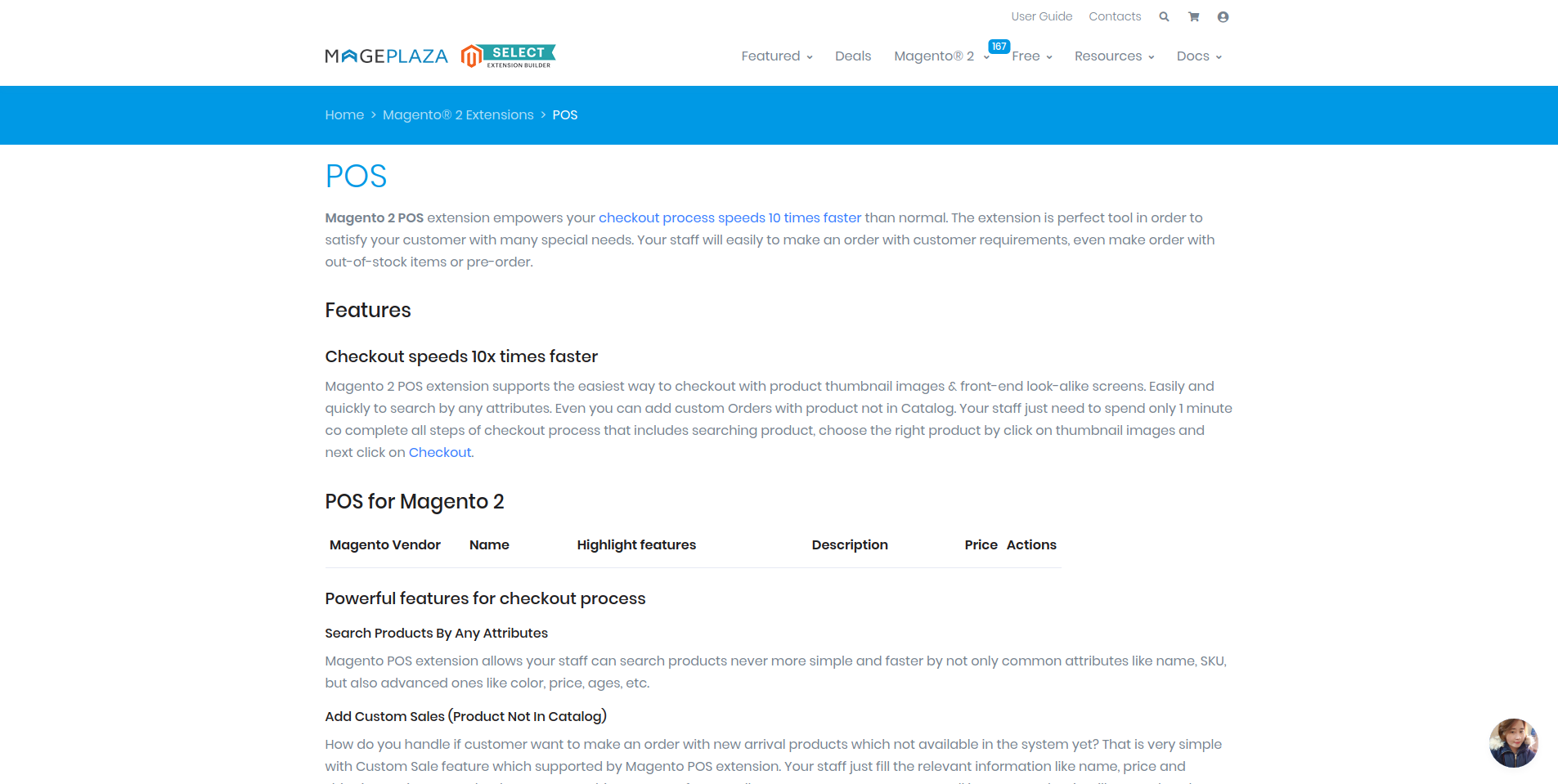 Mageplaza offers a powerful point of sale platform capable of fastening the purchase process with thumbnails and the front-end similar images. Users just have to spend one minute completing all the purchase process from product search selecting the right one by clicking on the thumbnail pictures and finally clicking on the "Checkout" button. Mageplaza POS also supports multiple payment methods and partial shipping to please demanding customers. Even better, the buyers can also order certain items by pre-order, which means buying goods out of stock.
Below are some functionalities of the Mageplaza POS solution:
Can also place orders on hold
Multiple payments are supported
Partial Payments are supported
Reimburse Offline is possible
Products can be searched by any attribute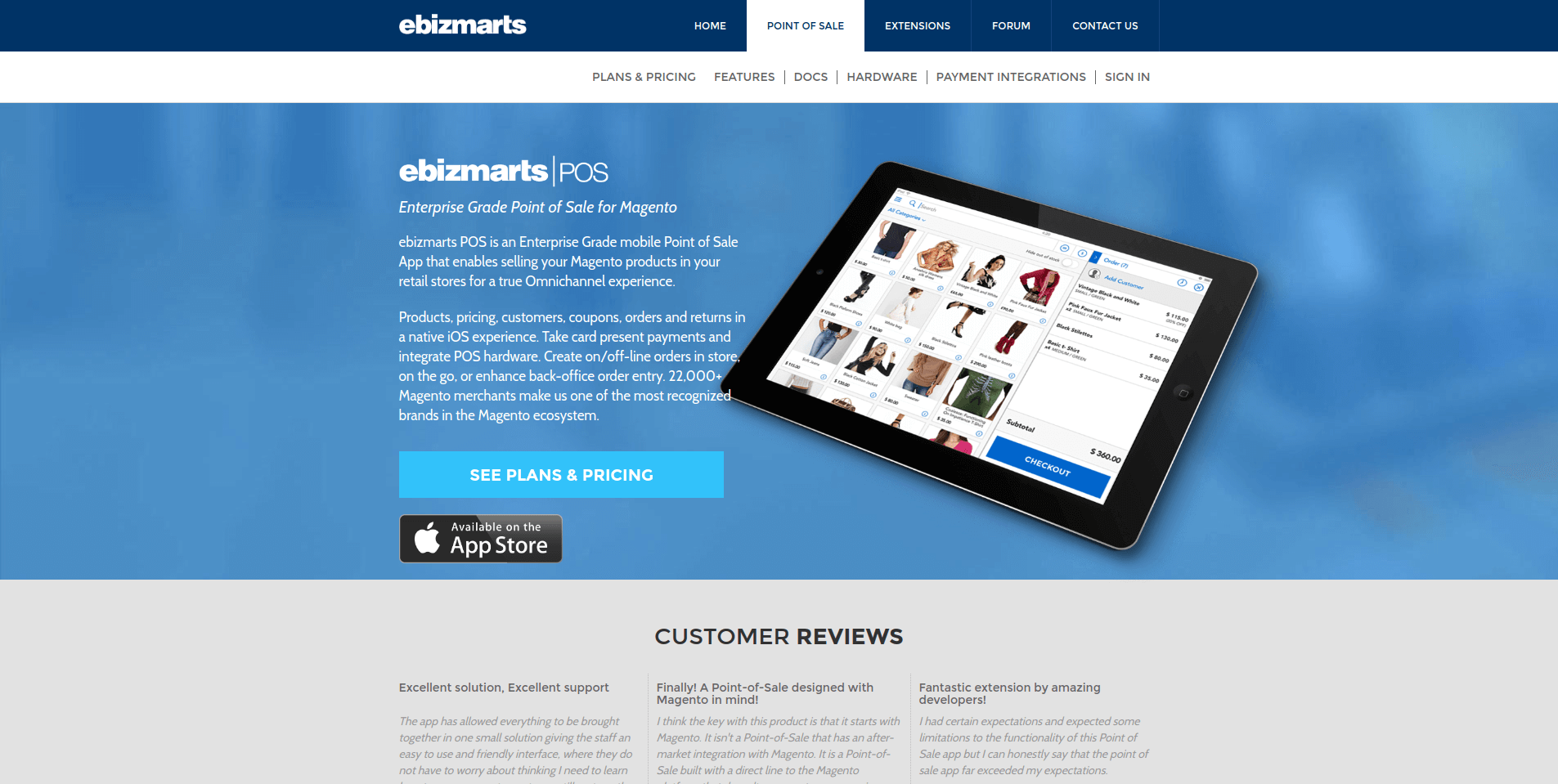 Ebizmarts POS is a unique Magento POS solution that enables Magento products to be sold on online stores with real Omnichannel experience. It can be easily integrated with Magento WMS. Whenever there are modifications, the system will automatically synchronize and update in real-time. Additionally, retailers will experience a smooth process in the iOS tablet for product management, pricing, buyers, discounts, orders, and refunds. It's also easy to generate online or offline orders on-site or to boost back-office order entries. More than 22,000 Magento retailers around the globe are confident in using this POS solution.
Below are some features of the Ebizmarts POS solution:
"Kiosk mode" will allow buyers to build order in-store by themselves
Discounts and customized pricing can easily be applied
Capable of creating different costs for Consumer Group products
Handle all customers of multiple channels on one page
The Magestore and Aheadworks Gift Card add-ons are easily integrated
The tax configuration is flexible for different countries
Fighting Off the POS Integration Challenges
The fact is that it is hard to integrate with just one shopping cart, not to mention a variety of them. Having all prepared for your application to obtain the required information such as prices, goods, customers or orders is a time-consuming and complex process.
Fortunately, API2Cart can assist point of sales software to make all integrations simultaneously. It provides a unified API to integrate with over 40 shopping carts including Magento, Neto, Etsy, Shopify, OpenCart, BigCommerce, WooCommerce, and many others.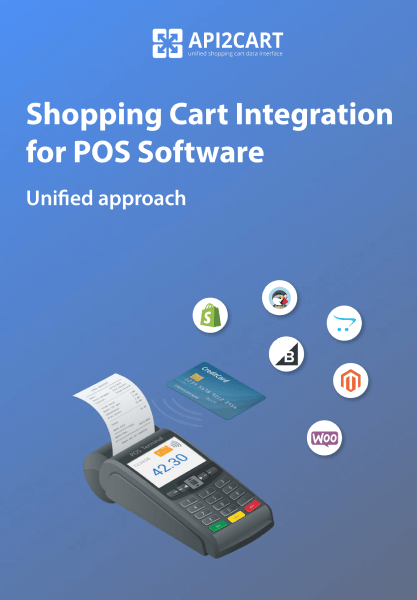 Shopping Platform Integration for POS Software
Explore how to develop the integration between your point-of-sale system and multiple shopping cart solutions easily.
DOWNLOAD
Integration with eCommerce platforms via API2Cart will save you money, time and development resources and you will bring many potential customers for yourself. What's even more is that API2Cart has customized pricing and that it promotes you to test the service for 30 days entirely free. Please feel free to contact us for more details about API2Cart.