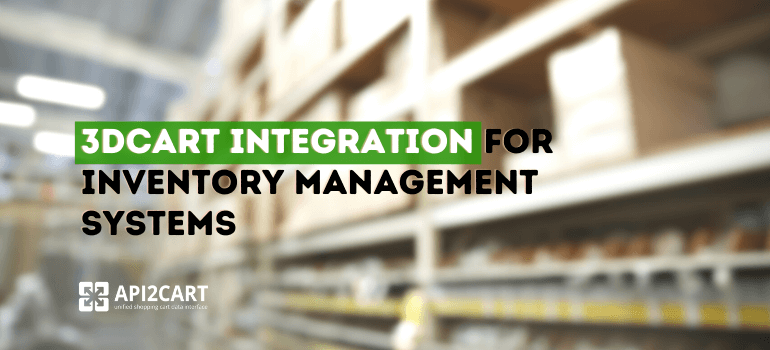 Good inventory management is the key to running an efficient and profitable retail or manufacturing business. However, inventory management can be very complex, time-consuming and expensive. As a result, there have emerged inventory management software and 3PL providers to facilitate this bulky troublesome part of a business.
Inventory management software helps retailers and warehousing services control inventory levels, accounts, customers, billing, etc. To run these functions, the system needs to access product, customer, order and other actionable data from online shops, which is stored on shopping carts. This access can be arranged with help of API integration with shopping cart. It enables real-time data exchange and synchronization between the inventory management system and the shopping cart platform.
Inventory management software integrates with shopping carts to be able to work with stores, which are based on those shopping platforms. This means that the amount of supported platforms directly affects the number of existing and potential customers. That is why it is important for inventory management software providers to thoroughly choose shopping carts to integrate with.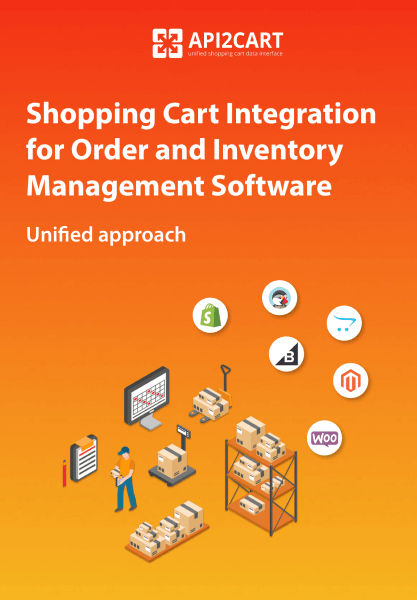 Inventory Management API Integration
Explore how to develop the integration between your inventory management software and eCommerce platforms easily.
DOWNLOAD
What Shopping Carts to Integrate with?
The number of shopping carts out there is big, so deciding which one to choose for your business might be puzzling. In case your inventory management system already integrates with big industry players such as Magento, Shopify, WooCommerce, etc., consider complementing this range with 3dcart. It has almost 10 years of experience and nearly 20 000 websites as their users. 93 % of the sites using 3dcart are established in USA. So, if you are targeting the US e-commerce market, 3dcart integration is worth investing in.
Integration Challenges
Choosing shopping platforms to connect with can be difficult, but the main challenge here is the integration itself. Companies that had to deal with integrations know how complicated they are. As to inventory management software, it can hardly do with only one integration. To become an encompassing solution and expand the market share considerably, it needs to be able to work with multiple shopping carts.
Setting up a connection with every platform is a tedious and long process. Every shopping cart has its own unique architecture and logic that take time and expertise to learn. Integrations also entail significant money expenditures due to the need to pay qualified developers for elaborating and maintaining each connection.
Shopping Cart Integrations Just Got Easier
Some inventory management software providers can afford working with only a few shopping carts and thus impair their business opportunities. Luckily, there is a way to integrate with multiple e-commerce platforms faster, easier and cheaper. API2Cart helps inventory management and other B2B solutions to successfully overcome the challenges of establishing a connection and maintaining different shopping carts. Through only one integration, they can get integrated not only with 3dcart and other 40 shopping carts at once. Among them are all industry leaders such as Magento, Opencart, Shopify, and other platforms.
If you are interested in integrating your inventory management solution with many shopping carts and would like to talk over the details, feel free to schedule a consultation with our representative or try how API2Cart would work for your business.